Solid Stainless Steel 'Pucs' Deliver The Chill Of Ice Without Diluting Your Drink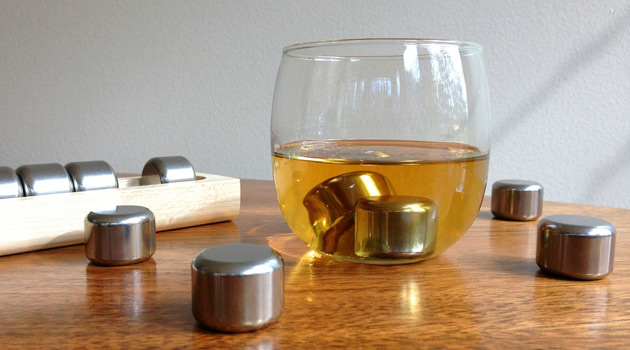 The Pucs project just launched on Kickstarter, and it's a pretty wild product that's worth checking out. These solid stainless steel 'pucs' replace ice cubes, and since they don't melt, you don't have to worry about having your drink diluted with unwanted water.
"We like to think of Pucs as 'rechargeable ice' – all the chilling benefits of a traditional ice cube without the added taste of that month-old fish in your freezer or all the unwanted water at the end", says David Laituri, Founder of Onehundred.
Everyone has a favorite drink that's best when chilled… Scotch, apple juice, mineral water, bourbon, OJ, beer or chardonnay. Ice can handle the chilling job, but it can leave behind unwanted chemicals, and flavors, plus a lot of extra water your drink could do without.
Stainless steel is a gradual conductor, so a set of Pucs will chill steadily and evenly, and stay cool for quite awhile. On the flip side, Pucs are an excellent heat absorber as well. A room-temperature Puc will take the edge off of blazing hot coffee, quickly bringing it to a more drinkable temperature.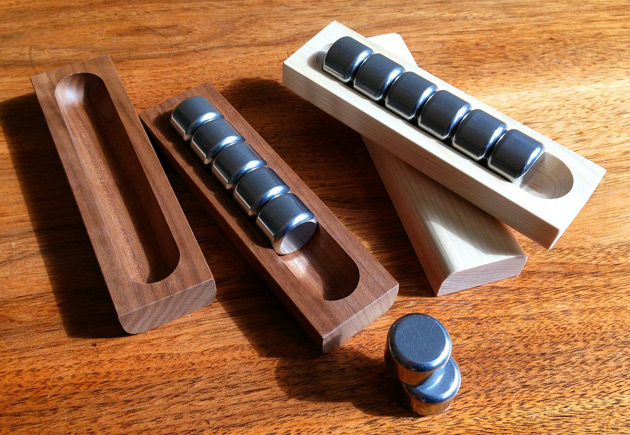 Pucs are precision machined from solid stainless steel, are 100% inert, will not add or subtract from the flavor of your drink in any way. They will not absorb smells or flavors from your freezer, will not degrade, leak, pit, chip, flake, crack or dissolve. And they're easy to clean, just use some soap and water – Or you can give them a quick ride in the dishwasher, then send them to the freezer to re-chill.
Pucs will be offered in sets of 6, and they'll be delivered in a solid Maple or Walnut case. Pucs are currently available for pre-order on their Kickstarter page, with prices starting at $35.