Sponsored Video: Football On Your Phone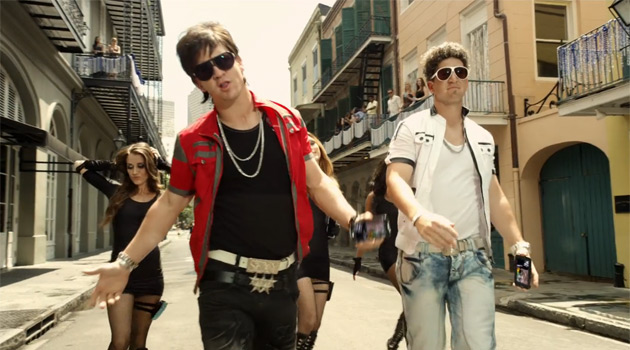 DirecTV knocks it out of the park once again, with a viral video promoting DirecTV's NFL Sunday Ticket Max. The video stars Eli and Peyton Manning as a pair of ridiculous looking rappers, who serenade us with a Color Me Badd-esque tune about watching football on your phone as they walk down Bourbon Street.
The video starts out with Eli and Peyton in a swanky hair salon, with Eli sporting a curly wig reminiscent of Screech's do on Saved By The Bell, and Peyton rocking a hairdo straight of an 80's music video. Right away, you know that you're about to watch something pretty special.
The song they sing is all kinds of awesome, with lyrics that sound like they were written by Andy Samberg and The Lonely Island. Here are two of my favorite quotes from the video:
Look at this guy using his phone as a phone.
Your phone ain't for calling.
Your phone's for footballing!
If you're on a date with Simone (Football on your phone)
If you're taking out a small loan (Football on your phone)
When you're sitting on your throne (Football on your phone)
When you're buttering a scone (Football on your phone)
The Manning brothers are no strangers to performing, from commercials to hosting Saturday Night Live. But this video has raised the bar, putting "Football on Your Phone" immediately into the pantheon of greatest commercials featuring athletes.
It's an infectious tune that you'll find yourself singing for days to come. Uh-huh. Yeah.
This post is sponsored by DirecTV