Steve Wynn, Gaming Visionary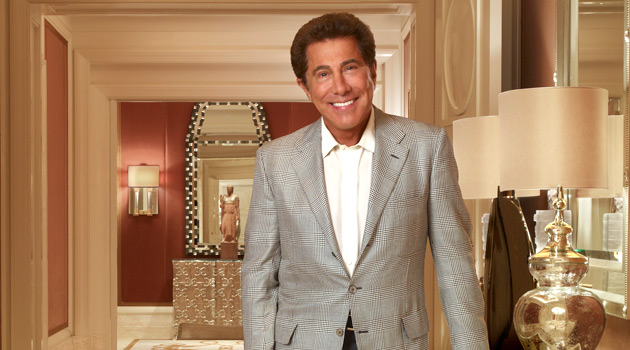 Born Stephen Alan Weinberg in 1942, his father changed the family name to "Wynn" a few short years later and moved from New Haven, Connecticut to Utica, New York, where Stephen attended a prestigious school for boys. Upon graduation, he enrolled in the University of Pennsylvania's English literature program, where he graduated with a Bachelor of Arts in 1963.
His father's death at the same time left a position that Stephen Wynn was able to fill admirably, running the family's bingo parlor in Maryland with such success that he was able to invest the proceeds into a Las Vegas, Nevada venture in 1967. Relocating there with his wife, Wynn continued to manage his stake in the Frontier Hotel and Casino while expanding into other areas of business, including founding a wine and spirits importation company. With some savvy business management, Wynn bought controlling stakes in the Golden Nugget Las Vegas, embarking on what would become a long relationship with the iconic casino.
With his unique head for business and imaginative foresight, Wynn set about revamping the Golden Nugget, turning it from a small gambling area into a resort with attractions geared to attracting a much different brand of customer. His success at remaking the casino experience proved to be an inspiration to other Las Vegas entrepreneurs as well, kicking off a long period of renovation of The Strip, Las Vegas's famous thoroughfare that for a long time sported a rather seedy reputation. Steve Wynn's vision provided the impetus for change, making Las Vegas a destination for casual gamers and families seeking a well-rounded vacation experience, as well as a mecca for seasoned gamblers. Las Vegas became a place where visitors could take in a Frank Sinatra performance, enjoy an all-you-can-eat lobster buffet and engage in some upscale retail therapy in addition to the traditional delights of this gambler's paradise.
On the coattails of this success, Wynn turned his attention to other ventures, opening the Treasure Island Hotel and Casino in 1993, a casino boasting a full-scale pirate ship battle in its front bay. Wynn's next venture was the exquisite Bellagio, an upscale resort experience that attempted to cater to high-end visitors with a range of unique features and was for a long time known as the most opulent hotel in the world. Wynn's trendsetting again spurred a frenzy of development as other entrepreneurs attempted to capitalize on the new paradigm of the luxury casino experience.
Wynn began setting up casinos in other locations around the country as legislation permitted, including Biloxi, Mississippi and Boston, Massachusetts, even making his operations global with the opening of the Wynn Macau in Macau, China. On The Strip, Wynn still commands attention for his unique vision in the wake of opening the Wynn Las Vegas and setting in motion plans for a luxury casino known as the Wynn Palace in 2013.
Steve Wynn's admirable drive to provide a quality and rounded vacation in a city once considered as catering to only a specific clientele has made him an entrepreneur of prophetic vision and stunning success. At this time, Steve Wynn is known as one of the 400 wealthiest men in the world, with a net worth of over four billion dollars.