Trust Ethanol-Free TruFuel In Your Outdoor Equipment This Spring
Most people don't realize how harmful it is to use pump gas on their outdoor 2 and 4-cycle engine equipment or tools. Gas station gas, which usually contains ethanol, is designed for cars and trucks, not small engines. While the larger automobile engines […]
This post brought to you by TRUFUEL®. The content and opinions expressed below are that of Guys Gab.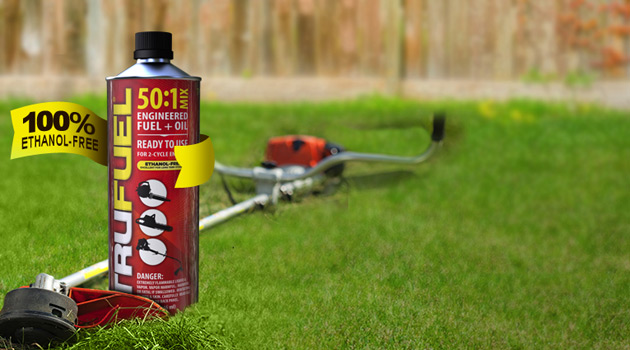 Most people don't realize how harmful it is to use pump gas on their outdoor 2 and 4-cycle engine equipment or tools. Gas station gas, which usually contains ethanol, is designed for cars and trucks, not small engines. While the larger automobile engines can usually handle the gum, varnish and ethanol, the small engines in your line trimmer and leaf blower can't. Inferior gas and oil leave behind carbon deposits that gunk up small engines and fuel lines. Ethanol attracts water, which will eventually wear away the rubber and plastic parts inside the engine. It's the kind of problem you don't see until it's too late. As such, what seemed like a frugal decision might actually end up costing you much more in the long run.
TRUFUEL is a precision-engineered premixed fuel with synthetic lubricants and advanced stabilizers that are specially made for your 2-cycle and 4-cycle outdoor power equipment, like trimmers, leaf blowers, chainsaws, snow blowers, and generators. The high-octane ethanol-free fuel protects your pricey investments, saves you time, and enhances the performance of your equipment. TRUFUEL comes in a convenient premixed can, so there is no need to bother with the measuring and mixing of fuel and oil. Not to mention, it has a 5 year shelf life, it stays fresh for two years after being opened, and it won't separate and damage your equipment during off seasons. What more could you ask for?
The #TruPros have plenty of resources at your disposal to help you effectively tackle your honey do list, so make sure you Follow TRUFUEL on Twitter! or Follow TRUFUEL on Facebook!
Seeing is believing. So try TRUFUEL for yourself and see what a difference it makes!