Watch Abigail Ratchford In Sexy Lingerie On Top Of A Ferrari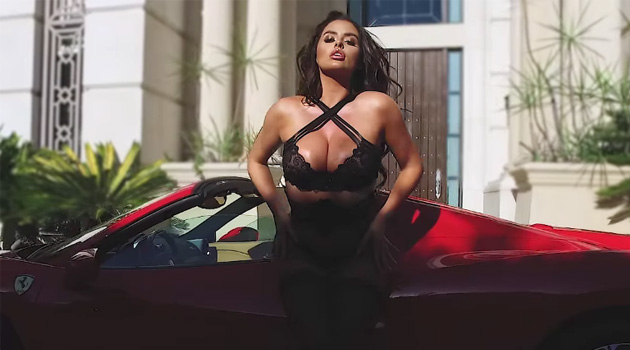 A few weeks back, smokeshow Abigail Ratchford posted a quick teaser video on her Instagram page from her recent shoot with LiveRichMedia, showing her in some skimpy Agent Provocateur lingerie, next to a red Ferrari, beckoning you to come closer.
It was hot, and it got the whole Internet buzzing. Now the full video has been released, and while we still have no idea what this video is about, that's not going to stop us from watching it again and again.
The video starts off with Abigail in front of the red Ferrari, showing off that amazing rack of hers. Afterwards, it cuts to an incredibly sexy In-N-Out burger montage, with a milkshake dripping all over her boobs, before she makes it rain with fries. The final scene shows her in a hot tub wearing a nearly transparent white tank top while drinking a Dos Equis beer (and spilling most of it on herself).
Oh Abigail, I'd give you the best 30-40 seconds of your life!