The Waterpik Complete Care 5.0 Will Have You Smiling At The Dentist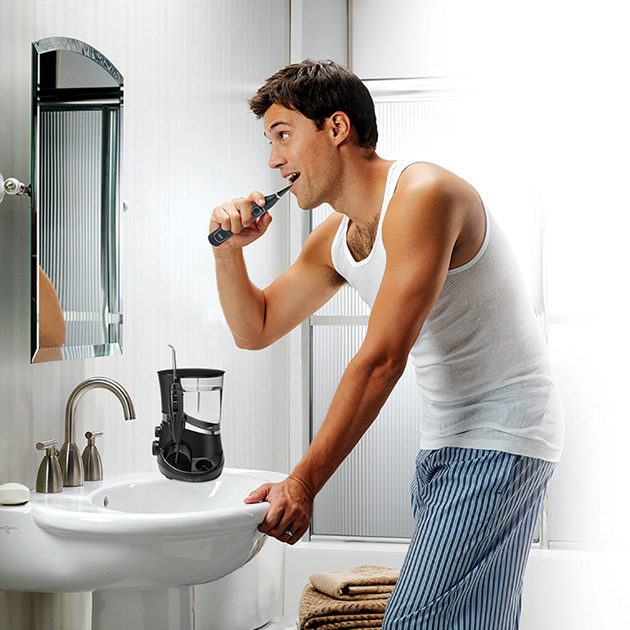 Earlier this year, I was sitting in that dreaded dentist chair for my annual cleaning, and the hygienist asked if I had been regularly flossing, even though my bleeding gums already told her that I wasn't. When she was measuring the depths of my gum pockets (you know, when she repeatedly sticks you with that metal probe and calls out numbers), there were lots of 3s and 4s, which apparently isn't good.
She gave me two options: Come in for a scaling procedure, or start taking better care of my gums. I opted for the latter, and she suggested that I start using a Waterpik. Now the last time I used a Waterpik was probably 20 years ago, back when I had braces and couldn't floss. It was a messy ordeal, with water spraying every which way. But they've come a long way since then..
I went with the Waterpik Complete Care 5.0, which combines both a Water Flosser and Sonic Toothbrush in one. The Complete Care 5.0 has a remarkably small footprint, allowing it to fit in the tiniest of bathrooms. And it only uses a single outlet, which is much appreciated.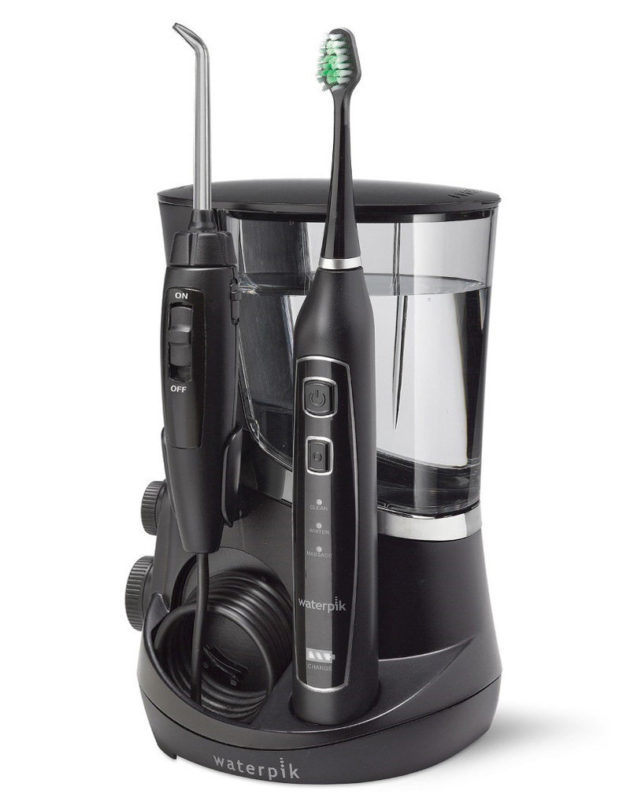 The Water Flosser works much the same as my old Waterpik, but it's been improved in every way. It provides five flossing tips, ten pressure settings, 90+ seconds of water capacity, and it can be used with your favorite mouthwash if you want your mouth smelling minty fresh. It's safe to use for anyone with braces, implants, crowns, bridges and veneers, and much easier to use than traditional string floss.
The Sonic Toothbrush features three modes: a Clean Mode for every day cleaning, a Whiten Mode that helps gently removes surface stains and naturally whiten teeth, and a Massage Mode that helps enhance gum stimulation and circulation. The Sonic Toothbrush also features a deluxe recharge indicator display, a two minute timer, 30-second quadrant pacer, premium travel case, and two replacement heads.
The results were immediately noticeable, with my teeth feeling cleaner than ever (like I just had a cleaning), and my gums weren't bleeding anymore. When I went back to the dentist last week for a follow-up visit, the hygienist couldn't believe how healthy my gums were, and told me that I was good to go!
Overall, I couldn't be happier with the Waterpik Complete Care 5.0, and I'd recommend it for anyone looking to improve their oral health. It might just be the best $99 you'll ever spend.