Welcome To The World Of NFL Style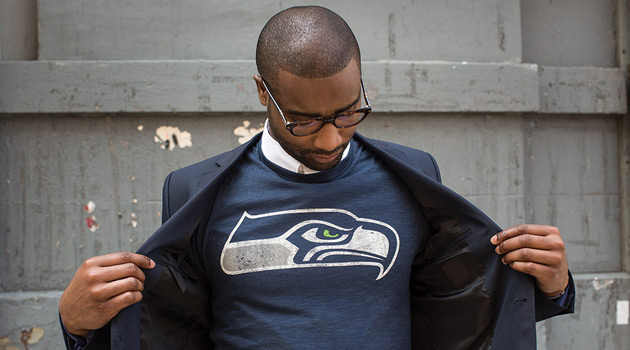 The NFL Men's Apparel team brought us out to last night's Eagles/Panthers Monday Night Football game as their guest. They hooked us up with on-field passes before the game, sweet seats for the game itself, and of course, it wouldn't be complete without some delicious cheesesteaks from Tony Luke's.
We got to witness the Eagles absolutely CRUSH the Panthers, and that made the night all the sweeter! Now you might be asking yourself, why did the NFL roll out the red carpet for us? Simple, to introduce us to their NFL Men's Lifestyle Apparel line.
Until recently, if you wanted to show your team spirit, you'd break out your team jersey on game day. That's all fine and good, but what if you want to show your team allegiance during the rest of the week?
That's a question that the NFL has been pondering themselves, and they finally come up with an answer with the 2014 NFL Men's lifestyle apparel collection, perfect for fashion-conscious guys who want to express their love for their favorite team with a little bit of style.
According to stylist Rachel Johnson:
"The goal is to show gentlemen how to incorporate NFL apparel into their everyday lifestyle. We wanted to take the stigma and traditional ideas of what NFL apparel should be, or how you should look on Sunday, and elevate it. So we paired it with items you wouldn't expect. In pairing with the apparel with a trouser, or with a trenchcoat, you're opening up new ways that these key pieces of NFL apparel can be worn—and you're opening up where you can wear these items to."
We had a chance to check out some of these items firsthand were really impressed with them. I picked up a sharp looking Philadelphia Eagles '47 Brand Midnight Green Bruiser Long Sleeve T-Shirt, and it's something that I can wear any day of the week!
Here are a few photos from the lookbook:

If you're ready to up your style game, check out the NFL Shop's NFL Lifestyle Collection, and no longer will your significant other nag you for always wearing your team's apparel, because you'll look good doing so.