The Top Five Weirdest NASCAR Crashes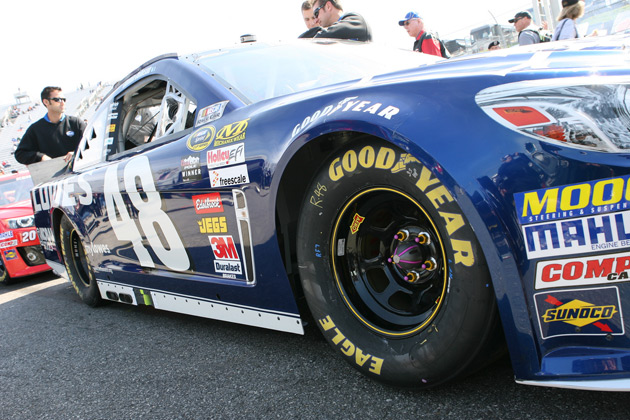 There are many things unique to NASCAR, from the entertaining rivalries between drivers, to its status as the only sport without any breaks whatsoever. Once the race clock starts, there is no intermission or halftime — just several hours of nonstop action.
Of course, one of the most entertaining aspects of NASCAR is the crashes — which occur fairly frequently to varying degrees of severity and absurdity. Many NASCAR drivers drive without much regard for how many dents their car may have afterward, which is something fans have no issue with. The semi-recklessness simply adds to NASCAR's very high entertainment value.
Whether it had to do with bitter driver rivalries, poor road conditions, a vehicle malfunction or simply recklessness, the five NASCAR crashes below embody the beautiful weirdness that is often present in the sport:
2011: 5-Hour Energy 200 at Dover Downs
Rookies are one of the most amusing concepts in sports. They're similar to college freshman — full of potential, but also with a tendency to over-compensate. An example of this occurred when then-rookie, Alex Kennedy, hit the wall off Turn 2 at the 2011 5-Hour Energy 200.
Then, he bounced off the Dover track's wall and flew across the track, ending up on the backstretch wall. Most drivers would call it a day at this point, but Kennedy didn't give up. Upon attempting to resume the race, his steering column locked up, which resulted in Kennedy's car hitting Kevin Swindell's Ford.
It's an amusing example of an overly eager rookie starting a domino effect of entertaining on-road chaos.
2008: NASCAR Nationwide Testing at Daytona
Steve Wallace is a driver regarded as prone to crashes. The 27-year-old driver tends to drive aggressively in the first place, but also has his share of bad luck — like at the 2008 NASCAR Nationwide Testing at Daytona when he lost control and crashed into a chain-link fence. Cars usually never come head-to-head with a chain-link fence since they are often situated so far from the track, so this 2008 crash was weird from the get-go.
1998: USA 200 at Daytona
Daytona always promises entertainment. The track has a storied history of close finishes and bizarre crashes. One of the latter took place in 1998 at the USA 200, when A.J. Franks turned sideways after Turn 4 and flipped over, with the bottom of his car facing the sky as it circled several times.
Will Hobgood's car also flipped as a result and eventually ended up over-turned. It looked dangerous at the time, but no one was hurt. Franks was in the lead at the time and somehow lost control after Turn 4, making this a bizarre and — for the previously leading Franks — an unfortunate crash.
1990: Budweiser 250 at Bristol
This one looked a lot worse than it actually was. It all started when Michael Waltrip's car flung into the outside wall after being hit by Robert Pressley. Unfortunately for Waltrip, his car hit an open crossover gate that split his car in two.
Expecting Waltrip to be seriously hurt, fans were relieved when he emerged virtually unscathed. Waltrip certainly pulled some sort of magician's trick at the 1990 Budweiser 250. He went on to continue a successful NASCAR career.
2008: Aaron's 312 at Talladega
Stupidity runs rampant in many sports from NFL players who cost their team yards with unnecessary roughness penalties to NBA players who commit fouls for no reason beyond over-aggressiveness. NASCAR stupidity is riskier than most, as it can result in serious injuries. In 2008 in Talladega, Kevin Lepage was returning from the pit road and basically attempted to merge with oncoming traffic, despite driving at a speed several times slower than his fellow drivers.
This resulted in many cars being impacted by the wreck, including the destruction of cars driven by Carl Edwards and Kyle Busch, who was expected to win his fourth straight race. That didn't happen. Instead, Lepage eventually apologized and took the blame, but hasn't achieved much NASCAR success since. It was a bizarre crash that shouldn't have happened and, despite no major injuries, sabotaged a chance of victory for many drivers.
These five crashes showcase one of the most entertaining yet dangerous aspects of NASCAR. Fortunately in all these instances there were no major injuries — just a lovably unpredictable weirdness regarding why the crashes happened and who was affected. Whether it's a "Big One" or a basic one-car incident, the potential for bizarre crashes in a NASCAR race is always there.