FANACCI's Thoughtfully Engineered Apparel Line Is Perfect For All Occasions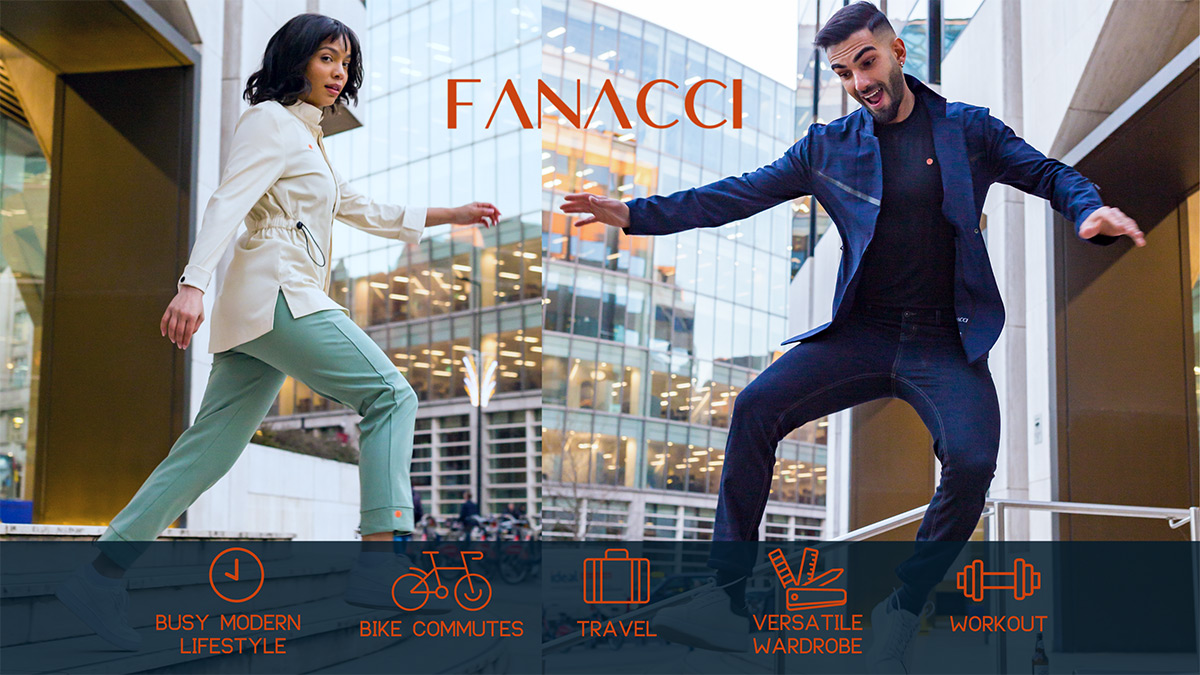 Most clothes you purchase serve a single function, whether it's a suit or blazer that you wear to work or athletic wear for the gym. But wouldn't it be great if your clothing could serve double duty, rather than having to lug around a change of clothes? London-based fashion-technology startup FANACCI is doing just that, introducing on Kickstarter one of the most advanced and versatile clothing collection that we've seen!
The brand's new collection 'Clothing Line [1]', is a thoughtfully engineered clothing line that's inspired by everyday essential workwear, merged with activewear tech and functionality, with 24+ features to allow maximum comfort, movement and versatility, allowing you to wear them in a variety of scenarios, whether you're going to work, exercising, lounging at home, etc.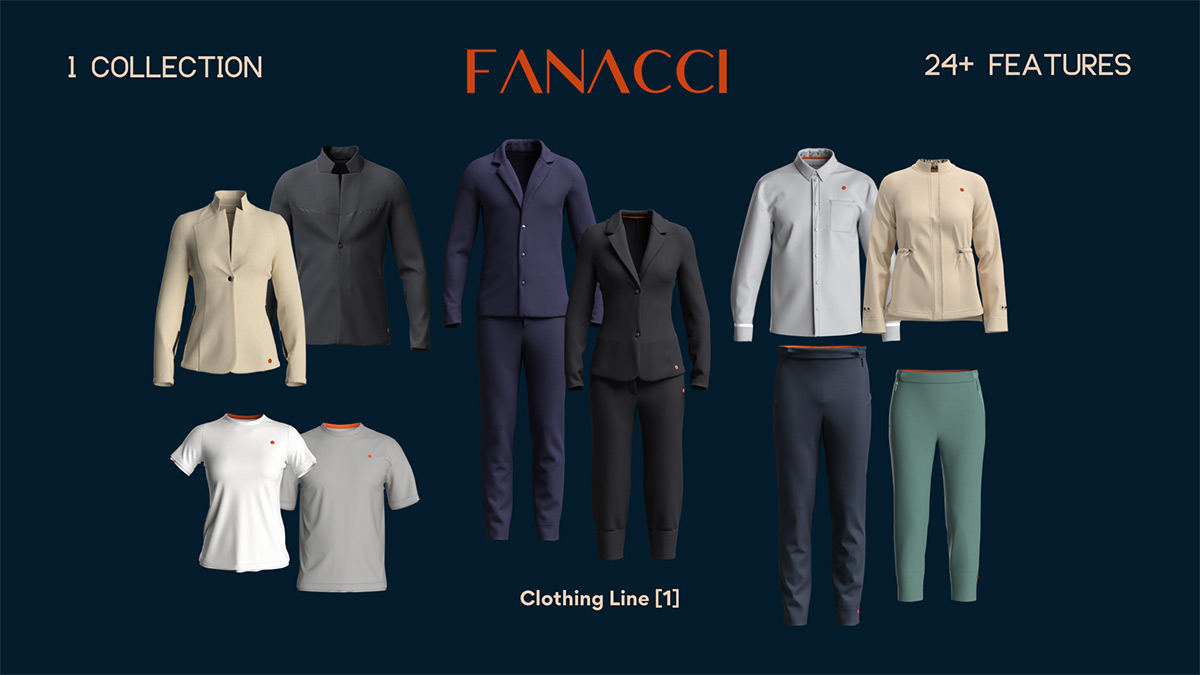 FANACCI's Clothing Line [1] is made up of five key pieces:
The VOYAGER Suit: Delivering the sleek look of a suit, but with the feeling of a hoodie set.
The ACTIONER Blazer: Power blazer-jacket hybrid- easy to just throw on the go.
The DISCOVERER Shirt: A cool shirt/overshirt, designed for the busiest days.
The EXPLORER Trousers: Your everyday comfort trousers that transform into joggers.
The RECHARGER T-shirt: Just the perfect T-shirt.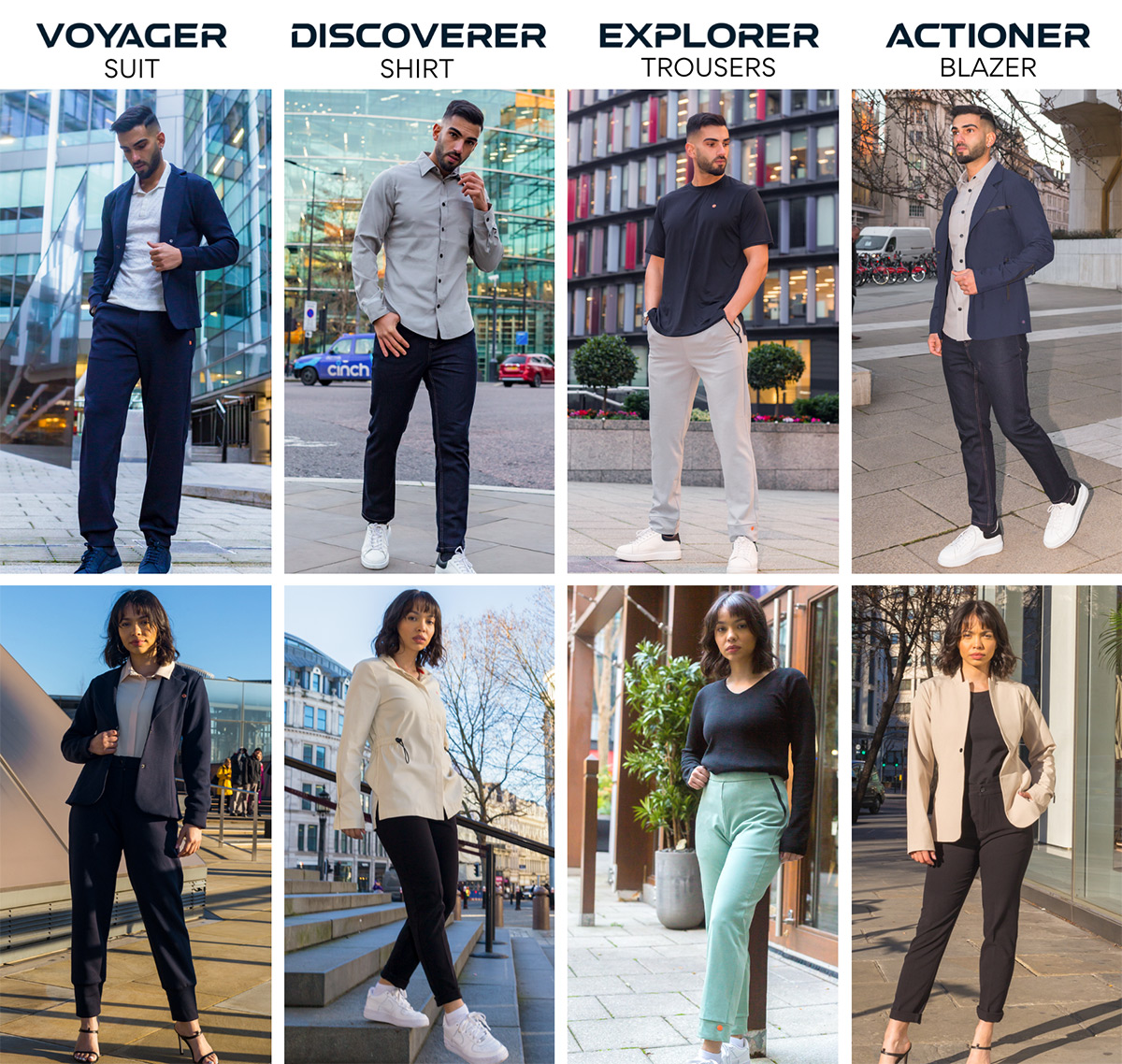 The capsule collection was developed over many months by clothing experts, designers, and companies around the world using material science and engineering principles. It boasts a variety of technical features based on FANACCI's innovative 'SuperMultiFlex' fabric concept, which blends up to six fabric fibers, to make the products super-soft, lightweight, stretchable, wrinkle-resistant, anti-pill, antimicrobial/odor-resistant, moisture-wicking, stain-resistant and thermoregulatory.
To further improve the wearing experience, other constructions were added to the products, such as pant-to-jogger mechanism, customizable collars, dynamic drawstrings, adjustable waist-snaps amongst others, as well as other small and precise 'easter egg' details to be discovered by the wearers.
"All the features incorporated into our products are geared towards our mission of improving the performance and lifestyle of modern dynamic individuals- people who live a busy and multifaceted lifestyle: working, exercising, socializing, etc. We made one collection do it all in the same clothes," says Co-founder and CEO, Dr. Farhaan Essoof.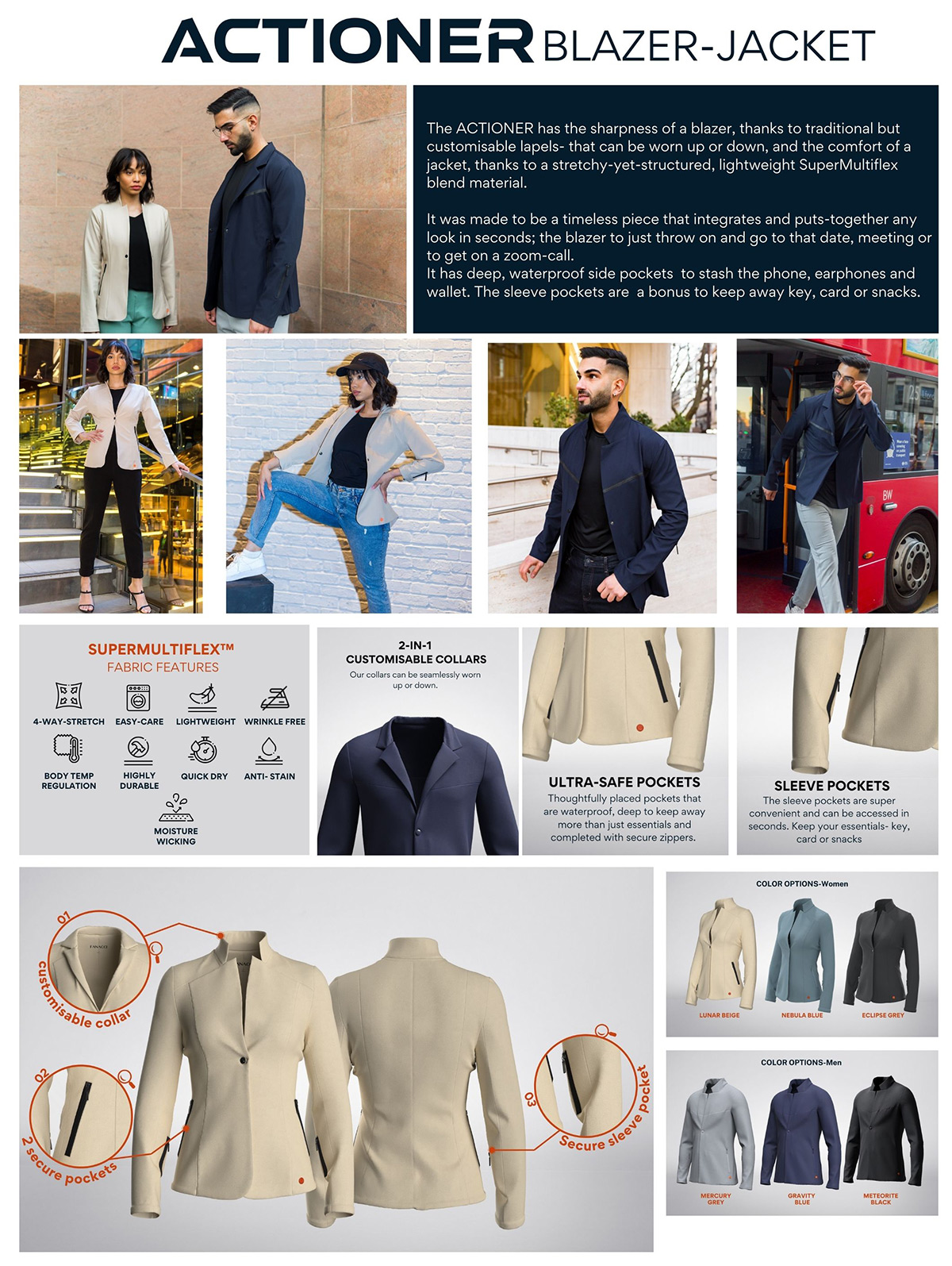 While all of these offerings are great in their own right, the one that I'm perhaps most excited about is the ACTIONER Blazer. This sleek-looking blazer is super stylish, with a customizable collar that can be worn down for a traditional sports coat look. But flip that collar up, and it transforms into a jacket, with cool side pockets and sleeve pockets to stash your essentials. A performance blazer and a jacket in one, what a genius idea!
The EXPLORER Trousers are also a game-changer, allowing you to go from a clean, crisp and professional work look to joggers in just seconds. Not only that, but you can forgo the belt, as you can adjust the size with snaps at the waist. The fabric is super comfortable and looks sleek and modern. And it has 4 deep and waterproof pockets, something most trousers lack.
In addition, as someone who travels a lot for work, I love the fact that these items are wrinkle-free, lightweight, and odor-resistant. You can wear them on a cross-country flight in comfort and walk off the plane afterwards looking like a million bucks. Because let's face it, we don't always have the luxury of freshening up at the hotel before a big meeting or presentation.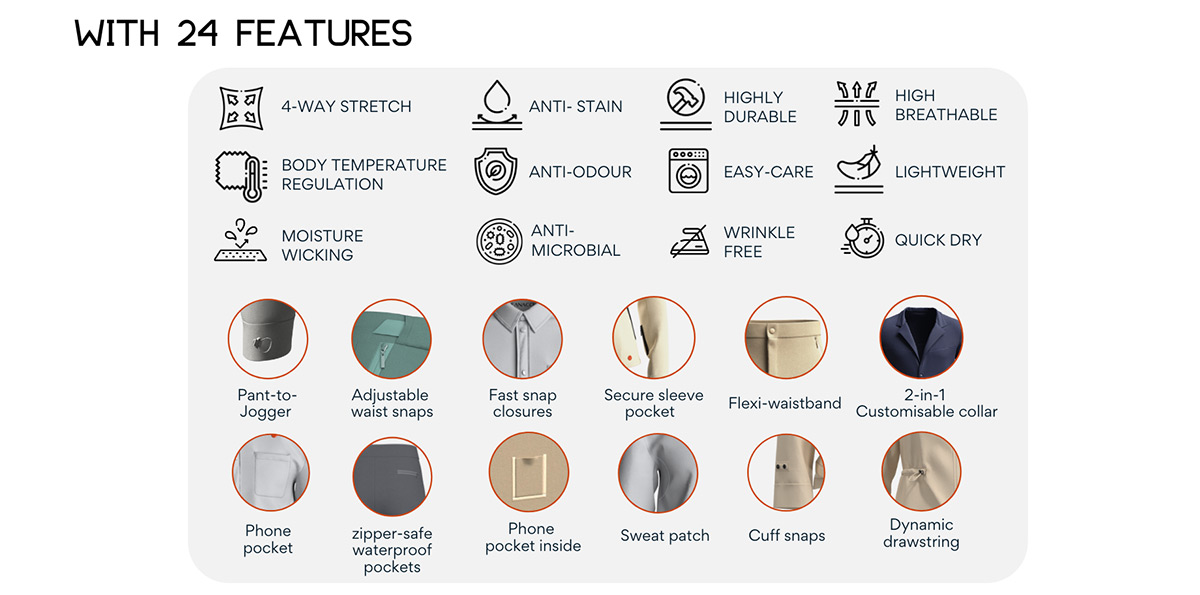 Furthermore, the entire collection is designed to be machine-washable for easy care. So forget about taking your clothes to the dry cleaner, simply throw them in the wash and you'll be good to go in a few hours. Gotta love that!
Overall, I think FANACCI really knocked it out of the park with this collection, offering a new, modern take on some classic staples that have been thoughtfully engineered to support the lifestyles of modern dynamic individuals. I know for me, the concept clicked with me instantly, and I think many others will see the benefits that it offers as well.
The five products in the FANACCI Clothing Line [1] can be pre-ordered right now through their Kickstarter campaign. You'll want to get in on this deal ASAP, as the Super Early Bird pricing (good through February 1st) is 50% off the retail price. If you miss that, you can still get in on the Early Bird pricing of 35% off retail till February 15th. The campaign ends on March 1st.
If their funding goals are reached, products are expected to be delivered in July-August 2022.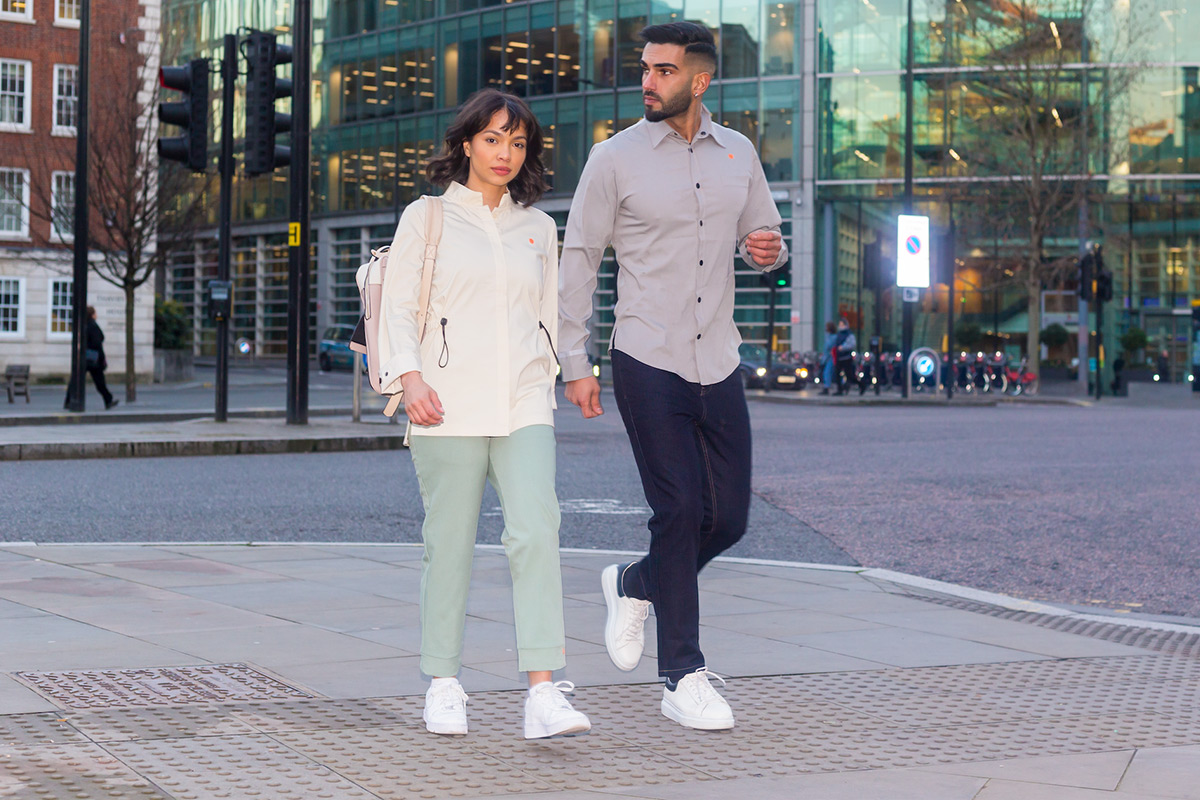 Let us know what you think of the FANACCI Clothing Line [1] below!