When's The Last Time You Bought Luggage?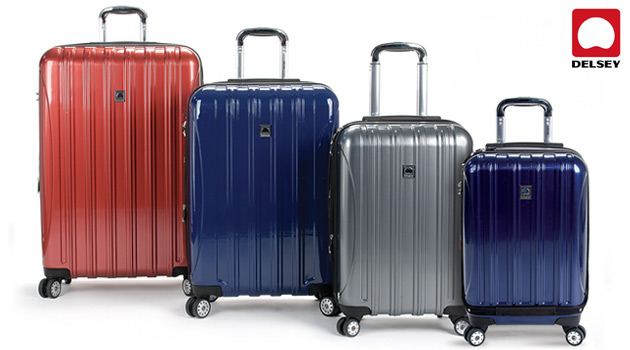 According to a recent study from DELSEY, despite travel being a significant part of our lives, 45% of people haven't purchased luggage since before the iPhone came out, if ever.
Do you fall into that category? Back when I worked in the corporate world, I traveled 45-50 weeks a year, and yet I was using luggage that was handed down to me by my parents that dated back to the 1980's.
So why didn't I upgraded my luggage back then? Like many people out there, I had the attitude that if it's not broke, don't fix it. But just like with technology, luggage continues to innovate, and travelers with outdated luggage don't realize what they're missing out on!
One of the recent innovations that's exploded in popularity is the 4-wheel trolley. Carry-on suitcases like the DELSEY Helium Aero I use come with double spinner wheels, which give you superior maneuverability. Old carry-on rollers only had two fixed wheels, meaning that you had to drag it behind you. Walk into a plane with a narrow walkway, and more often than not, that roller wouldn't fit through the aisle, forcing you to pick up your bag and lug it all the way back to 28D.
With the Helium Aero, I can simply turn the suitcase sideways and push it ahead of me while I make my way to the back of the plane, using no effort at all. And when it comes time to stow my suitcase in the overhead compartment, it's much easier than before, thanks to the lightweight yet durable material (polycarbonate) it's made of. The case has a hard shell that keeps your contents safe, yet the Aero can still expand 2 inches if end up bringing home some extra stuff. It's the best of both worlds!
Another nice feature of DELSEY's line of suitcases is the variety of colors and patterns that they offer. My candy apple red Helium Aero gets tons of attention wherever I go, but you can also go with metallic blue or steel grey if you'd prefer. It definitely helps to have luggage that stands out, as most travelers have boring black suitcases that all look the same. (And if you're really looking for some attention, the standard Helium carry-on comes in 6 wild colors, including Lime and Hot Pink).
I primarily travel with a carry-on roller because I'm cheap and don't want to spend $25 each way to check a bag. But if you're doing a longer trip and need a full-size suitcase, you'll appreciate one particular feature in DELSEY's larger suitcases, the Over Weight Indicator. This technology will notify you if your bag exceeds the 50 lb. weight limit, saving you from embarrassing last minute repacking at the ticket counter. Pretty dope.
DELSEY, known for its French fresh designs, innovative technology and thoughtful details, has made both its U.S. and worldwide collections available direct to consumers just in time for the holidays at DELSEY.com. With hot sales going on right now, this holiday season is a great time to put luggage on your holiday gift!