Working Out Smarter With Wearable Tech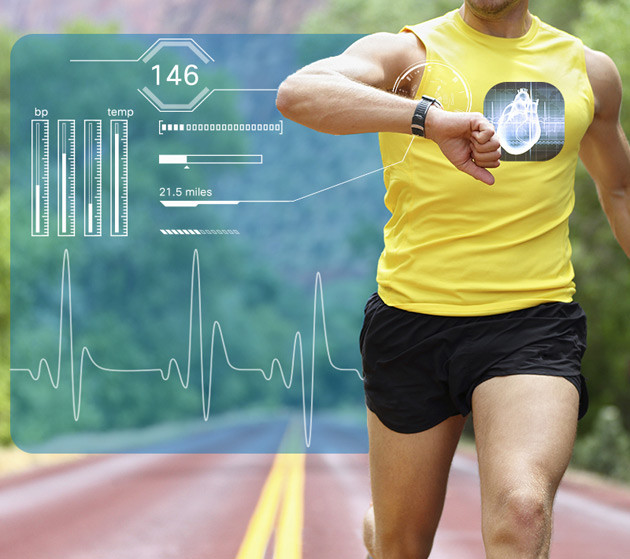 It used to be that finding workout wear was simple. You'd strip to your undershirt, throw on some sweatpants and hit the gym. But in the 21st century, things are a bit more complex. Most of us don't wear suits to work, or even undershirts. In fact, designer active wear has become a fashion statement in its own right.
What you wear during your workout isn't just a question of looking good, but having clothing that will enhance the effectiveness of your routines. From reflective fabric to high-tech running shoes, here's some of the innovative clothing that makes your workout smarter.
A Spring In Your Step
If running outdoors is your thing, two new products on the market will help you exercise safely and in style. Asphalt and concrete surfaces may be commonplace in urban environments, but running on them for any length of time causes serious problems for your joints. Spira is tackling the problem head-on and has devised a series of sports shoes with springs in the heels and forefoot of the soles.
Known as WaveSpring technology, the springs take the unforgiving force of the asphalt and distribute it harmlessly into the rest of the sole. In fact, nearly 96% of the downward force is returned to the wearer, enabling you to keep on running with far less stress to the joints and ligaments in your legs. Spira's are available for purchase today at a number of online retailers, such as Orthotic Shop.
A Smarter Shirt
Smartbands, watches and chest straps have been around for a number of years, but what if your clothing could track your workout, letting you leave the bulky accessories at home? Biometric shirts are built to the exacting standards of athletic wear, but also feature embedded circuits to track your heart rate, breathing patterns, sweat and calories burned during your workout.
Instead of requiring a bulky reader on the shirt itself, the sensors will sync directly with your smartphone and tablet. While several companies are starting to offer smart shirts, we're a fan of the understated Ralph Lauren's Polo Tech Shirt.
Safer Midnight Runs
During the winter months in particular, the biggest threat to runners is not the cold or their exertion, but motorists sharing the roads. The shorter evenings during the winter months means that your evening run will likely be in the dark. Potentially slick road conditions make it more important than ever that a driver sees you as far away as possible.
Retro-reflective clothing is made using microscopic beads or prisms and fluorescent paint that makes your jacket appear to glow in the headlights of a vehicle. While reflective clothing has been around for more than 50 years, it's starting to become more popular due to a renewed interest in outdoor running. This has led to several companies, such as NightGear, to develop entire lines of fashion forward active wear designed for high-visibility.
Stay Warm Without Bulking Up.
During your workout, your body should produce enough excess heat to keep you warm despite the chill of winter. Between sets, however, that extra heat will quickly leave and you'll find yourself wishing for a few extra layers. Unless, that is, you're wearing a heated base layer like the one that will be offered by FuelWear.
The breathable bamboo fabric in their Flame shirt contains minuscule heating elements to keep you warm between sets. Thanks to a patented smart temperature system, Fuelwear will only activate when it detects that your body is cold, meaning that you won't have to remember to turn it on and off between sets, or while waiting for the ski lift on the slope.
A Smarter Workout
While you're still able to wear that white undershirt and a favorite pair of sweats to the gym if you want, doing so means a less efficient workout. From moisture-wicking fabrics to a shirt that will monitor your heart rate, the field of active wear is ever evolving.
Before you plan out your next routine, consider updating your wardrobe so that you can make the most out of every session.