Wounded Warriors Family Support High Five Tour 2012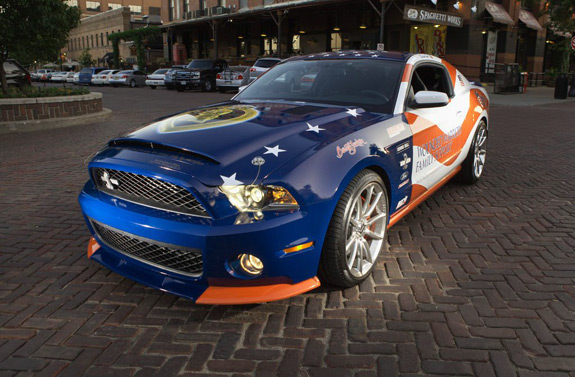 The Wounded Warriors Family Support 2012 Shelby Mustang GT500 Super Snake visited Haldeman Ford yesterday as part of their third annual High Five Tour, and we were on hand to see the car in person and learn more about WWFS and the High Five Tour.
The tour raises funds and awareness for Wounded Warriors Family Support's mission, which is to provide support to the families of those who have been wounded, injured or killed during combat operations.
From June 25th to August 18th, the Wounded Warriors Family Support Mustang will travel to nearly 50 cities in more than 30 states, making stops at Ford dealerships, military bases and auto events.
"We are working to bring the car to as many people as possible across the United States. We want to enlist a strong foundation of support for American's wounded warriors and their families." – Col. John Folsom, founder of Wounded Warriors Family Support
The 800-horsepower 2012 Mustang GT500, donated by Ford, is sure to turn quite few heads along the way. Folsom said Wounded Warriors Family Support chose the Super Snake because it's emblematic of the United States' "unapologetic strength and fearlessness."
Wounded Warriors Family Support invites you to show your support for military families by visiting a stop on the High Five Tour 2012, making a $5 contribution to the organization, and signing the car with a message of support to the country's veterans and their families. Those who can't make it to a tour stop can contribute $5 by texting "highfive" to 20222.
Wounded Warriors Family Support has committed to donating at least $50,000 from the High Five Tour 2012 to Operation Tyler, a project to build a "smart home" for Marine Lance Cpl. Tyler Huffman and his family. Huffman was injured in Afghanistanon on December 3rd 2010, when he was struck in the chest by an enemy sniper. While he's lucky to be alive, his injuries have left him wheelchair-bound.
"Operation Tyler fits our mission of supporting wounded warriors," Folsom said. "This young man and his family need our help, and we want to be part of that."
This is a great cause, and we encourage our readers to come out and show their support.