10 Haunting Halloween Cocktail Recipes
Part of the fun of Halloween is the creation of a spooky atmosphere, and anything and everything involved in a party can be converted from mundane to eerie very easily. Cocktails are no exception! Serve up some of these haunting Halloween cocktails at your Halloween party this year, they'll surely be a hit with your guests.
Ingredients:
1 part Pinnacle Caramel Apple Vodka
1 part Apple Juice
Preparation:
Shake and pour into martini glass.
The Captain Cider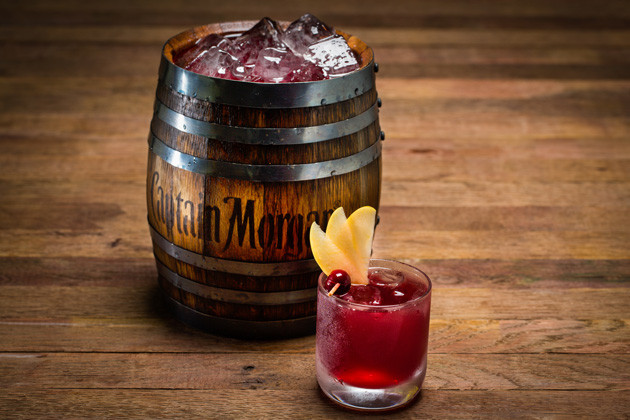 Ingredients:
1 oz. Captain Morgan Original Spiced Rum
1.5 oz. Cranberry Juice
1.5 oz. Hard Cider
Preparation:
Combine all ingredients in a rocks glass filled with ice, garnish with apple wedges and cranberry.
Grey Goose Diabolique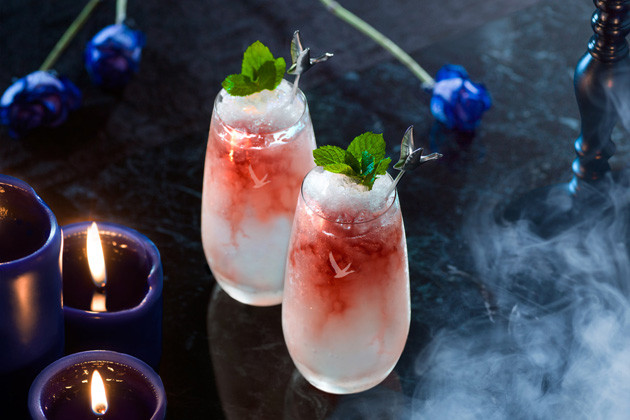 Ingredients:
1.5 part Grey Goose Le Citron
1/3 part Cointreau
1/3 part Fresh Pineapple Juice
¾ part Fresh Lemon Juice
½ part Crème de Mure
Preparation:
Build all the ingredients apart from the Crème de Mure in a mixing glass. Top with cubed ice and shake. Fine strain into a highball glass, then add a cap of crushed ice. Drizzle with Crème de Mure and garnish with a pineapple slice and mint.
Jack's Lantern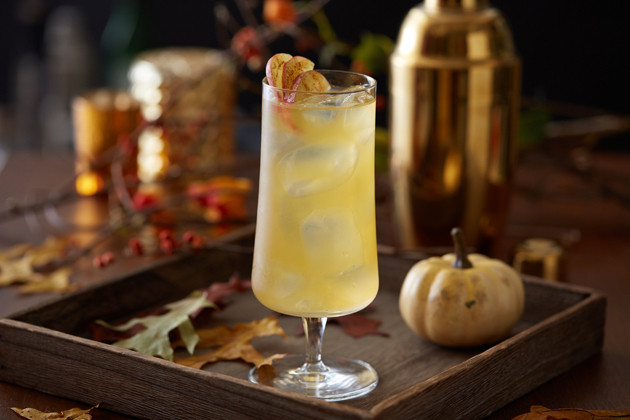 Ingredients:
2 oz. elit by Stolichnaya
1 oz. Apple cider
1.2 oz. Fresh lemon juice
3/4 oz. Allspice spiked agave*
(*Allspice Agave: Take 1 cup agave nectar and add 1/2 cup all spice powder. Mix until blended)
Preparation:
Shake all ingredients with ice and strain into an ice filled highball or double rocks glass.
Siam Daiquiri

Ingredients:
1 part BACARDÍ Gran Reserva Maestro de Ron
½ part Kaffir Lime Juice
1 tsp Aromatic simple syrup*
(*Aromatic Simple Syrup: 1 cup water, 12 Thai basil leaves, 3 Coriander seeds, ¼ Sliced Jalapeño, 2 Kaffir Lime Leaves (if available), 1 cup Sugar. Bring to a boil, steep 15 minutes, strain and cool)
Preparation:
Mix ingredients with ice in a cocktail shaker, shake vigorously and serve in a chilled coupe.
Wicked Red Punch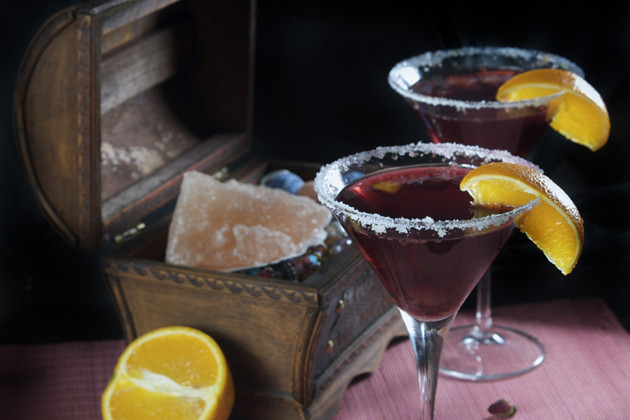 Ingredients:
1 750-ml bottle of HobNob Wicked Red
1½ cups spiced rum
3 cups freshly squeezed orange juice
2 oranges, zested
1 teaspoon ground ginger
1 cinnamon stick
2 tablespoons simple syrup
1 lime, zested
Preparation:
Combine all ingredients in a large bowl and let sit, refrigerated for at least an hour before. Coat glass rims with sugar and garnish with an orange slice. If available, add one large block of ice to the bowl. Stir well before serving.
L'Orange Enchate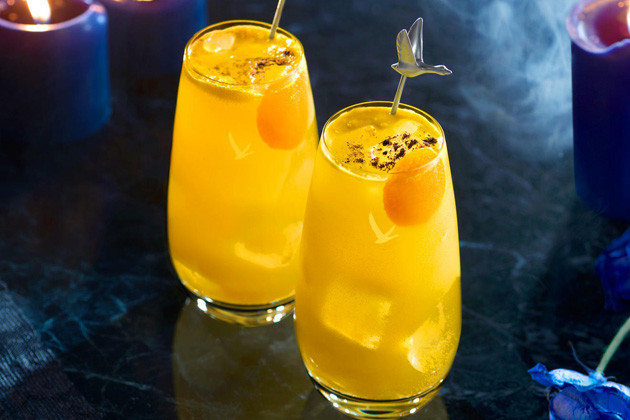 Ingredients:
1.5 part Grey Goose L'Orange
¾ part Spicy Pumpkin Puree (click here for reference)
3 part Lemonade
Preparation:
Build all the ingredients with ice in a mixing glass and shake. Strain over fresh ice and garnish with a pinch of pumpkin spice and a burnt orange.
Red Sangria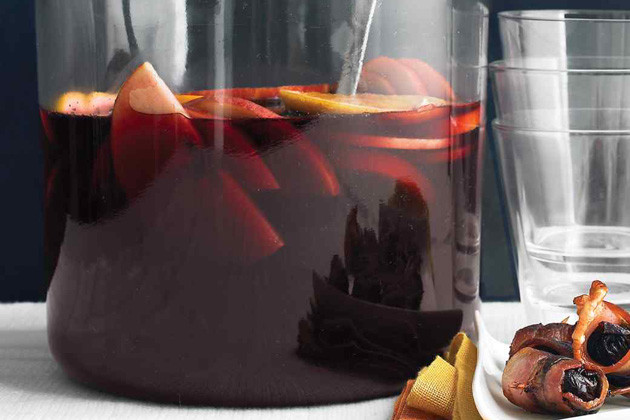 Ingredients:
1 cup brandy
1 orange (ends cut off), thinly sliced
1 red apple, halved and thinly sliced
2 bottles well-chilled dry red wine, such as Rioja or red Zinfandel
1 cup club soda
3/4 cup fresh orange juice
Preparation:
In a large pitcher, stir together brandy, orange and apple slices. Let stand 15 minutes. Add wine, club soda, and orange juice. Serve over ice.
Headless Horseman

Ingredients:
2 parts BACARDÍ Gran Reserva Ocho Años
2½ parts Ginger Beer
1 part Carrot Eau de Vie
½ part Lime Juice
½ part Smoked Maple Simple Syrup*
Garnish: Microplane coffee
(*Smoked Maple Syrup: 1 cup Cold Smoked Maple Syrup**, 1 cup water. Mix together and bring to a boil. **To cold smoke the maple syrup, heat wood chips in a pie tin until they smoke, then put syrup in a bowl put them in a container and cover with foil for 35-45 minutes.)
Preparation:
Place all ingredients except coffee beans and ginger beer in a tumbler with ice. Stir and strain into a Collins glass with ice. Pour ginger beer over the top and finish with a bit of coffee beans grated on a microplane.
The Plundering Pumpkin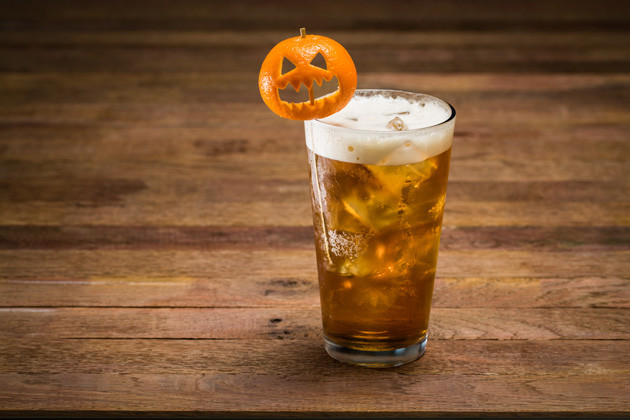 Ingredients:
1 oz. Captain Morgan Original Spiced Rum
3 oz. Pumpkin Beer
1 oz. Ginger Ale
Preparation:
Combine ingredients in a tall glass filled with ice, garnish and stir. (See video)