5 Yellowstone Halloween Costumes That Are Sure To Be A Hit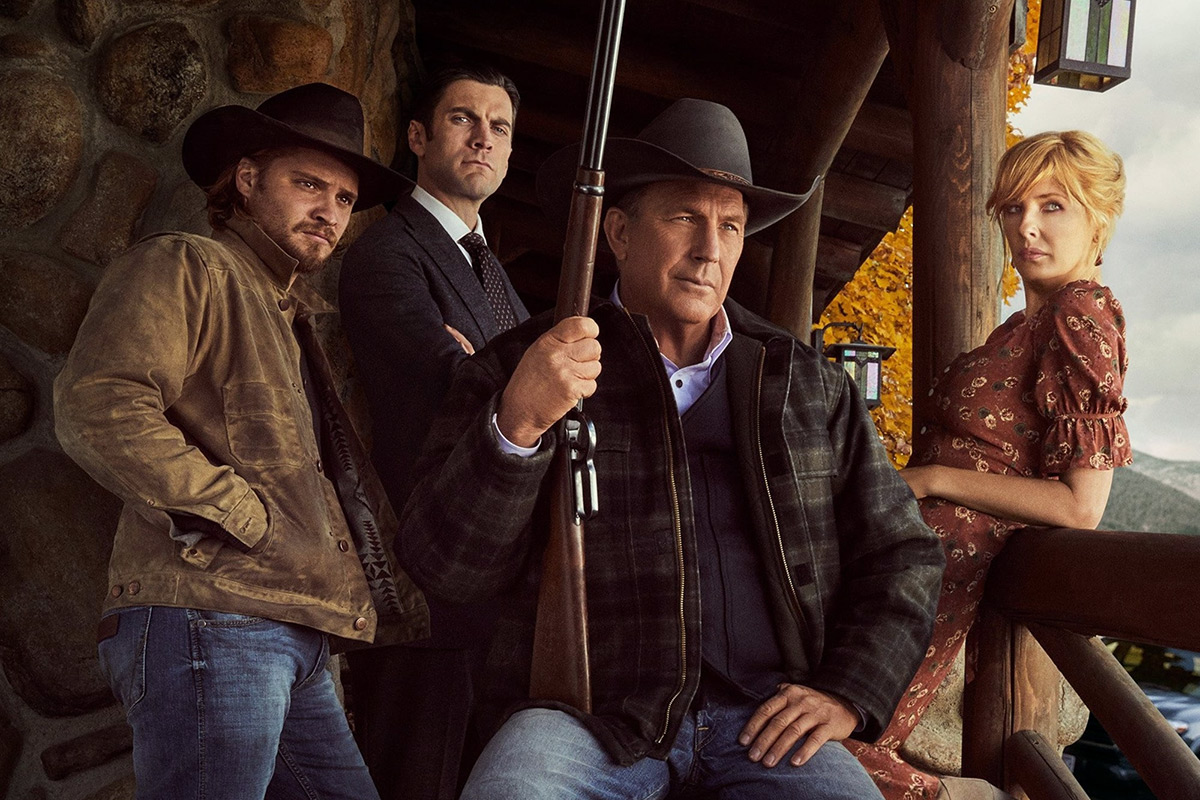 Yellowstone is one of the most popular television series, with loyal fans all over the world. The series follows the Dutton family, owners of the largest ranch in Montana (Yellowstone Dutton Ranch), as they fight to defend their large cattle ranch from the bordering Broken Rock Indian Reservation, land developers, and others who all want a piece of the Dutton's property.
This is one of my favorite shows on TV right now, and I've been counting down the days until Season 5 is released – a little over 3 weeks and counting! So why is this show so popular? The credit for the show's success goes to the talented cast, Yellowstone clothing, and the engaging storyline that keeps viewers on their edge of their seats each episode.
So this Halloween, why not dress up as one of the Yellowstone characters? Honestly, you can't go wrong dressing up as any of them, and many of them can be pulled off using clothes that are already in your closet, along with a signature piece from the show to bring it all together. Here are some pieces that are sure to bring your Yellowstone-themed outfit to life:
Costume #1: Rip Wheeler's Black Jacket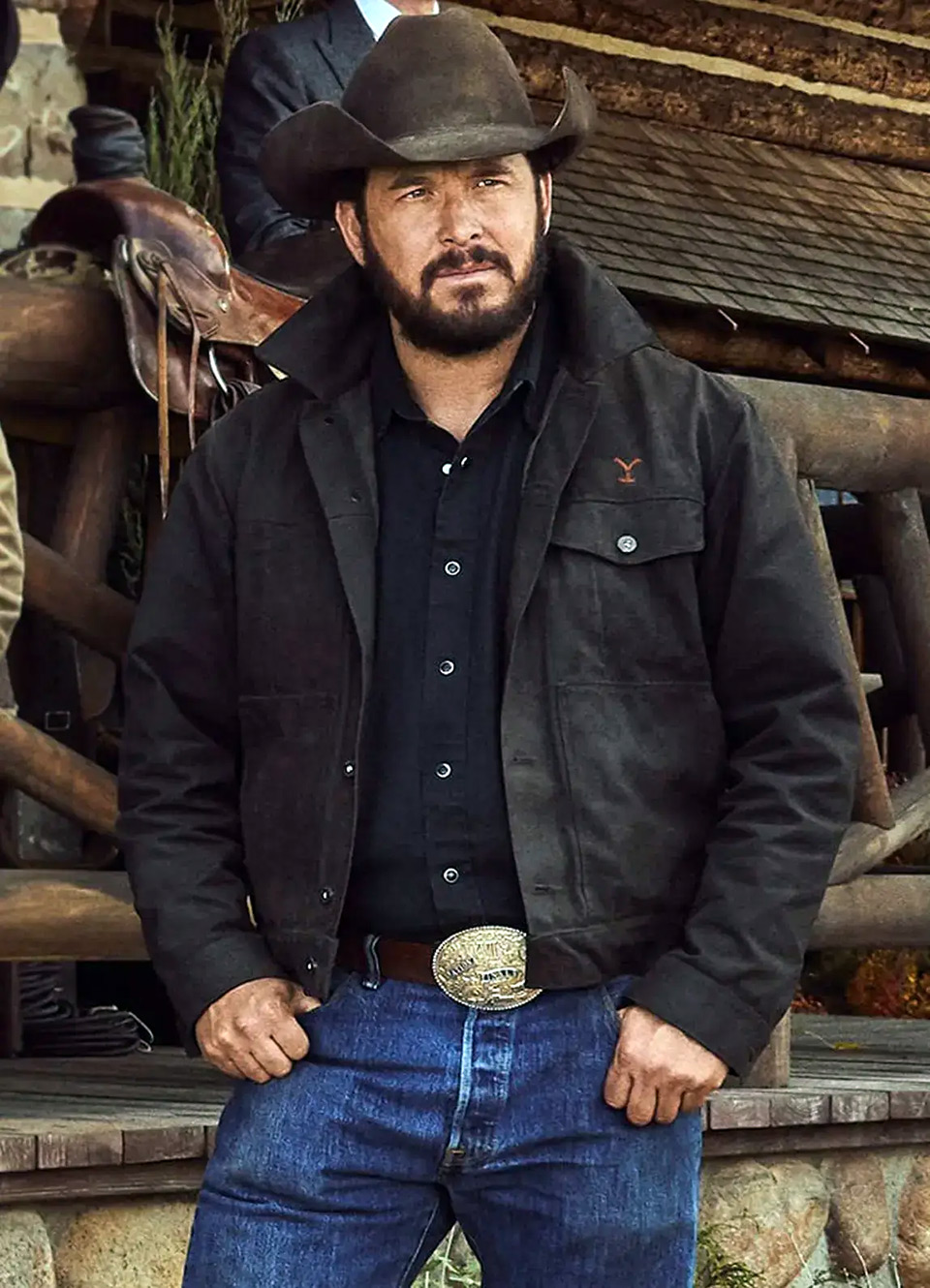 Going for a badass and intense look while dressing upscale? Thinking about how the appealing and alluring Rip Wheeler's jacket looks on you? Get the wondrous and attractive Rip Wheeler black jacket worn by Cole Hauser, who plays the character of the loyal and affectionate Rip Wheeler.
Wheeler can be seen wearing this black jacket on several occasions throughout the series. This apparel is crafted using canvas cotton fabric. For those who don't know about canvas cotton fabric, it's a specialized field of cotton that is lightweight, yet warm. The apparel also contains a thick cotton polyester lining attached to the inner shell. So you can rest assured of complete protection from cold and wind, even in an icy climate. Sleeves are kept full-length with rib-knitted cuffs for more pleasing looks.
Two flaps-down chest pockets are attached to the apparel, followed by two on-waist pockets to let you carry all your essentials, such as cash, cards, wallet, etc., without worrying about loss risk. The color theme is kept black, with a Yellowstone logo for good measure.
Costume #2: John Dutton's Gray Wool Vest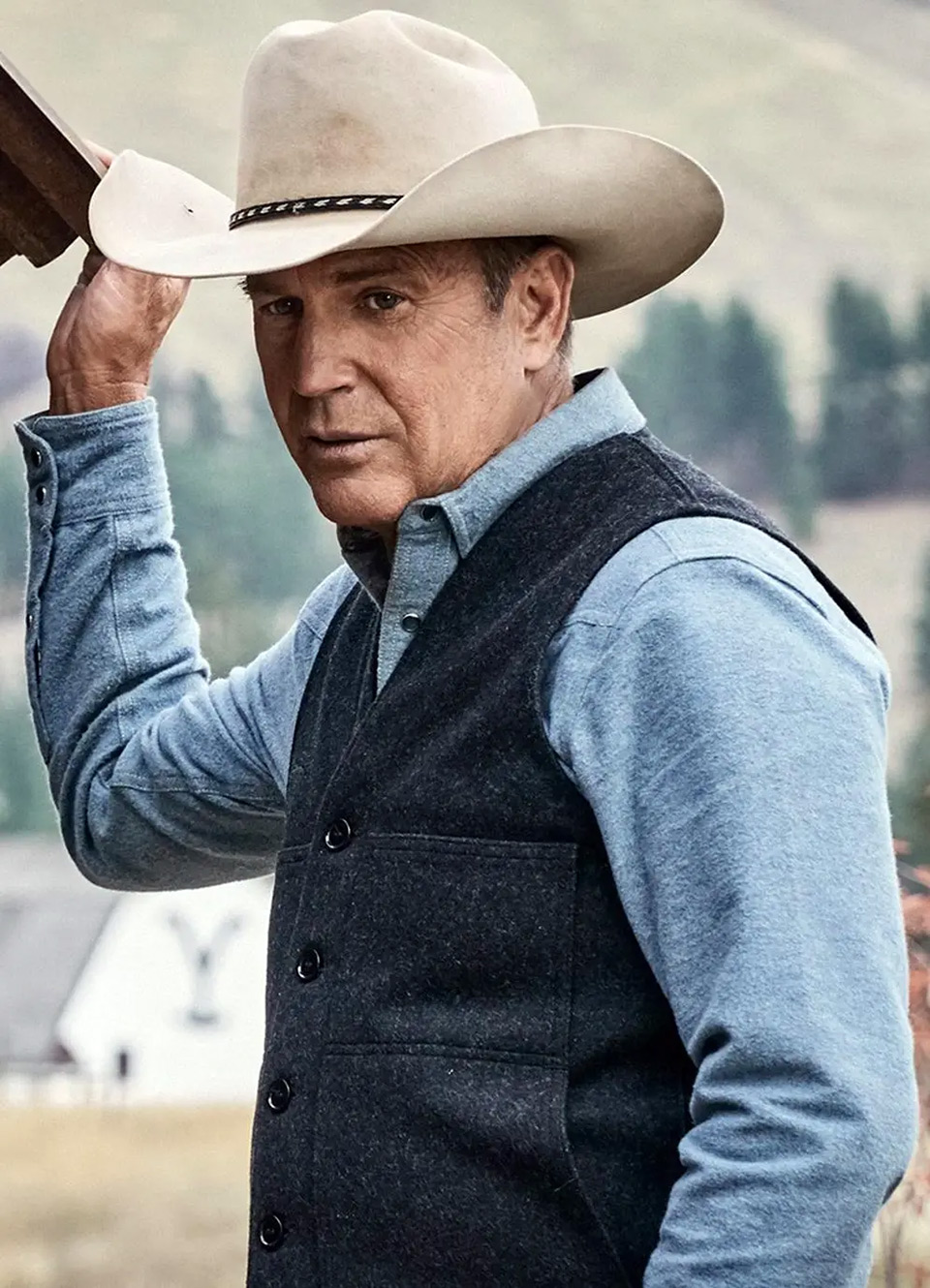 John Dutton (Kevin Costner) dons a seriously fashionable collection of vests throughout the series. It enhanced his elegant and stoic persona on TV and gracefully suited his courageous personality. All fans of John Dutton consider this Grey Woolen vest to be a must have as it suits all sorts of attires meant for all occasions.
Made of high-quality wool, this incredibly comfortable and cozy vest has a lining of viscose to increase easiness for the wearer. Front button closure provides enhanced sophistication to the vest making it a perfect article of clothing for formal and semi formal events. It makes it ideal for casual outerwear thanks to the V-neck collar adding some smartness to it as well. The two pockets on the outside and two on the inside make it an ideal space needed by the wearer to carry anything they need.
Costume #3: John Dutton's Cotton Jacket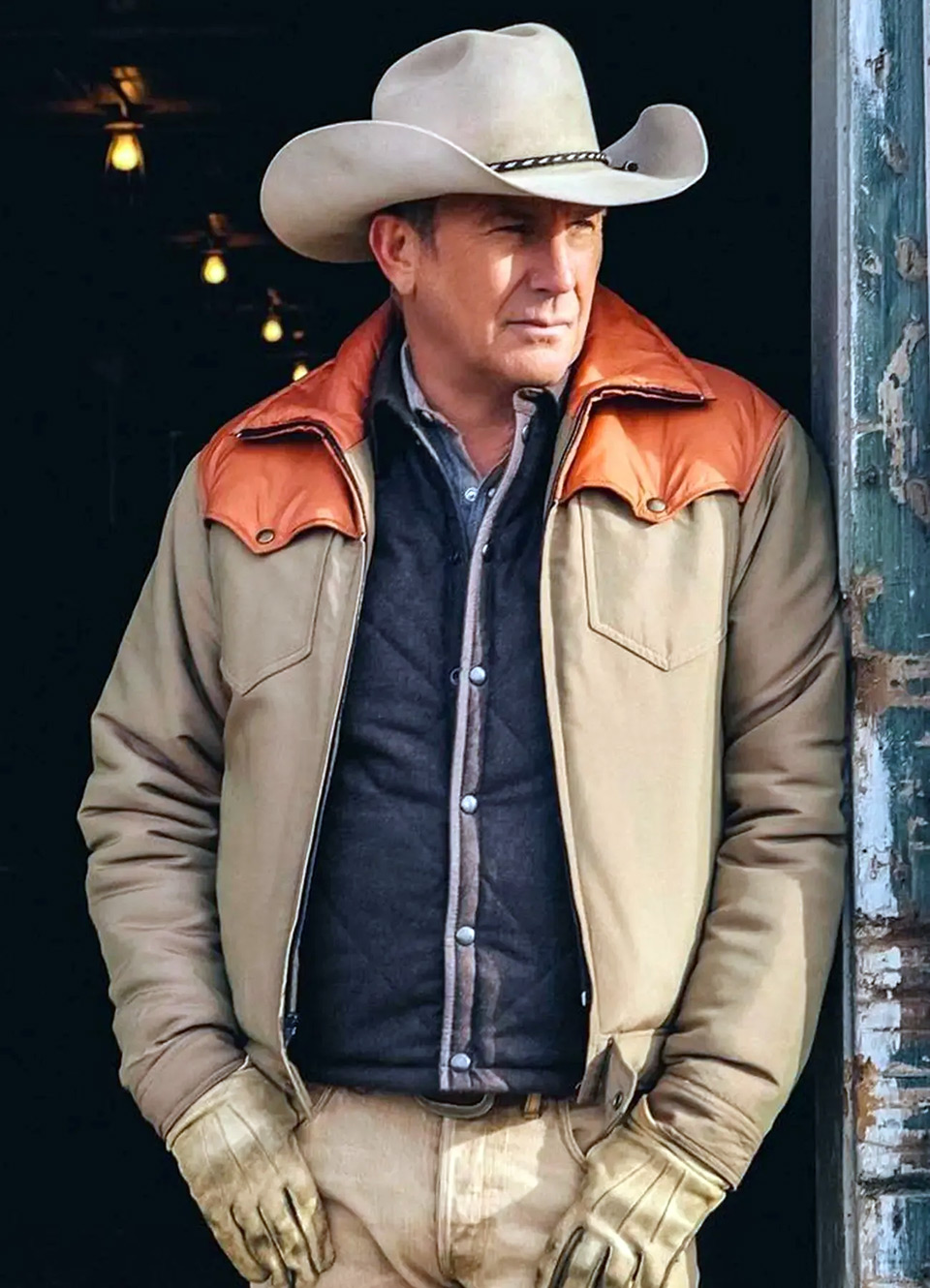 Want to try out something new and a little fancy without getting overdressed? If so, this John Dutton Cotton Jacket is just the ticket. Crafted using premium quality cotton material (for the outer shell) and quilted viscose (for the inner lining), this jacket is all you could ask for, with a look that just screams Yellowstone.
Sleeves are kept full-length with buttoned cuffs. The neck contains a shirt-styled collar, and the closure is made of a metal zipper. This outfit confirms you don't face even a bit of cold while stepping out of the house for any concern.
The color theme is a bit fancy that contains a beige color as the base, with an orange patch on the chest and collar area. Pair this jacket with anything you have in your wardrobe, and we rest assured about your fabulous look.
Costume #4: Beth Dutton's Blue Coat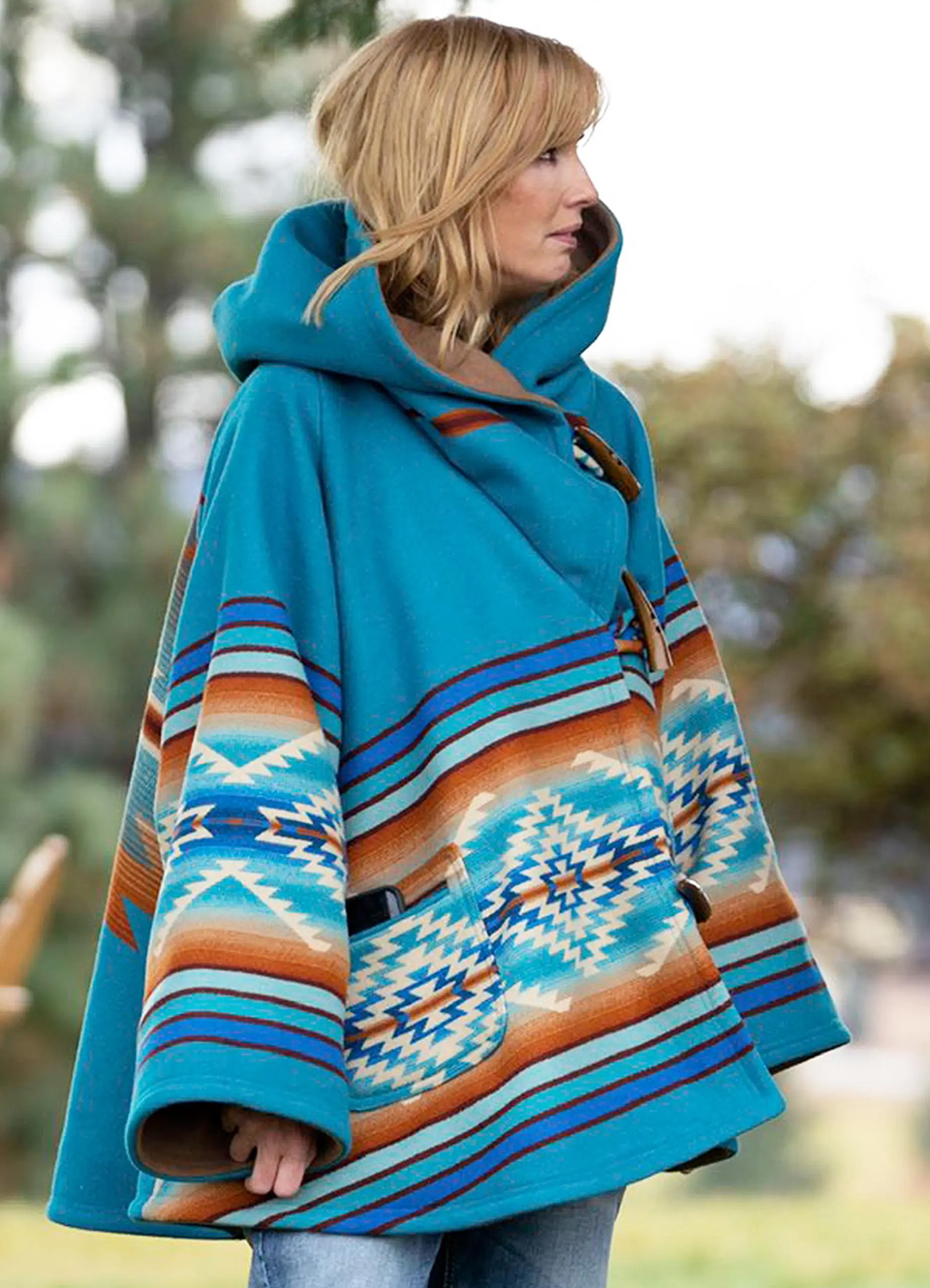 Another great idea to go with is the funky yet elegant Yellowstone Beth Dutton Blue Coat. It is the most colorful and attractive outfit you will find in the whole Yellowstone clothing line. This poncho-style coat is perfect for women to wear in the chilly breeze of winter providing them adequate cover from the cold.
Being crafted by skillful designers, this outfit contains an outer shell of polyester and wool and an inner shell of thick viscose lining. You will find two spacious and wide pockets on the front, followed by a high neck collar, button closure, and full-length sleeves with coat-style cuffs when talking about the looks. The color scheme is kept fun by using shades of orange, white, and blue. The closure is the most exciting part of this apparel. A buttoned closure is displayed on the left side instead of the center. The collar is high-necked, plus coat-style cuffs are used to bind the whole look together.
The beauty of this outfit is its versatility. It can be styled ever so simply with skinny jeans and a pair of rugged boots to make you look exquisite.
Costume #5: John Dutton's Brown Vest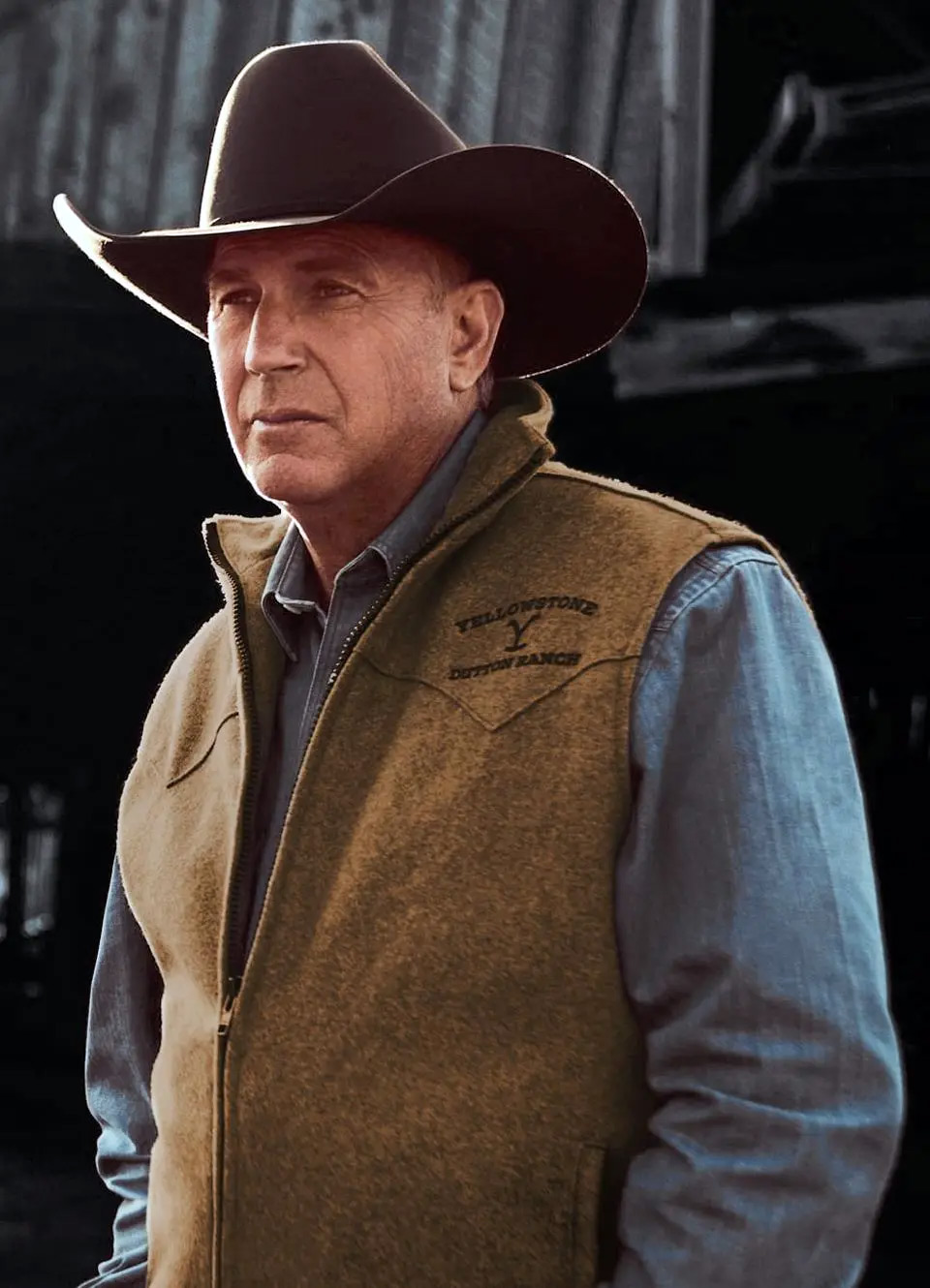 Lastly, we've got one final John Dutton look for you to pull off, featuring a Brown Vest utilizes Wool material in the manufacturing along with quilted viscose lining. The color scheme is kept beige with a slight hint of wood brown. The sleeveless outfit does obtain a standing color and two pockets at the waist. The closure is kept classic with a high-quality metal zipper.
Conclusion
As you can see, the Yellowstone clothing line is filled with some amazing stuff that you can use when dressing up as your favorite Yellowstone character for Halloween. From Beth Dutton's blue coat to John Dutton's gray vest to Rip Wheeler's black jacket, the list goes on and on. So get creative and get ready to dazzle your friends as you walk in looking like you stepped right off the Yellowstone Dutton Ranch.