12 Money-Saving Survival Tips for Holiday Travelers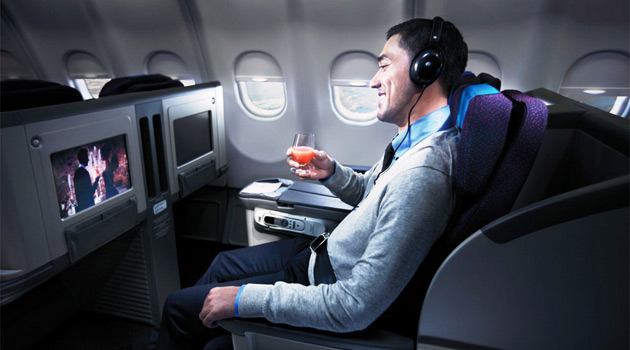 'Tis this season for long lines, crowded airports and bustling lobbies. Holiday travel is almost always a harried event, especially when overbooking or inclement weather completely disrupts travelers plans. According to NerdWallet, 20 percent of the holiday flights from 25 of the busiest winter airports were either delayed or cancelled over the past five years.
While you can't do much about the inconvenience caused by a cancelled flight, you can take a few measures to make your holiday travel experience less expensive. Here are several tips to help you and your travel party save money during the most wonderful (and costly!) time of the year.
1. Use your warehouse club card.
If you have a membership to Costco or Sam's Club, consider booking your trip through their travel portals for discounts on airfare, lodging and rental cars, as well as deals on cruises and activities. Costco has deals like 10 to 20-percent off rooms at Hyatt and Best Western properties, as well as discounts and coupons from several rental car companies. Sam's Club advertises average savings of 15 percent on hotel rooms, and 10-percent off rental car rates.
2. Factor in all the fees.
If you opt for cheaper airfare, you may be slapped with lots of additional fees, like checked baggage, priority boarding, seat selection and even carry-on luggage. Make sure to read the fine print and account for all the fees before booking. It's possible flights that appear to be more expensive will save you money in the long run.
3. Price-track for the best deal.
Comparing airfare prices among different carriers is key to getting the best deal on your flight. However, this process can be time-consuming and frustrating, which is where Pintrips.com comes in. This site compares prices on travel with real-time price-tracking, and offers an added social element to help you coordinate with your family and friends. You should also keep price-tracking after you book; Southwest offers refunds for itineraries that drop in price after purchase, and other airlines do as well, depending on the difference amount.
4. Use a Hotel loyalty program.
Using rewards programs from hotels and hotel-booking sites can yield discounts and free nights. For every 10 nights you book through Hotels.com, for instance, you get one night free when you're part of their rewards program. I recently used my free night in Spain and saved $300! For travelers in need of last-minute accommodations, check out the HotelTonight app; it offers high-end hotel rooms for cut-rate prices.
5. Redeem your rewards.
According to Colloquy, a loyalty intelligence consulting firm, $16 billion in rewards go unredeemed every year. These rewards aren't just perks; you earn them as a result of your spending, so it's wasteful not to use them! Redeem your credit card or airline miles for gift cards to help pay for your holiday travel, or figure out how to use miles for flights or even restaurant meals.
6. Buy discount gift cards.
For dining, entertainment, airfare and hotels, you can save on your travel needs by using discount gift cards. Restaurant.com offers gift cards for 40-percent off face value to local eateries when you enter zip code. You can also enjoy that family holiday movie outing for less: Warehouse stores offer bundled gift card deals for movie theaters, like a 10-pack of tickets to Regal Cinemas for $84.99 (less than $8.50 per ticket!) from Costco. Use any leftovers as gifts!
7. Use dining coupons to save on food when traveling.
Look into daily deals for restaurants and movie theaters via Groupon or LivingSocial for 40 to over 60-percent off your dining experience. Tap into restaurant coupons using Coupon Sherpa, which offers discounts to national restaurant chains that you can find in most major cities, like a free appetizer at Olive Garden or a free breakfast entree from Bob Evans with entree-and-two-drink purchase.
8. Price one-ways and book separately.
Before you search exclusively for round-trip tickets, price one-way tickets from multiple carriers to see if you can get a better deal. This strategy also enables you to apply reward miles to one leg of the trip if you don't have enough to cover the cost of a round-trip ticket. Also, book group tickets separately; reservation systems must price group tickets the same, meaning if there are only two bargain tickets left and you're booking for four travelers, you miss out on those savings!
9. Buy someone's cancelled reservation.
A unique way to save on hotel lodging is to buy a cancelled reservation. RoomerTravel.com connects you with other travelers who are stuck with a hotel reservation they can't cancel, and facilitates your purchase of that reservation for up to 25 percent below market price. Enter the city or zip code where you're visiting to look for available reservations.
10. Rent your room or house while you're away.
You can rent your house while you're away using services like HomeAway and AirBnB. The average cost is $65 per night, and you can use the money earned to help offset the cost of your trip and other holiday expenses. If you've never listed your home before using one of these sites, read AirBnB's Decide to Host to learn about the process and the details you need to consider.
11. Research airport parking and transportation.
AirportParkingReservations.com provides a current list of available parking lots and going rates helping you find more affordable long-term parking. You can read reviews to ensure a safe location. Also, don't get stuck at the airport destination with no ride to your hotel or family's home, or you could get stuck paying a premium for a cab service. Consider shuttle services or even seek car shares via Zimride.
12. Get reimbursed for delays or cancellations.
There's nothing worse than finding out your flight is delayed or cancelled, especially during the holiday season. With AirHelp, you can receive compensation for delayed and cancelled flights, lessening the blow to your budget and making the inconvenience more bearable. The service takes 25-percent of your haul if you are compensated, but nothing at all if your claim is rejected. With the potential to receive up to $800 for your troubles, it's worth a shot!
Happy travels!