Marriott Rewards LocalPerks Experience in Marco Island, FL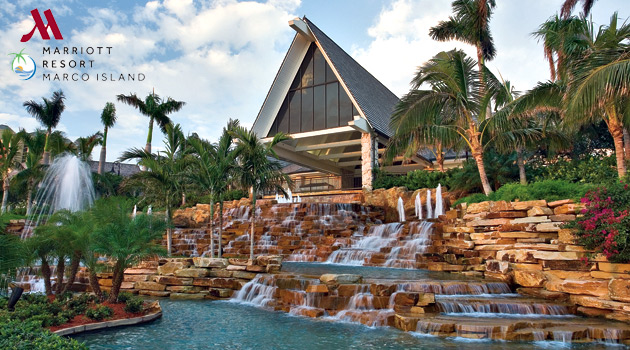 Last week, Marriott Rewards, Marriott International's award-winning loyalty program, invited me down to their Marco Island Marriott Beach Resort Golf Club & Spa for an immersive experience of their new LocalPerks beacon technology platform.
Earlier this year, we tried out Marriott's innovative mobile check-in and checkout features, and we were blown away by how forward thinking the company was from a technology standpoint. Now, Marriott Rewards is the first hotel loyalty program to utilize beacon technology with LocalPerks, providing geo-targeted mobile offers for exclusive on-property deals, including food & beverage, golf and spa via push notification.
LocalPerks is currently available at the San Diego Marriott Marquis and Marina, Baltimore Marriott Waterfront and Marco Island Marriott Beach Resort, Golf Club & Spa, with more properties being added in the coming months. If you're staying in any of these three resorts, you can simply fire up the Marriott Guest Services iOS app and accept push notifications. Afterwards, you can close the app. When you walk by a beacon, you'll receive a LocalPerks push notification inviting you to take advantage of a special on-property offer.
When I arrived at the Marco Island Marriott, I headed right over to the Mobile Check-In kiosk, collected my room key, and headed up to my room on the 6th floor. As a Marriott Rewards Elite Member, I was hoping for a nice room upgrade, but nothing could have prepared me for this:
Wow, talk about an amazing view! I could get used to this.. I changed into shorts, went out on the balcony, and watched the sunset. Afterwards, I headed down to meet up with the rest of the Marriott group for the evening's festivities.
Now as someone who's always interested in new technologies, I was eager to try out LocalPerks for myself. So I fired up the app and began walking through the resort. As I passed Kurrents, this notification popped up on my phone: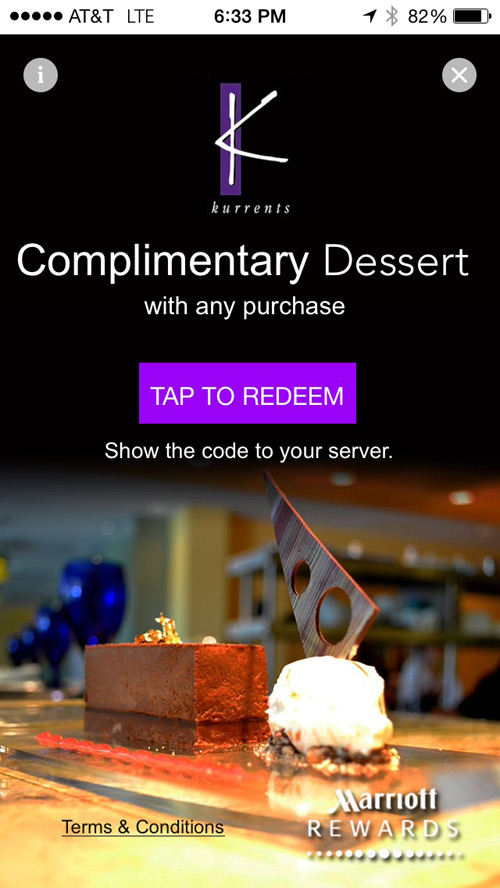 Now if that's not an enticing offer, I don't know what is! And let's face it, if you're staying at a resort like this, you're probably going to be eating on-site already, so why not take advantage of a deal while you're at it?
As we toured the property, I received money-saving offers from Korals, Kurrents, 400 Pazzi's, Quinn's, and The Spa. In addition, I also received some informative notifications, telling me about the Fire Dancers Sunset Celebration, the Sailing & Shelling experience, etc. All in all, it's a pretty non-intrusive way for guests to learn more about the various offerings on the property and get some good deals at the same time.
That night, we had dinner at Quinn's On The Beach and got to watch that fire dancer show, which was pretty cool. After that, it was off to bed for some much-needed rest after a long day of traveling and such.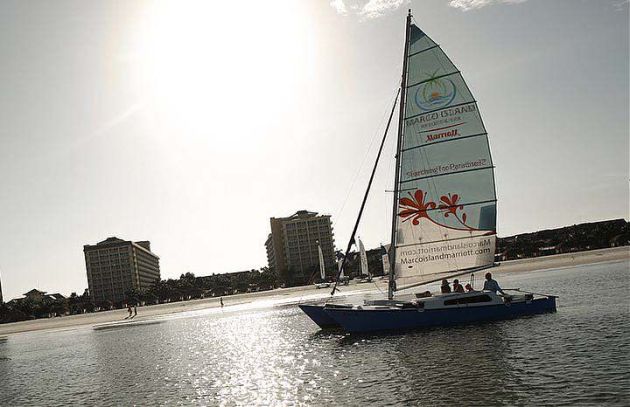 The next morning we headed out on their Sailing & Shelling experience, where we rode on two custom-built catamarans to a sandbar in the Gulf, where we got off to do some shelling. If you have a chance to do this, I HIGHLY recommend this, as it's a great way to see Marco Island and just relax.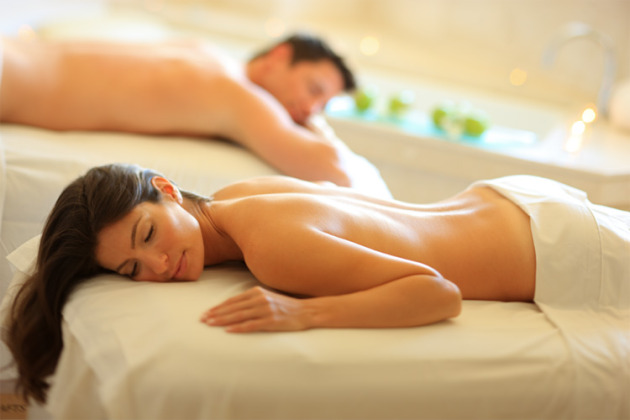 After lunch (at 400 Pazzi's, where I had an awesome BBQ chicken pizza), it was time for my spa treatment! I had a Swedish Massage that was out of this world, and I hit up the steam room and sauna afterwards before getting back to "work".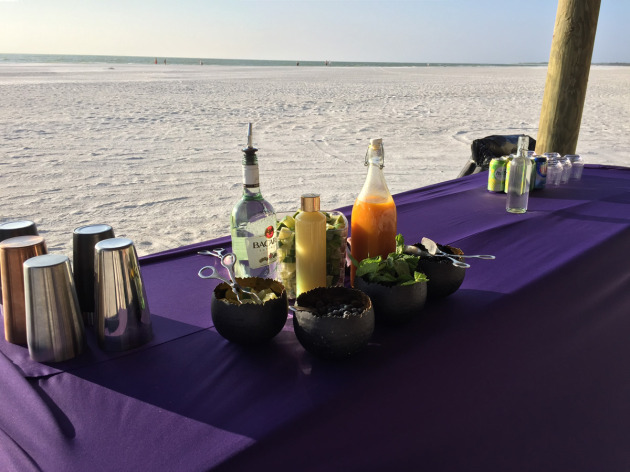 We met up at a beach side Chickee Hut later in the afternoon for Mojito lessons. I know, it's a tough life, but somebody's gotta do it.. Now you might be wondering – Why do a mixology class on the beach? It turns out you can actually rent out the Chickee Hut that we were using as part of Marriott's Workspace on Demand program. How cool is that??
Powered by LiquidSpace, Workspace on Demand provides short-term easily bookable space to work, meet, connect, and collaborate. Marriott provides a productive working environment for locals and travelers, offering reserved space, Wi-Fi, and easily accessible food and drinks. They offer a variety of free and paid spaces, and let me tell you, it beats the heck out of struggling to find a space in a crowded coffee shop!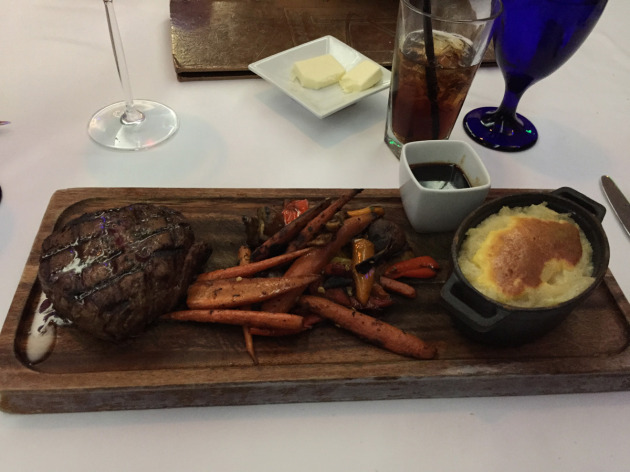 Later that night, everyone met up for our farewell dinner at Kurrents, where I enjoyed a perfectly cooked 9oz Prime Filet Mignon, along with an amazing chocolate soufflé that I devoured in record time. It was the perfect way to end the perfect weekend.
Of course, a huge thanks goes out to Marriott for an amazing weekend in paradise. There's no question that Marriot Rewards is revolutionizing the loyalty program landscape with innovations like Mobile Check-in and LocalPerks, and it's definitely a loyalty program for the next generation traveler.
Disclosure: Guys Gab was provided with free travel and accomodations, however the opinions expressed are my own.