Travel Brilliantly with Marriott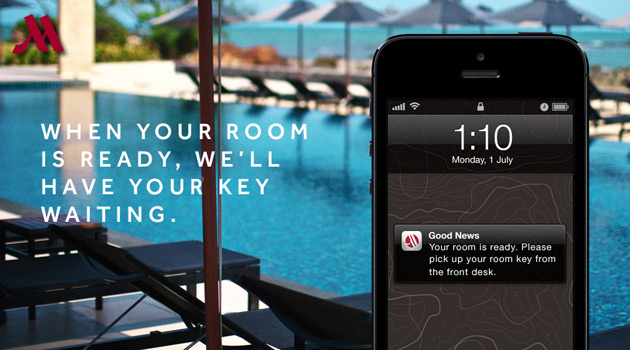 Last week, Marriott Hotels invited us to New York City to take part in their Travel Brilliantly campaign. We spent the night at the New York Marriott Downtown, which is located in the heart of the Financial District, an area that I hadn't spent much time in before.
Now if you've stayed at a Marriott in the past 6 months or so, you might have heard about their new mobile check-in feature, which lets you check-in to the hotel from your mobile device before you arrive. Marriott Hotels was the first to introduce mobile check-in and check-out, and we had a chance to try this out first-hand. Let me tell you, once you've tried it, there's no going back to the "old way" of checking in.
In order to take advantage of mobile check-in and checkout, you have to download the Marriott Mobile app, which can be downloaded in the Apple iTunes Store and Google Play. Launch the app, enter your Marriott Rewards number, fill out your profile, and make your reservations. You get a Push Notification when mobile check-in is available (I think it was about 24 hours before my arrival), and then you get another notification when your room is available.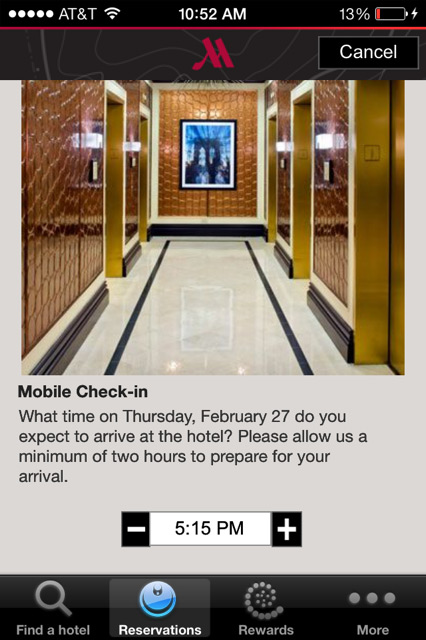 At around 3:30pm on the day of my arrival, my phone notified me that my room was ready. I particularly liked this feature, because I can't tell you how many times I've arrived at a hotel, only to be told that my room wasn't ready yet. It was nice being able to know the status of my room beforehand.
Once I got there, I simply walked up to the line designated for mobile check-ins, got my room key (no credit card required, as that information was already captured when I made the reservations), and I headed up to my room. The whole process took less than 30 seconds!
Marriott hooked me up with a beautiful suite overlooking One World Trade Center, and I couldn't believe how nice the room was! Check out these photos from my room:

After settling in to my new digs, I headed downstairs for a tour of the hotel with the Marriott team and some fellow bloggers. We learned more about the Travel Brilliantly campaign, and about new mobile services that are being tested at certain incubator hotels (like the New York Marriott Downtown we stayed at). Marriott Hotels is introducing technological innovations for the next generation traveler.
The Marriott Guest Services app allowed me to make special requests from the hotel staff without having to pick up the phone or head to the front desk. Whether you need extra pillows, bath amenities, towels, a wake up call, or anything else, you simply tell them via the app, and it'll get taken care of for you. Very trick!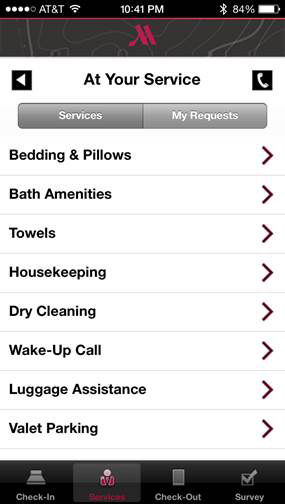 Afterwards, we headed out for a night on the town. Since we were in the Financial District, we planned on dining at Delmonico's, which holds the distinction of being "America's First Restaurant".
There's a lot of history here. It's where iconic dishes like the Delmonico Steak, Baked Alaska, Eggs Benedict, Lobster Newberg, and Chicken A La Keene were created. It was has a long list of notable patrons, including Theodore Roosevelt, Mark Twain, Charles Dickens, Oscar Wilde, J.P. Morgan, Nikola Tesla, among others.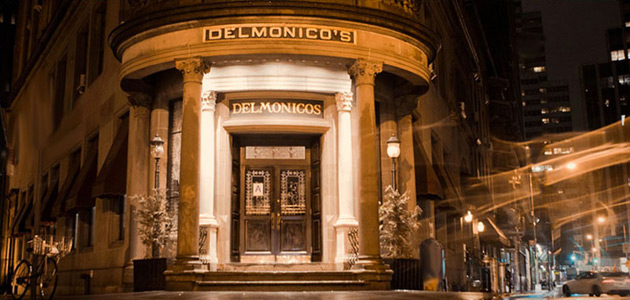 According to Google Maps, Delmonico's was only a 10-minute walk from the hotel, so I had my phone plot a course there, and off we went. The place was really crowded when we got there (turns out it was Restaurant Week), but thankfully I had made reservations beforehand with OpenTable, so we didn't have to wait long to get seated. Everything on the menu sounded amazing, and we ended up ordering the Baby Iceberg Wedge Salad, House Cured Bacon, Filet Mignon, Classic Baked Alaska, and Chocolate Mousse Cake.
It was a great meal, and everything was consumed in record time! If you want to see some of the highlights from dinner, check out our Instagram page.
Afterwards, we wanted to find a cool spot where could enjoy some adult beverages. After reading through a few NYC blogs, we decided on Apotheke NYC, a cool looking speakeasy in Chinatown.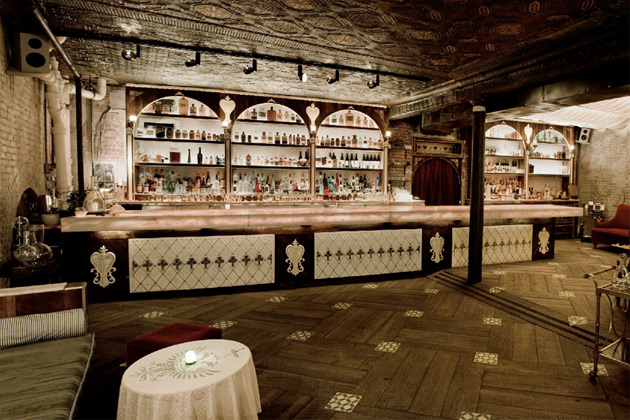 Since this was a bit of a hike from Delmonico's, we used Uber to take us there. This was my first time using Uber, and I now see what all the hype is about. I was able to request a car from the Uber app while still at the restaurant, and I could see in real-time where my car was, and it notified me when the car arrived. Not having to wait outside in the COLD trying to hail a cab was much appreciated on this most frigid of nights!
Apotheke NYC was pretty crazy.. It's a non-descript building on a narrow side street in Chinatown, and at first I thought the Uber driver had gotten lost. But then I looked up and saw a sign with a chemistry beaker, and I realized that we were here. A bouncer pulled back the curtains, and we were suddenly transported back in time. The drinks here are pretty amazing, the hardest part was figuring out what to order. We had more than a few libations here, and they were all great. And strong. And the night started getting a little blurry after that. Eventually, we called for another Uber to take us back to the hotel, and called it a night.
The following morning, we headed down to Bill's Bar & Burger for some AMAZING pancakes. Afterwards, we got some 9/11 Memorial passes from the front desk (they're free, just ask), and we made our way across the street to check it out. The museum hasn't opened yet, but it was cool to see the fountains in person, along with PJD's 9/11 Tribute Bike from American Choppers, which was on display in the gift shop.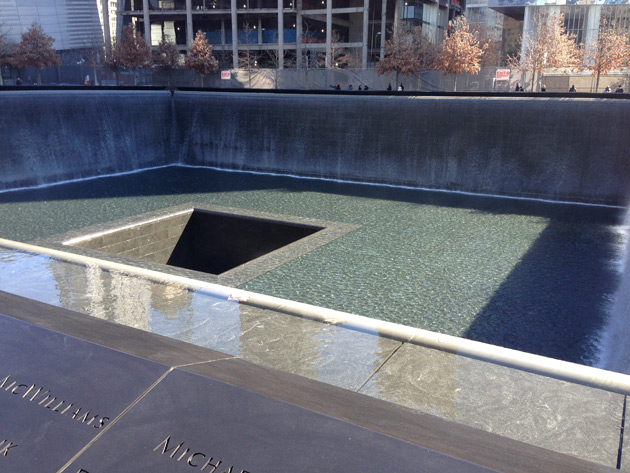 Afterwards, we headed back to the room, packed up our stuff, and checked out from the mobile app. The mobile checkout process was just as quick and easy as checking in was, and after that we were on our way.
A huge thanks to Marriott for the swanky accommodations and hospitality. Hopefully the next time around, the weather will be a little warmer so we can do some sightseeing while we're in the city..
Click here to learn more about Marriott Hotels' Travel Brilliantly program!
Disclosure: Guys Gab was provided with a free hotel room, along with compensation for meals and travel, however the opinions expressed are my own.