2022 BMW M440i xDrive Gran Coupe Is The Perfect Blend Of Fun & Practical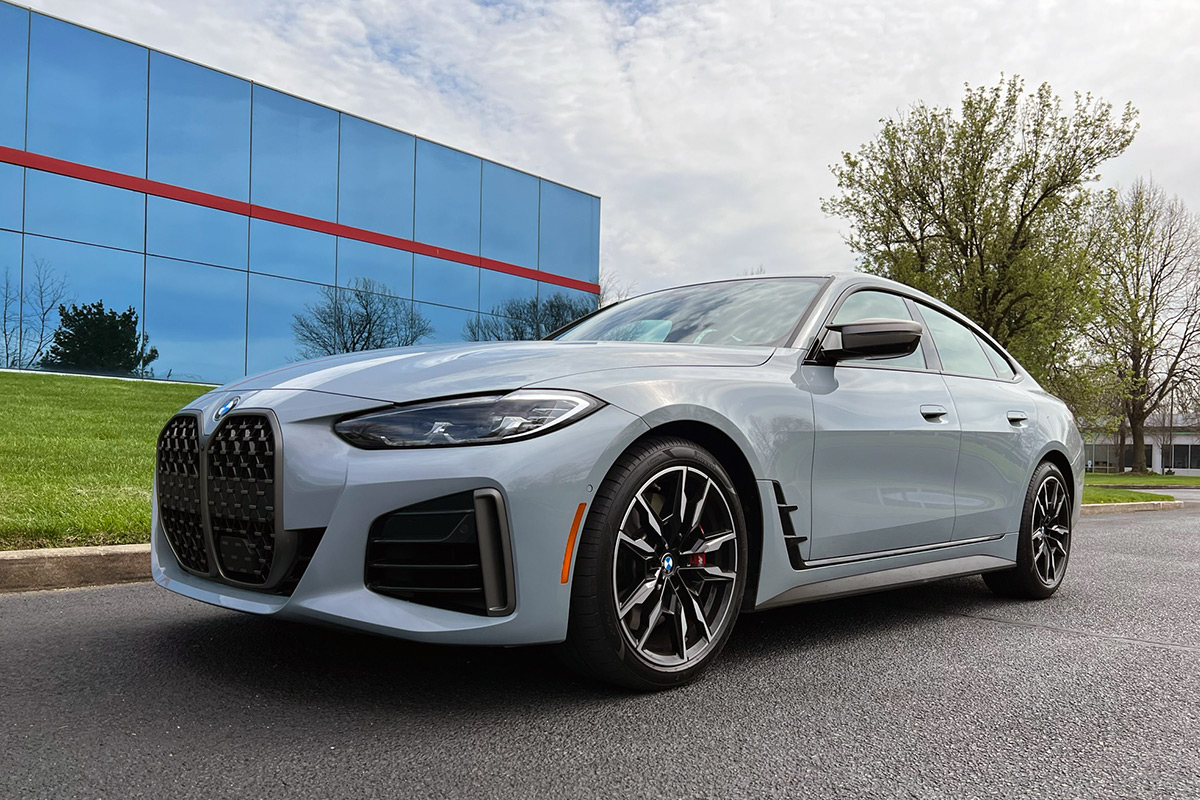 I'll admit, when BMW first introduced the 4 Series Gran Coupe back in 2014, I was more than a little confused. Wait, a four-door 4 Series?! Wouldn't that just be a 3 Series sedan? Essentially, but the Gran Coupe retains the coupe-like styling of the 4 Series, but now with two additional doors, and a little extra length, rear headroom and trunk space to boot.
At the time, the BMW 4 Series Gran Coupe was in a segment all its own, and it was unclear if there was really a need to introduce yet another model variation into the mix. But it proved to be successful enough that BMW has introduced a second-generation 4 Series Gran Coupe, one that's been improved in every way.
What's more, after spending a week with the 2022 BMW M440i xDrive Gran Coupe you see here, I'm going to go out on a limb here and state that THIS is the one to get, as it offers the perfect blend of fun-to-driveness and practicality, all in a package that is simply gorgeous. If I had $70K burning a hole in my pocket and was shopping for a new car, I'd buy this in a second!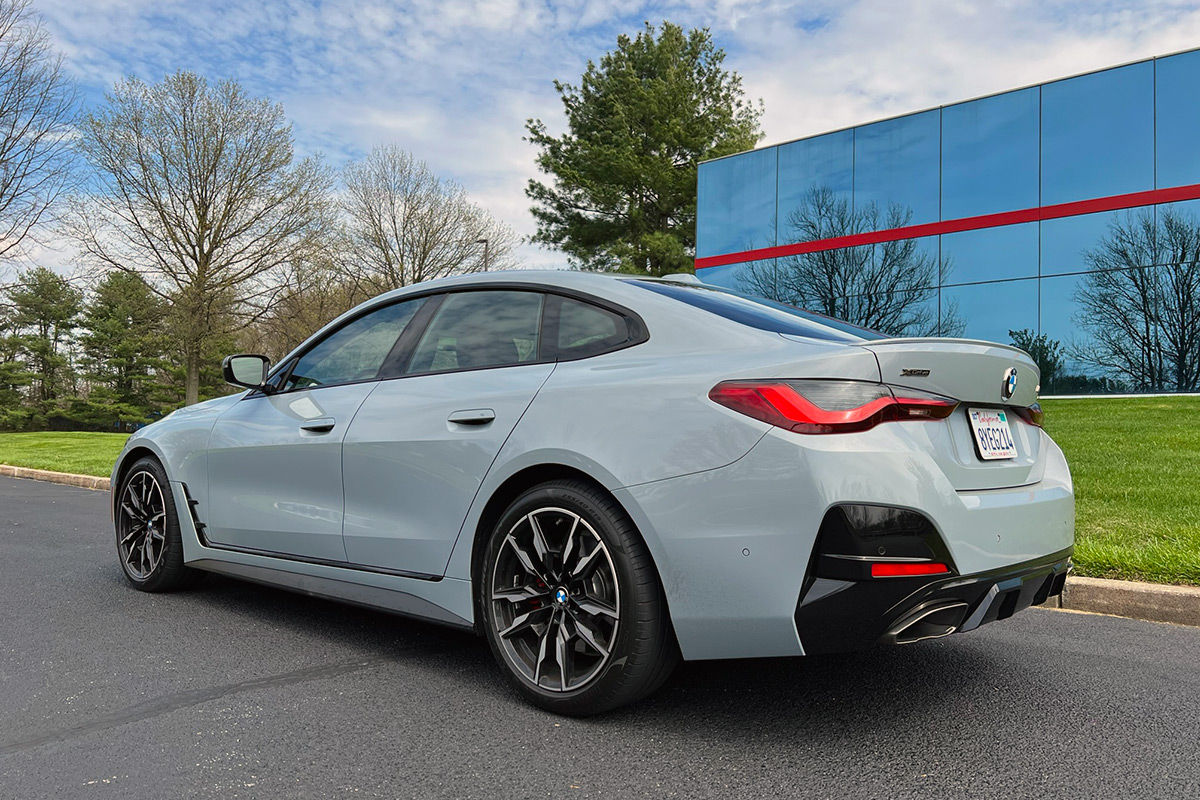 Now if you remember, last year we drove the 2021 BMW 430i xDrive Coupe, which I absolutely loved. That car was sufficiently quick even with the smaller 2.0-liter 4-cylinder engine, but the BMW M440i xDrive Gran Coupe is on a whole other level, with a 3.0-liter turbocharged inline 6-cylinder engine that puts out 382 hp and 369 lb-ft of torque.
The M440i xDrive Gran Coupe rockets from 0-60 mph in 4.4 seconds, with the xDrive all-wheel drive system delivering power to all four wheels and ensuring a perfect launch every time. An 8-speed Sport Steptronic transmission is standard, and it delivers sharper shift characteristics, improved efficiency, remarkably fast gear changes and very smooth operation. If you want to row your own gears, you have to step up to an M4.
What's more, the M440i Gran Coupe boasts 48-volt mild hybrid technology, which acts likes an electric drive unit that assists the engine, offering the driver an electric boost effect that can instantly deliver an extra 11HP when accelerating off the line or for a quick burst of speed. The power used for the electric boost drive is recouped through Brake Energy Regeneration and is stored in a separate battery that also supplies the electric energy for the 12V on-board power.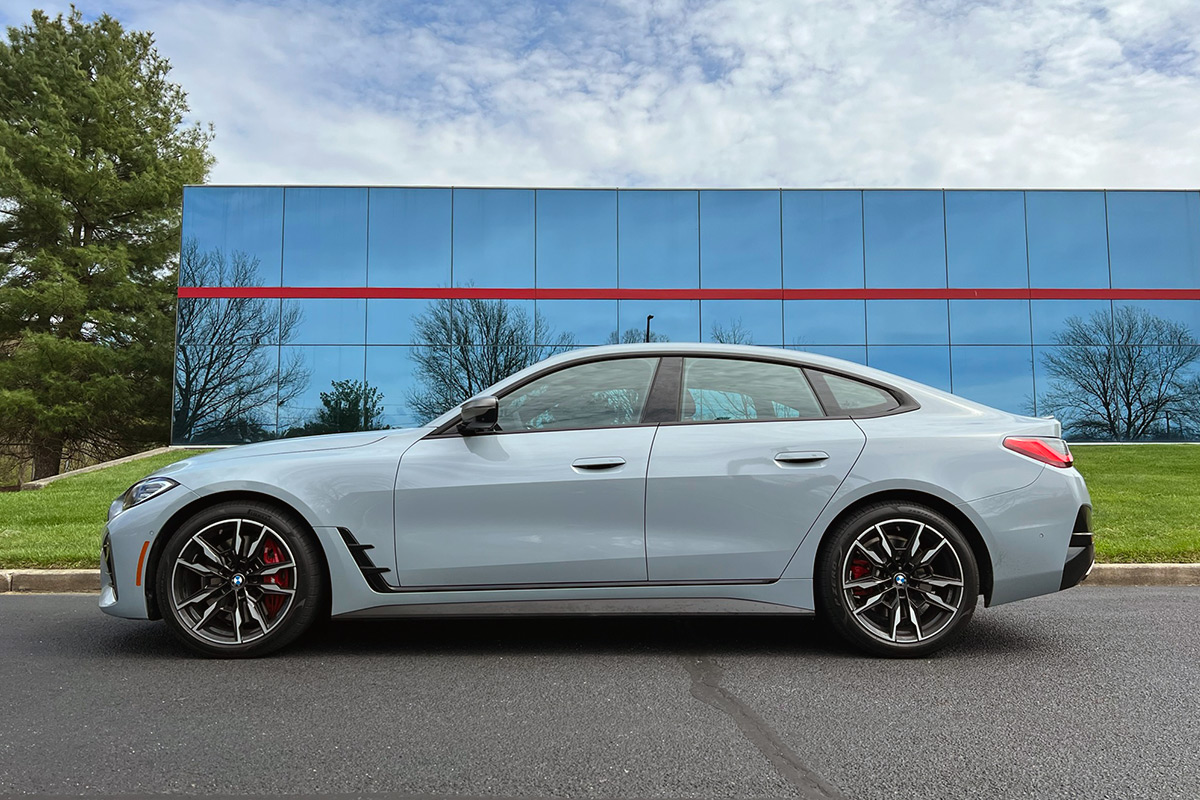 Handling is another one of the car's strong suits, as you would expect from a car wearing an M badge. Thanks to its wider tracks, near 50:50 weight distribution, low center of gravity and all of the M goodies this car comes equipped with (M sport suspension, variable sport steering, M sport brakes, M sport differential and 19″ M wheels), the BMW M440i Gran Coupe handles like it's on rails, leaving you with a big smile on your face.
What's great about the BMW M440i Gran Coupe is that it is able to pull double duty, providing the ultimate in comfort for five passengers as you rack up the highway miles, but with the turn of a knob (to SPORT mode), everything tightens up so that you can attack your favorite twisty road with aplomb and really have some spirited fun.
For those who want to take it up a notch, the optional Adaptive M Suspension combines the characteristics of M Sport suspension with electronically controlled shock absorbers. Our car didn't have this, but as we understand it, continuously adjustable valves allow the damping force to be metered at each wheel individually and as a function of vehicle load. As you can imagine, this should result in exceptional ride quality.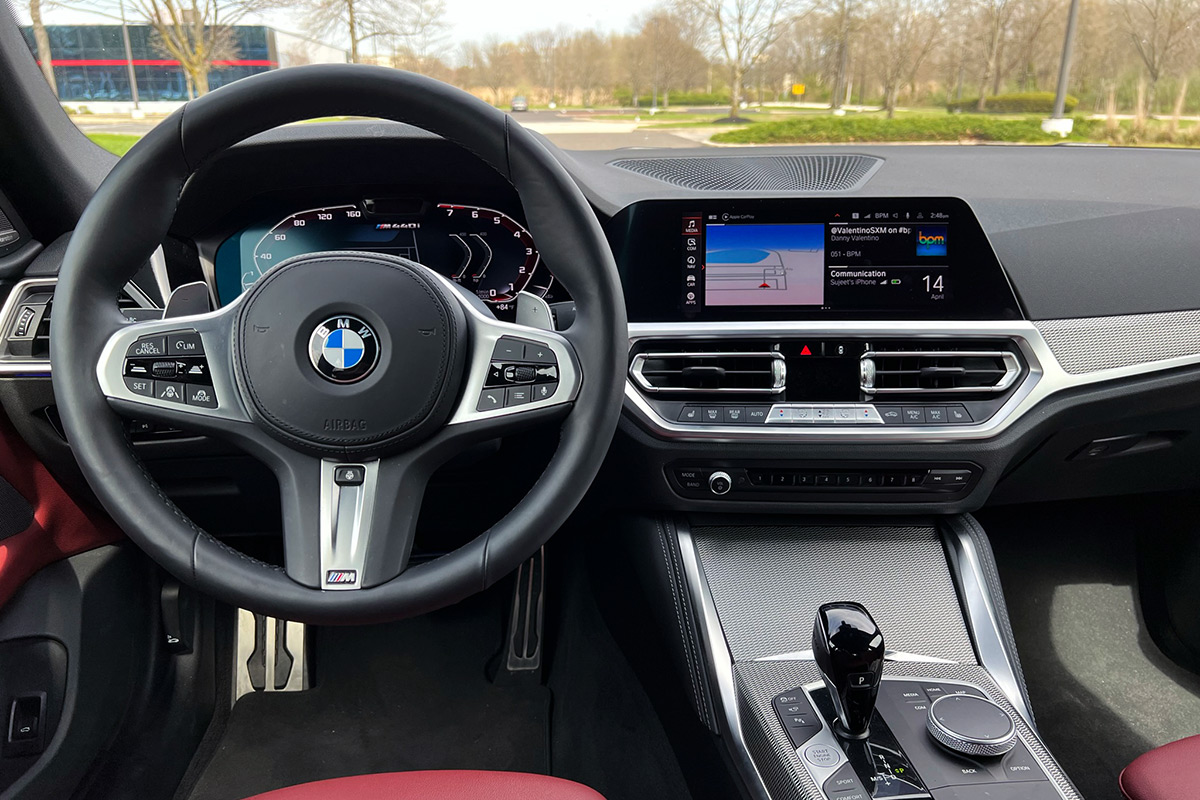 Visually, I actually like the looks of the 2022 BMW M440i Gran Coupe better than the regular 4 Series Coupe, it just looks more balanced with the rear doors rather than two large doors. In addition, the Gran Coupe gets some specific design features that really set it off. The kidney grille frame and the vertical trim around the air curtains are painted in Cerium Grey, as are the exterior mirror caps, exhaust pipe trim and model badges.
Meanwhile, the air breathers, the side sill trim strips and lower rear bumper trim including the side trim elements are painted in high-gloss black, giving it some nice contrast and giving some nice flourish. An M-specific spoiler on the rear hatch finishes things off, giving it a little bit of a sporty edge without being too obnoxious.
Ironically, the giant kidney grille doesn't even bother that much anymore, it's something that I've learned to live with at this point. My favorite part of the car has to be the Brooklyn Grey metallic paint, it's very distinct and the color shifts slightly depending on the lighting. BMW always has the best colors to choose from, and at a cost of just $550, this one is a no-brainer.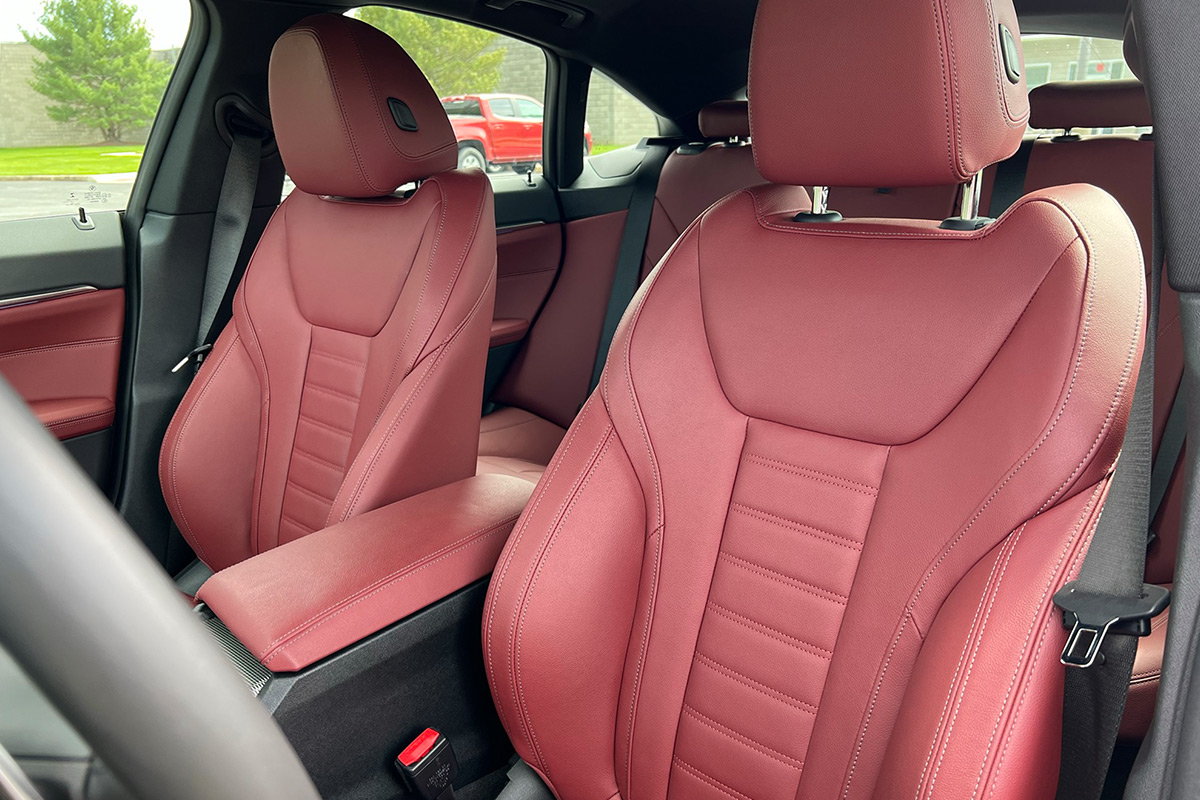 The interior of the BMW M440i xDrive Gran Coupe is pretty standard fare for anyone who has driven a BMW lately. It's a very driver-focused layout, with everything well within reach and easy to navigate. Specific to the M440i xDrive Gran Coupe are sport seats that are bolstered to keep you in place during spirited driving, an M leather steering wheel, door sill plates bearing the M logo and M Aluminum Tetragon interior trim.
Our car was optioned with Tacora Red Vernasca leather ($1,450), and it gives the interior of the car a rather luxurious appearance and a much-needed pop of color, compared to the typical black interiors that most cars come with. It's one of those things that people see and go "Oh!" when they first open the door. In my opinion, it's well worth springing for this option.
Front and center is BMW's iDrive 7 infotainment system, and it's easy to use. You can control it either using the iDrive controller, touchscreen, multifunction buttons on the steering wheel, or by saying "Hey BMW" and using BMW's Intelligent Personal Assistant. With Live Cockpit Pro, you get an upgraded 10.25-inch center touchscreen control display and a fully digital 12.3-inch instrument display, along with navigation. And as you might expect, there's a ton of safety features that also come standard on the car.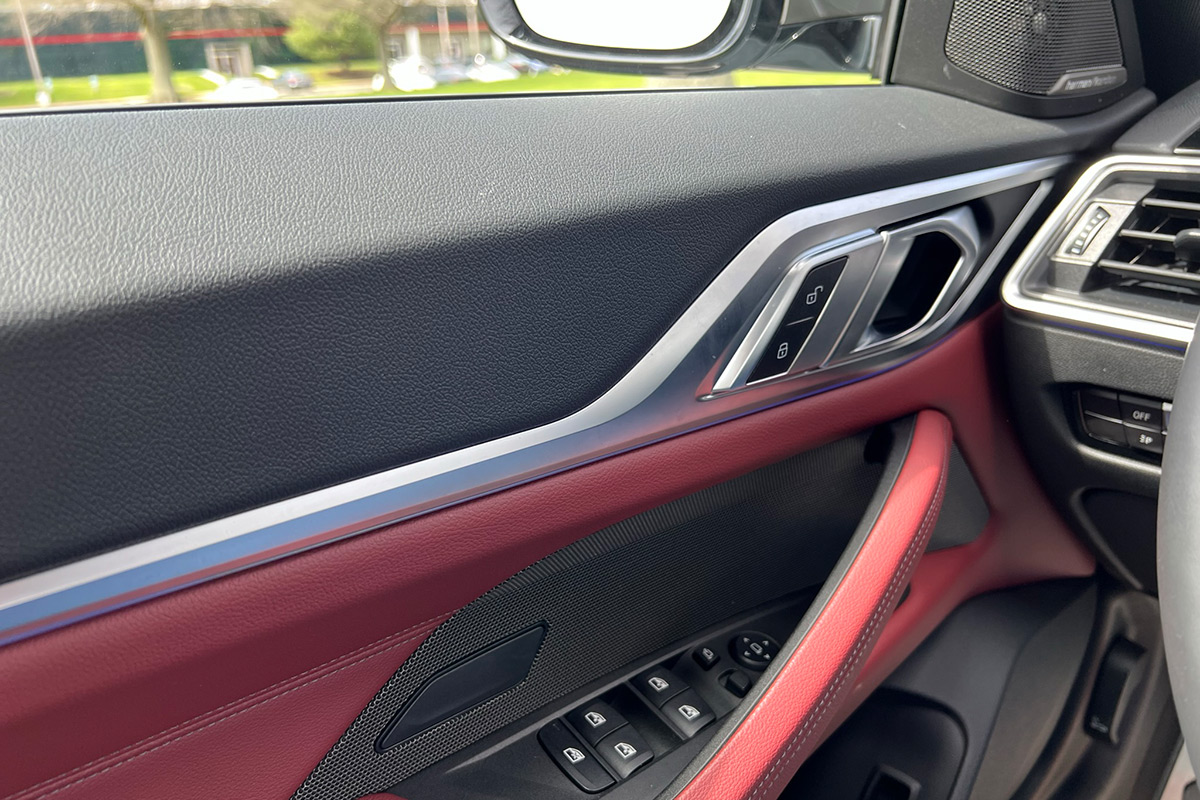 Perhaps my favorite features of the BMW 4 Series Gran Coupe is its large, wide-opening hatch, which makes for a very versatile car. The trunk opens and closes automatically, and let me tell you, it can carry a ton of stuff, boasting 16.6 cubic-feet with the rear seats up, 45.6 cubic-feet with the rear seats down, and easy access due to the hatch design.
As the owner of a hatchback myself, I'll never understand why these types of cars aren't more popular in the US, as they are just so much more useful. And as BMW has proved, they're able to make one that doesn't take away from its styling one bit, as this is one dead-sexy car!
Given the amount of overlap between the 3 Series sedan and the 4 Series Gran Coupe, I'm not sure why anyone would choose the former, as the 4 Series GC seems to be the better choice of the two, offering better styling and more utility, at pretty much the same price point. Seems like a no-brainer, don't you think?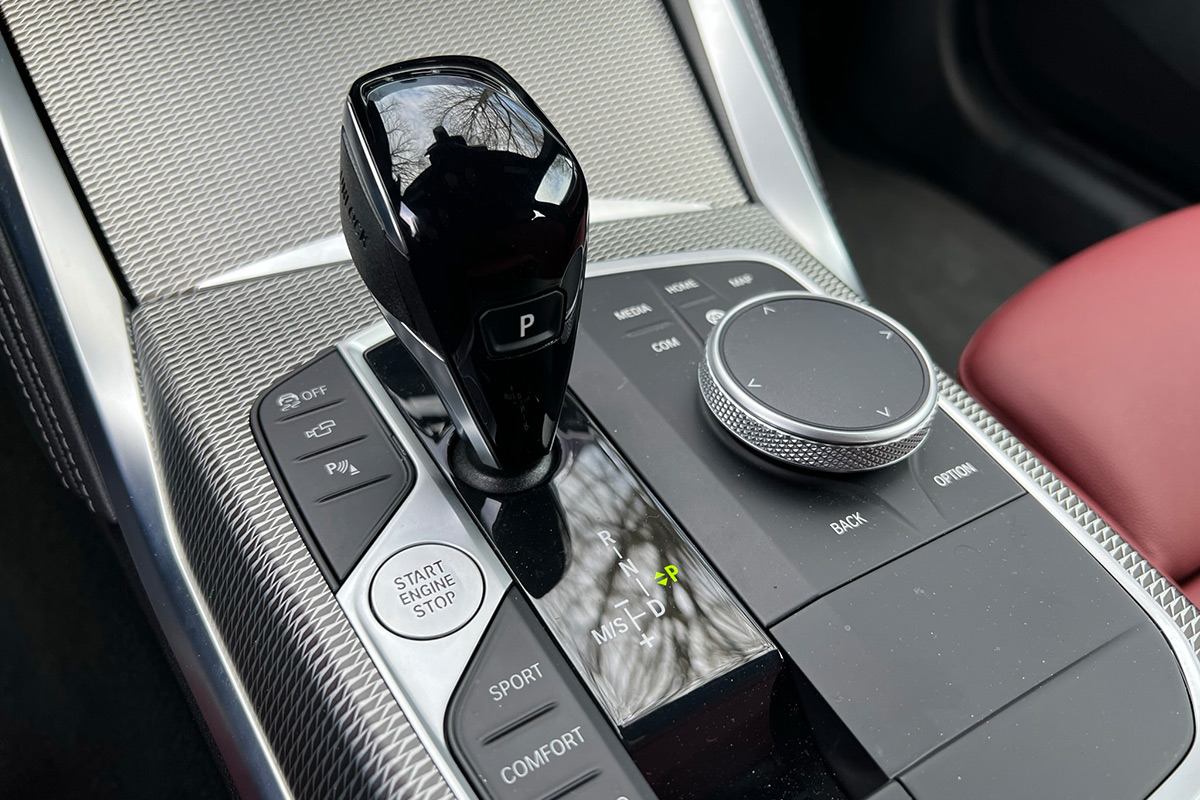 At the end of the day, I was absolutely smitten by the 2022 BMW M440i xDrive Gran Coupe and hated to give it back. And not just because it has 382 hp and 369 lb-ft of torque on tap (though that certainly doesn't hurt). This car looks great, has seating for five (even if rear legroom is a little tight), offers plenty of cargo space, and delivers pretty impressive mileage given the car's performance (22 city / 29 highway).
The 2022 BMW M440i xDrive Gran Coupe has a starting price of $58,200, while our car came in at $68,620 with just a handful of options. Check off a few more boxes, and suddenly you can find yourself hovering around the $75K mark, at which point you're in M4 territory. Needless to say, you'll want to choose your options wisely.
BMW really knocked it out of the park with this car, and I'm glad to see the Gran Coupe finally find its place at the table after years of languishing in confusion. If I were in the market for a 3 or 4 Series, there's no question that this would be the one that I'd get!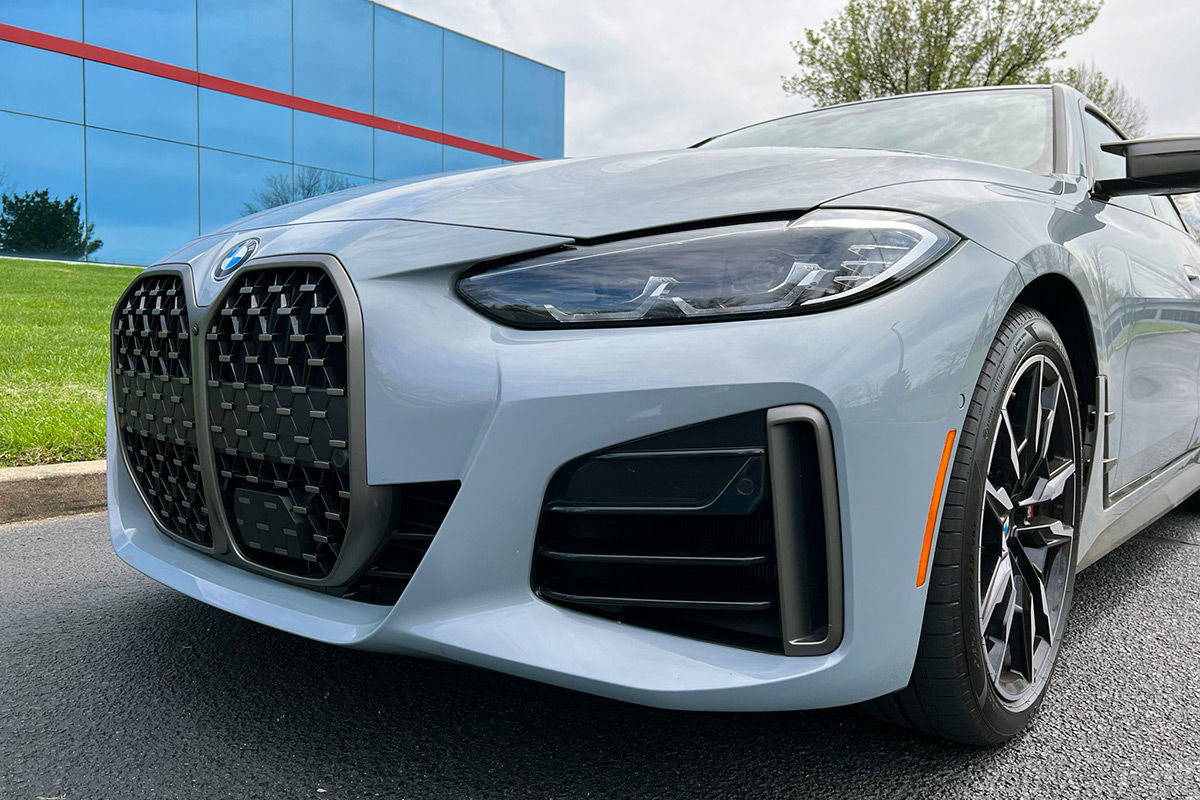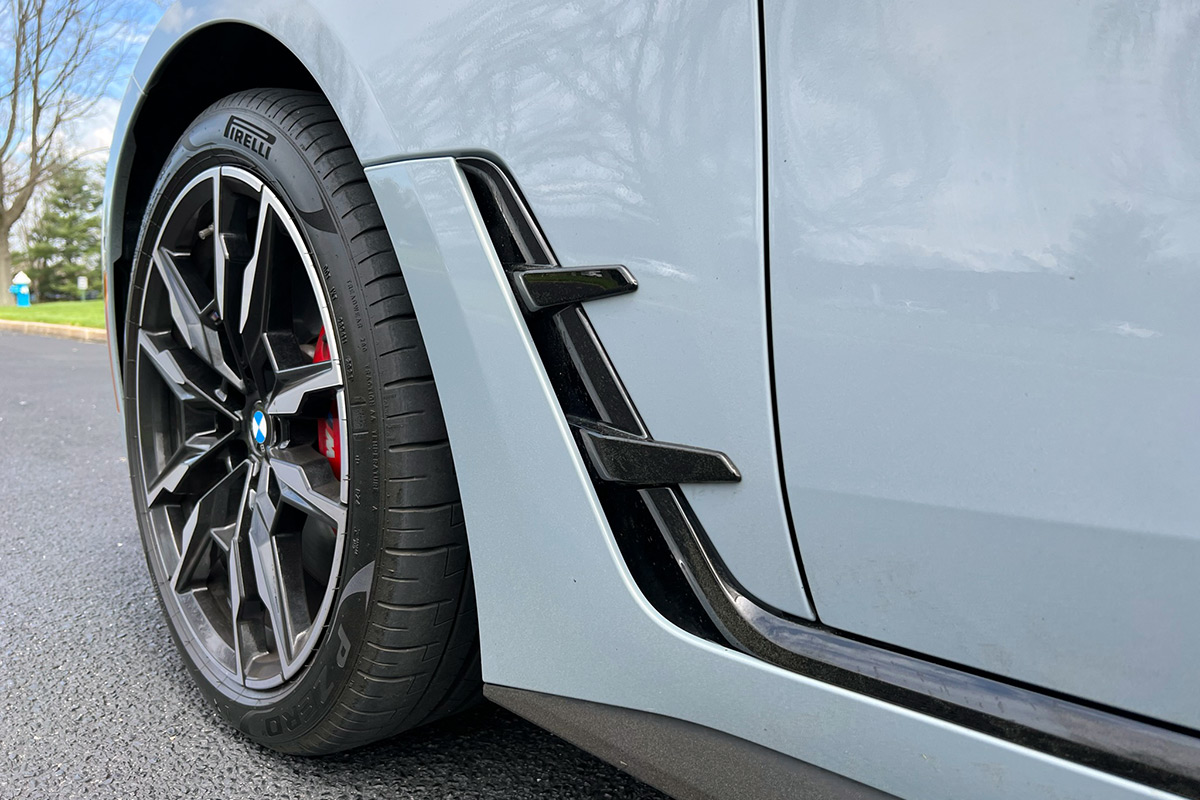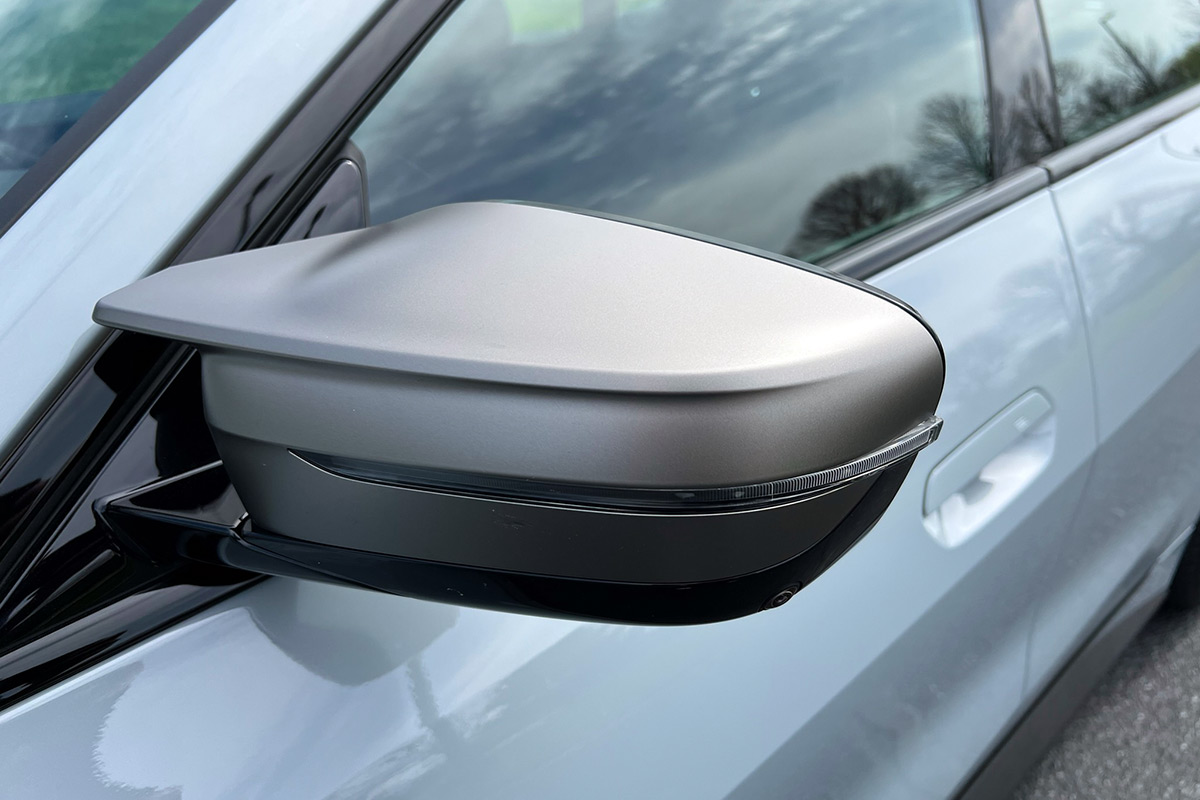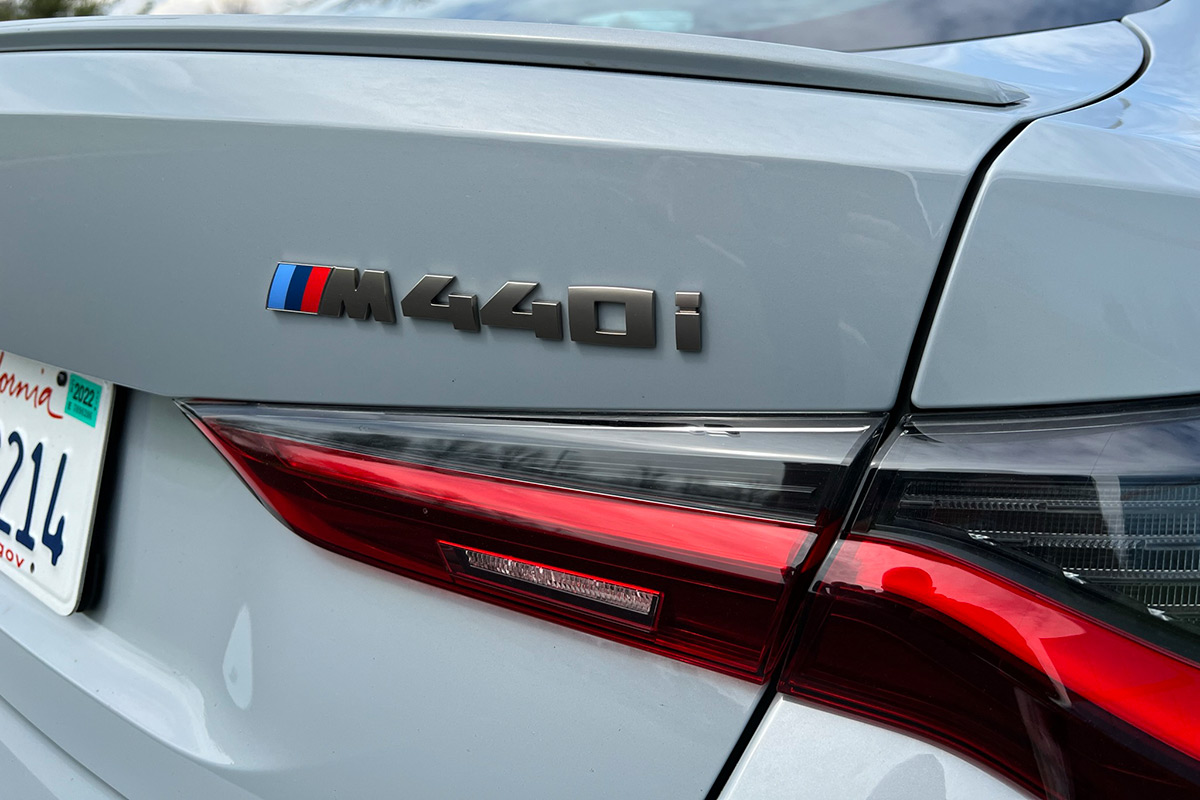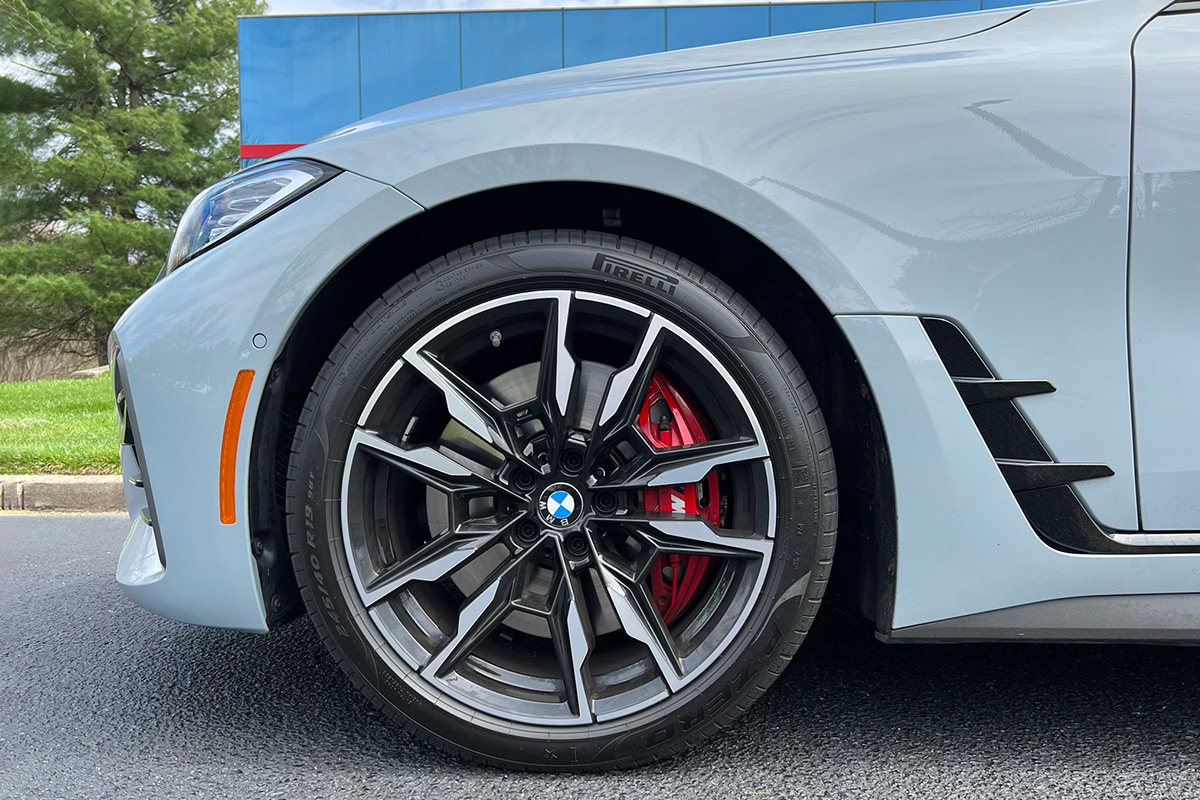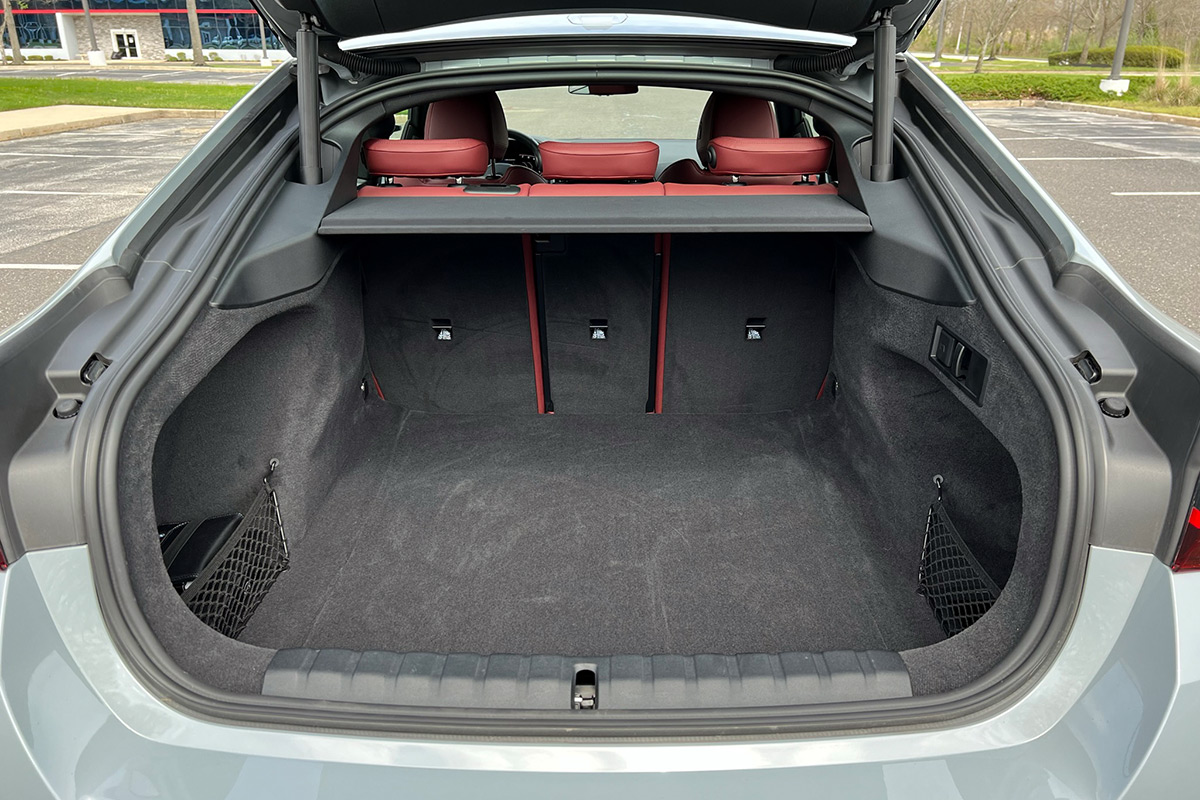 What do you think of the 2022 BMW M440i xDrive Gran Coupe?