2024 Corvette E-Ray Proves That Hybrids Can Be Seriously Fun.. And Fast!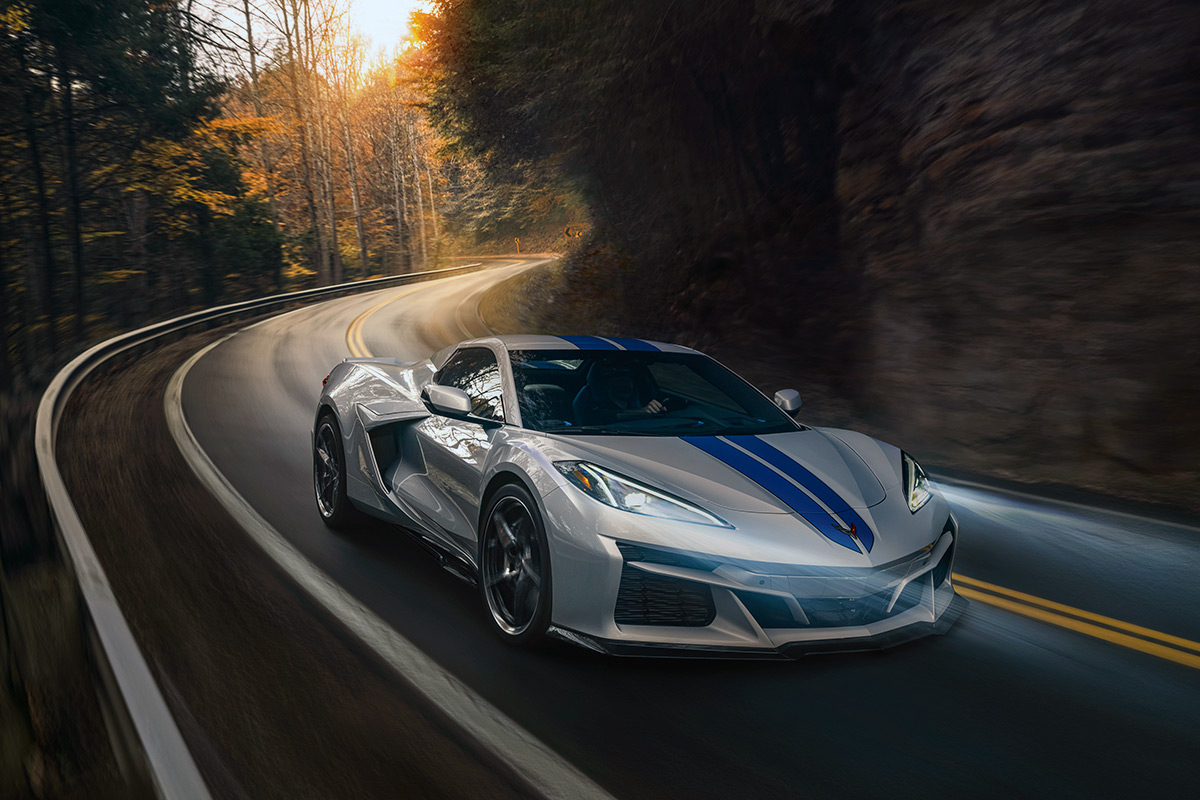 The rumors were true. Exactly 70 years after the Corvette debuted, Chevrolet has unveiled the first-ever electrified model of their iconic sports car, the 2024 Chevrolet Corvette E-Ray.
While purists may turn up their noses at the idea of an electrified Vette, it's hard to argue with the performance that this hybrid sports car delivers. Powered by the powerful 6.2L LT2 V8 from the Stingray, coupled with a compact electric motor that powers the front wheels, this bad boy delivers a whopping 665 horsepower of combined power.
Chevrolet's eAWD system helps this car hook up in a hurry, delivering a 0-60 time of 2.5s and a quarter-mile time of 10.5s @ 130 mph. This makes the E-Ray the quickest production Corvette in history, even besting the new 2023 Corvette Z06 by a hair!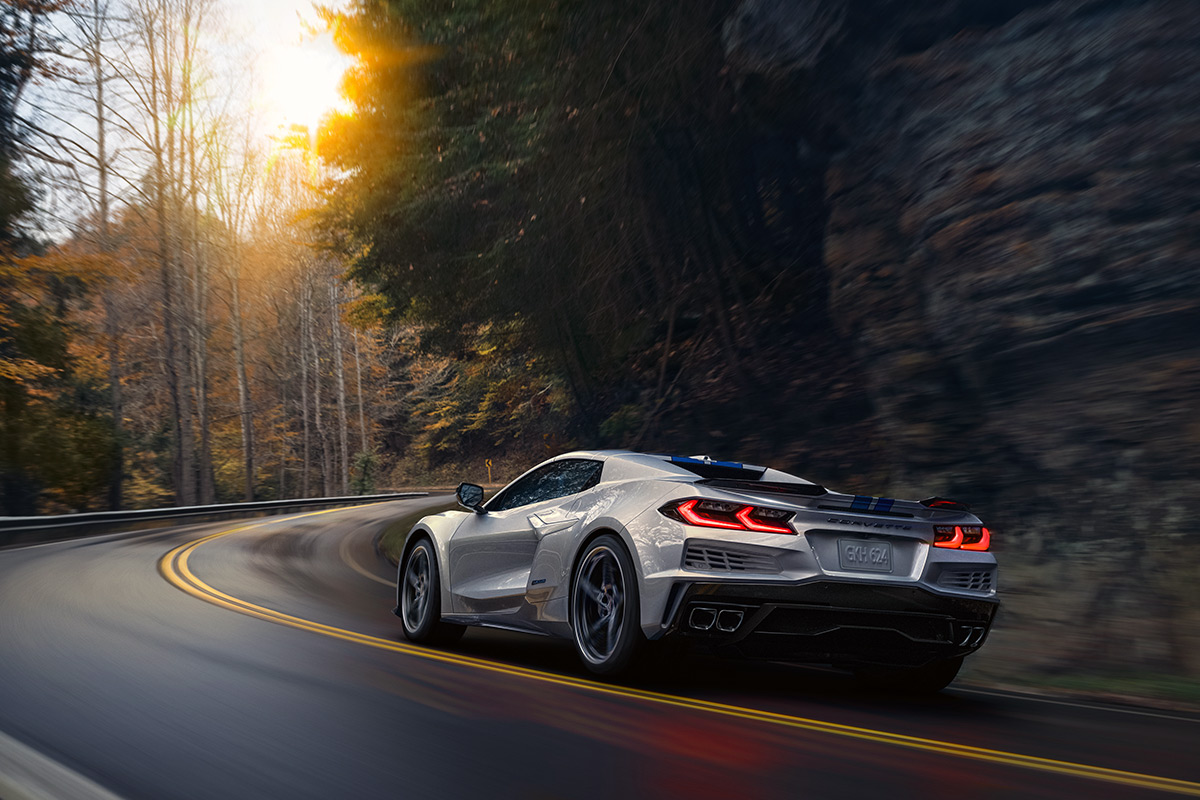 A near immediate feeling of thrust from low-end torque is core to the Corvette experience, and the E-Ray packs plenty of it. Power comes from a 6.2L LT2 small block V8, which puts out 495 horsepower and 470 lb-ft of torque to the rear axle. It's complemented by an electric motor that channels an additional 160 horsepower and 125 lb-ft of torque through the front wheels via a 1.9 kWh battery pack, which is located between the seats.
E-Ray's intelligent eAWD system is constantly learning the road surface, seamlessly adapting to meet traction conditions and driver needs. During spirited driving and in low traction environments, E-Ray's eAWD system applies additional power to the front wheels, helping to enhance vehicle stability.
There is no need for plug-in charging for the E-Ray's battery system. The battery is charged via regenerative energy from coasting and braking, as well as during normal driving.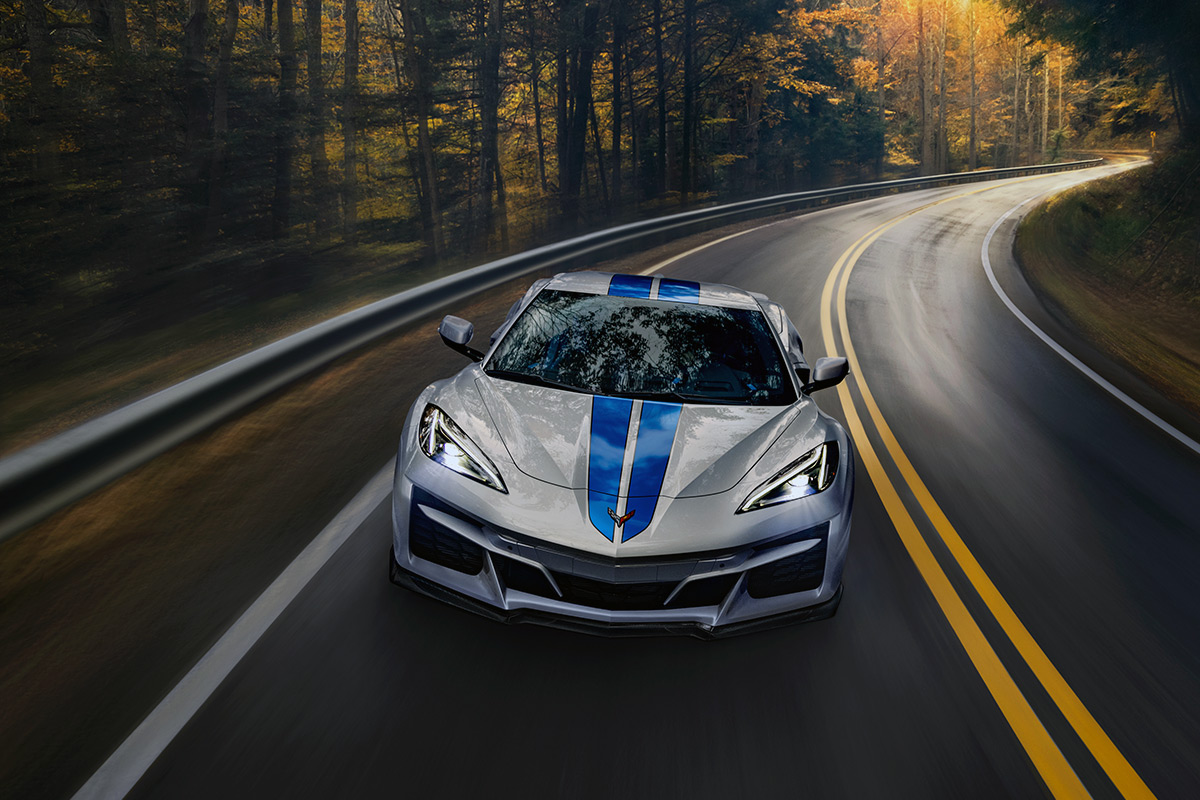 Additional features and technologies of the all-new E-Ray include:
Stealth Mode, an electric drive mode for the street, up to 45 mph
New lightweight lithium-ion 12-volt battery that supports the engine's stop/start functionality
Standard Brembo Carbon Ceramic brake system for optimal braking performance
Standard Magnetic Ride Control 4.0 with three distinct suspension settings
Staggered 20- and 21-inch wheels with Michelin Pilot Sport all-season tires. Michelin Pilot Sport 4S summer tires are available with an optional performance package
Low, wide stance with crafted body styling that is 3.6 inches wider overall than Stingray
Visceral sound experience that embodies the car's dominating presence. The electric front motor works in harmony with the LT2 engine to create an invigorating sound
Enhanced roster of driver assistance technologies (shared with all 2024 Corvette models), including Lane Keep Assist with Lane Departure Warning, Forward Collision Alert3 and Automatic Emergency Braking.
The 2024 Corvette E-Ray's electrified propulsion system provides exhilarating acceleration to power out of corners and effortlessly complete passing maneuvers. It can also provide limited all-electric propulsion at the driver's discretion upon startup.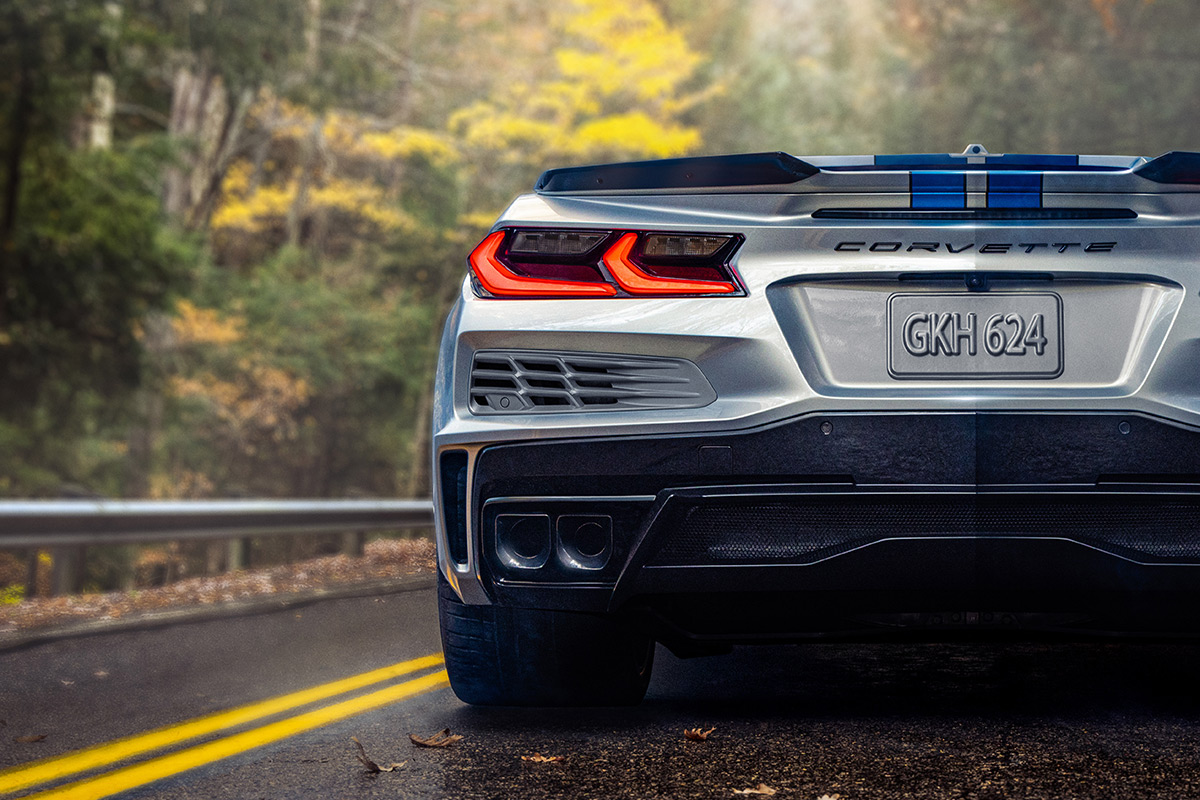 The amount of electric assist is tailored within each of the Corvette E-Ray's 6 driver-selectable modes: Tour, Sport, Track, Weather, My Mode and Z-Mode. Drivers can also select the Charge+ feature which maximizes the battery's state of charge.
E-Ray Performance App on the infotainment system provides the driver with technical insights into how the propulsion system is operating. There are three primary display layouts:
Gauges (displays dynamic power output from electric motor and V-8 engine)
Dyno (provides graph of power/torque across selectable time intervals)
Data (showcases electrical system performance and efficiency)
The Corvette E-Ray's electric motor over the front axle is compact, preserving space in the front storage compartment.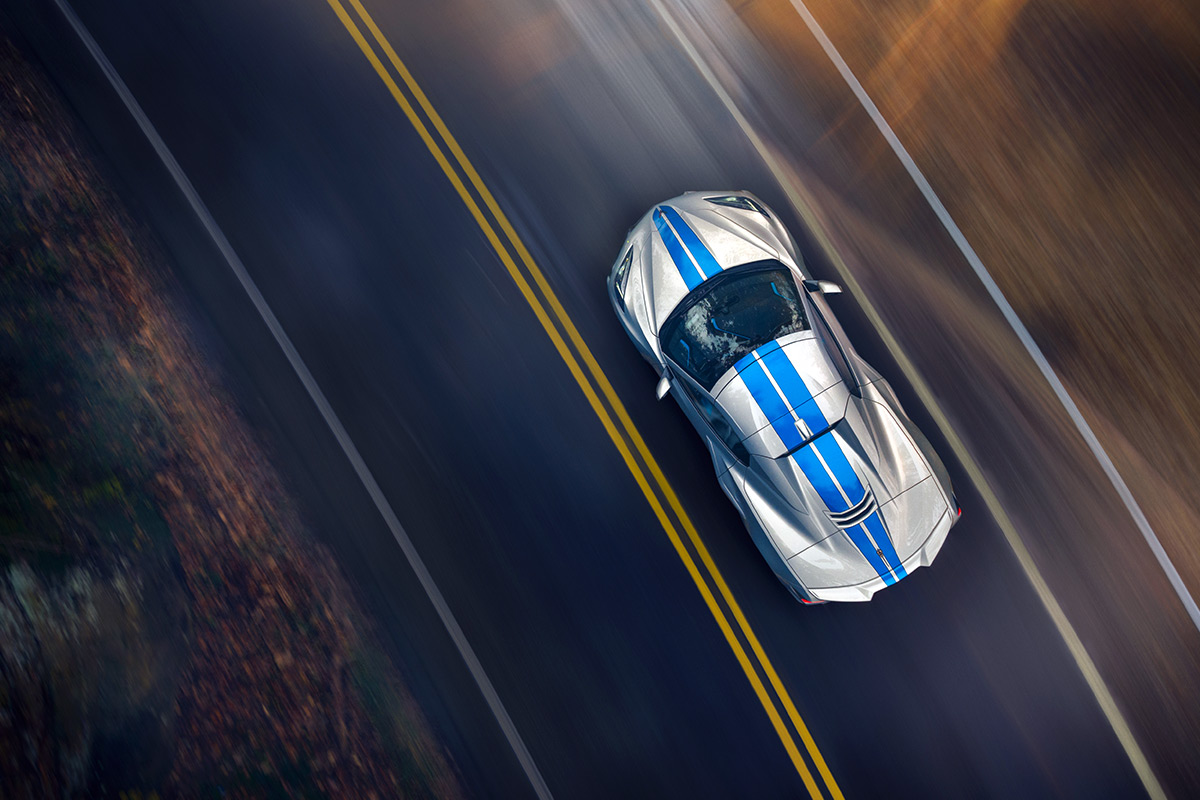 As you might have noticed, the E-Ray shares its purposeful, wide-body proportions with the Z06, accommodating wide wheels that help manage the car's greater torque delivery. The lightweight alloy wheels have a twisted five-spoke star design that is exclusive to E-Ray.
"There's never been a Corvette like E-Ray and its sophisticated design reflects that," said Phil Zak, executive design director, Global Chevrolet. "It starts with the body color trim which draws your full attention to the exotic proportions of the E-Ray. The interiors allow customers to reflect their individual personalities with their choice of color executions that provide a refined or dynamic sport look and feel."
E-Ray design highlights include:
Four aluminum wheel finishes
Fourteen exterior color choices — including new for 2024 Riptide Blue, Seawolf Gray and Cacti
An E-Ray-exclusive body-length stripe package in Electric Blue
Standard carbon flash badging
Available black exhaust tips and bright badging
Available carbon fiber ground effects
Optional carbon fiber wheels in carbon flash, visible carbon fiber finish or visible carbon fiber with a red stripe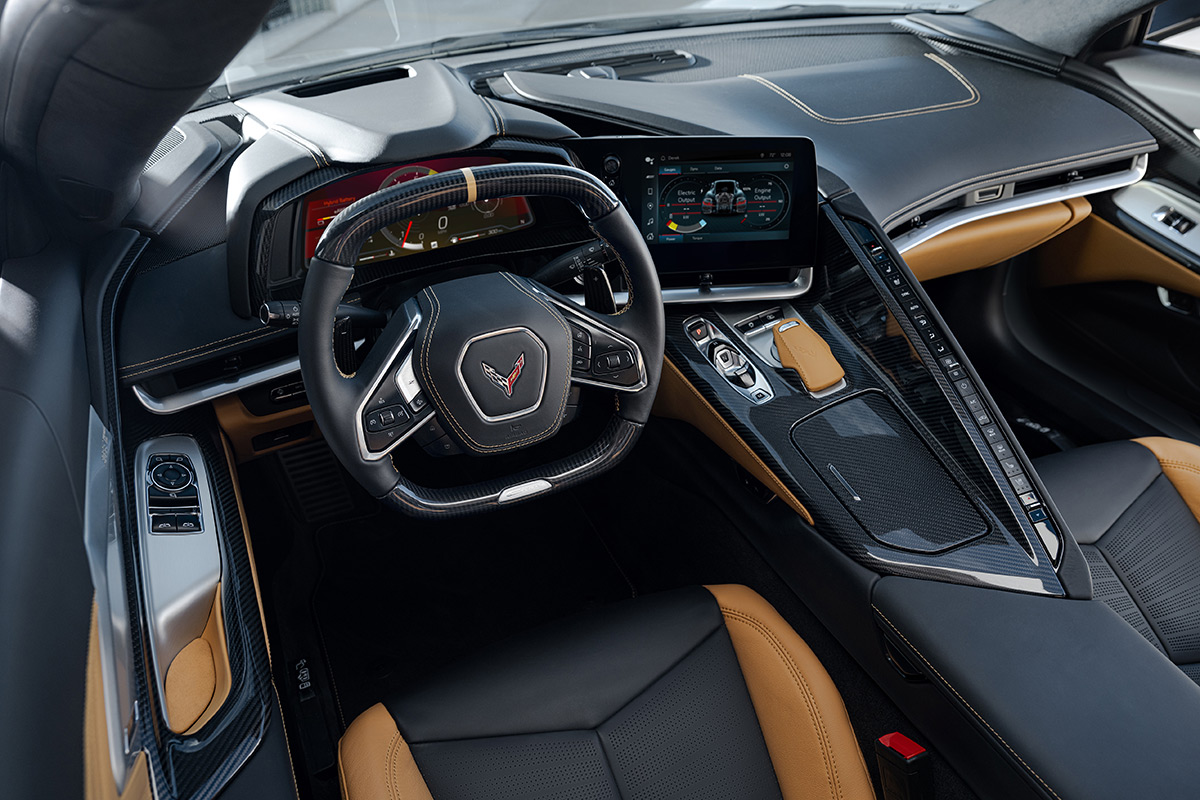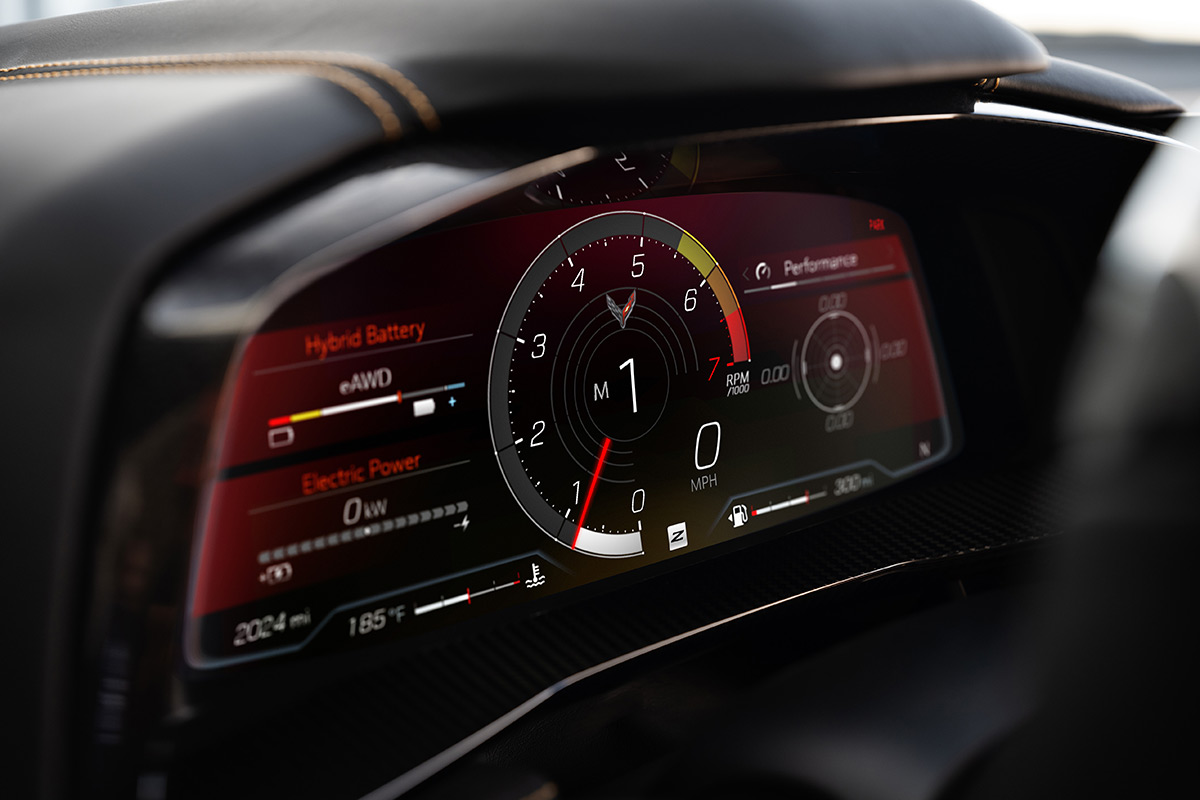 The 2024 Corvette E-Ray goes on sale in 2023, with an MSRP of $104,295 for the 1LZ coupe and $111,295 for the 1LZ convertible model, with production to take place at GM's Bowling Green Assembly facility in Kentucky. You can visit chevrolet.com for more information.
What do you think of the iconic Corvette getting the hybrid treatment?