The All-New 2023 Corvette Z06 Puts The Supercar World On Notice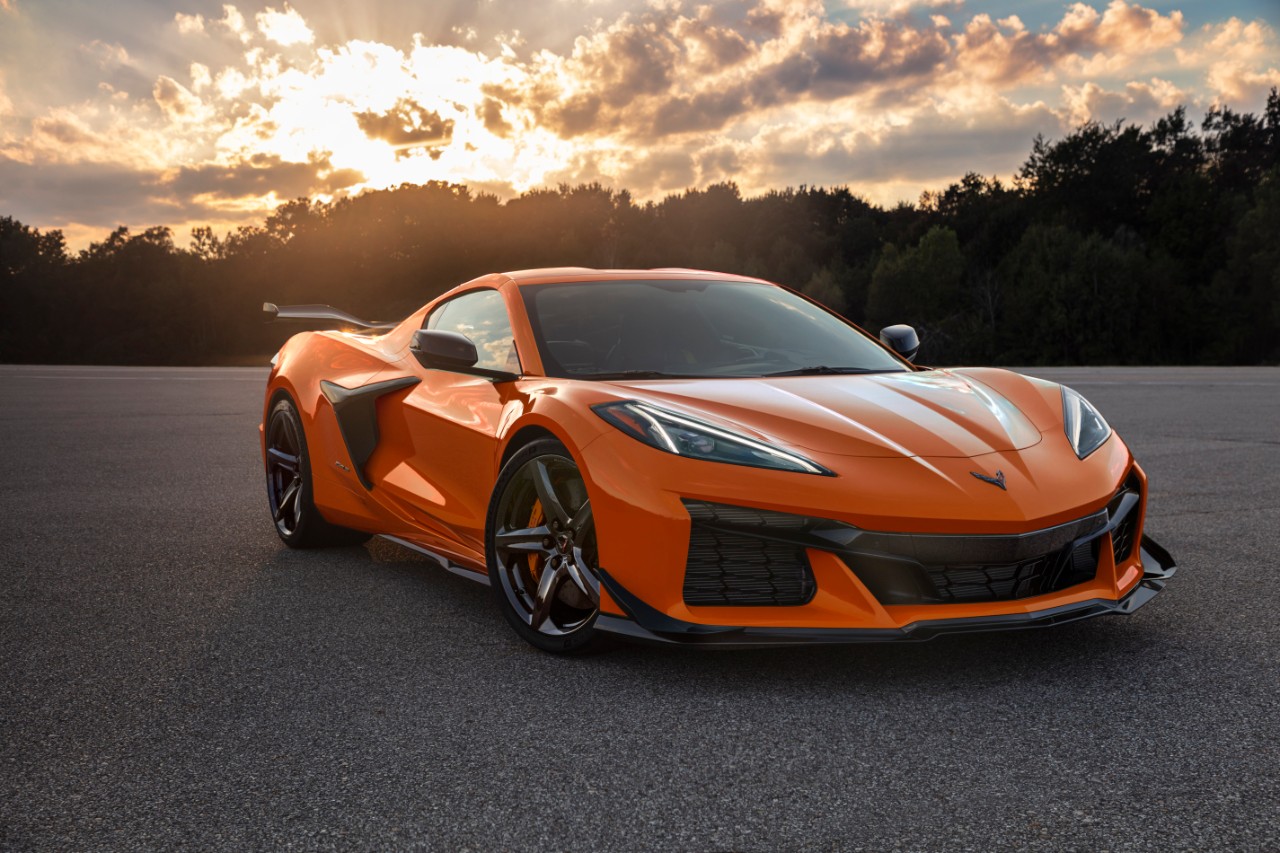 The wait is finally over, with the all-new 2023 Chevrolet Corvette Z06 making its debut today and leaving us with our jaws collectively hanging. The next chapter in the mid-engine Corvette journey, the new Z06 is here to put the world on notice, a true American supercar designed and engineered to act as a precision tool for the track.
So what exactly makes the new Z06 so special, considering that the 2020 Corvette C8 we drove wasn't exactly lacking in the looks or performance department? As Tim "The Toolman" Taylor would say, "More power!", with an all-new 5.5-liter flat-plane crank V8 LT6 engine that puts out an eye-popping 670 horsepower at 8,600 rpm, good for a 0-60 time of 2.6 seconds!
For those of you keeping score, this is the highest horsepower, naturally-aspirated V-8 to hit the market in any production car, ever. It also makes 20 more horsepower than the 6.2-liter supercharged V8 in the previous-generation Z06, with the immediate throttle response that you can only get from a naturally aspirated engine.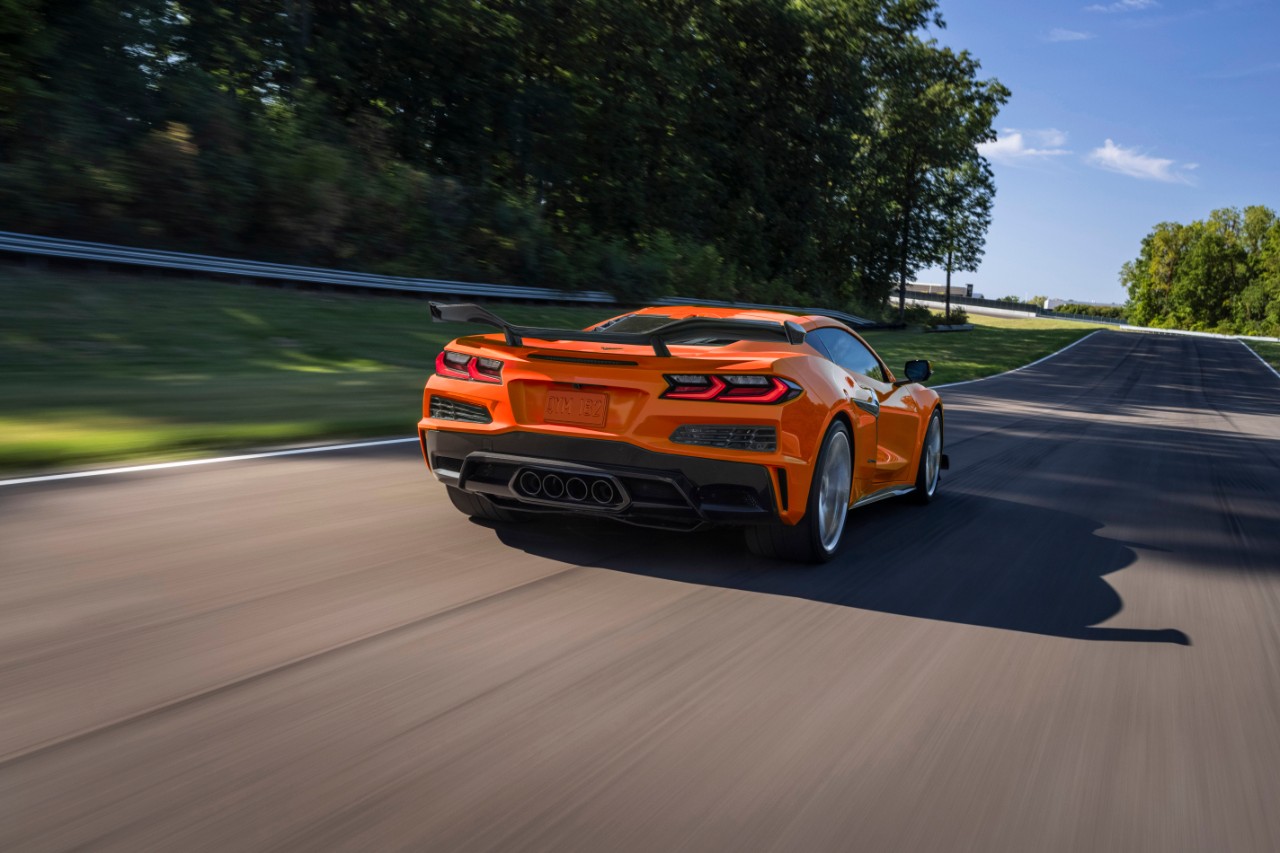 More than horsepower, the new LT6 is designed to complement all aspects of the Z06's track-focused performance experience. From its 8,600-rpm redline and full racing-style dry-sump oiling system to meticulously tuned induction and exhaust systems, this engine exudes an entirely new and emotional character.
The key to the LT6's performance capability is a lightweight, low-inertia rotating assembly rooted in an all-new flat-plane crankshaft that, along with a comparatively short stroke (the distance each piston/connecting rod assembly travels with each rotation of the crankshaft), allows the engine to rev to its maximum range.
Additional highlights include:
All-new aluminum cylinder block casting with the Small Block engine family's signature 4.4-inch (111.76 mm) bore spacing
All-new dual-overhead-camshaft cylinder head design with fully CNC-machined combustion chambers and intake ports, supporting a mechanical "finger follower" valvetrain
Dual-coil valve springs to support titanium intake and sodium filled exhaust valves
Forged aluminum pistons and forged titanium connecting rods for low mass and high strength
Distinctive Edge Red camshaft covers
All-new active split intake manifold with twin 87 mm throttle bodies
All-new six-stage dry-sump oiling system with individual crank bay scavenging
Four-into-two-into-one stainless steel exhaust headers
670 hp at 8,400 rpm
460 lb-ft of torque at 6300 rpm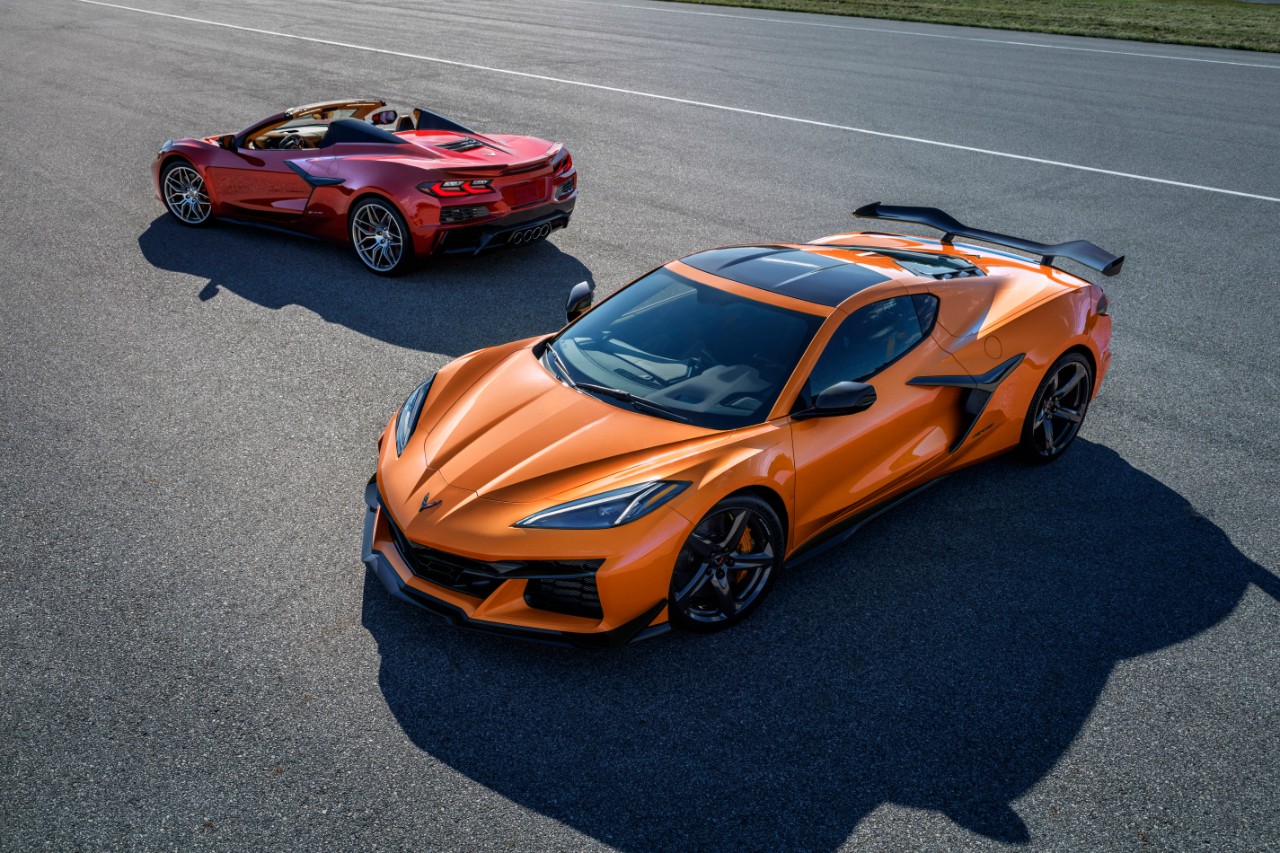 But that's not all. While the exterior design doesn't look all that different at first glance, look closer and you'll notice otherwise. The stance is 3.6 inches wider than the regular Stingray, accommodating massive 345-series rear tires and more airflow through side air vents. There are unique front and rear fascias, a first for Z06. The front fascia is designed to optimize the Z06's cooling needs, including channeling air to a center heat exchanger, which is one of five for maximum cooling performance
A unique, standard reconfigurable rear spoiler with adjustable wickerbill elements designed to improve high-speed stability and cornering capability on a racetrack. And those that opt for the Z07 package get a carbon fiber high rear wing that is hard to miss.
The wider wheels and tires include 20 x 10-inch front wheels wrapped with 275/30ZR20 tires and 21 x 13-inch rear wheels, used with 345/25ZR21 tires. Michelin Pilot Sport 4S ZP tires are standard, with Sport Cup 2 R ZP tires included with the available Z07 package.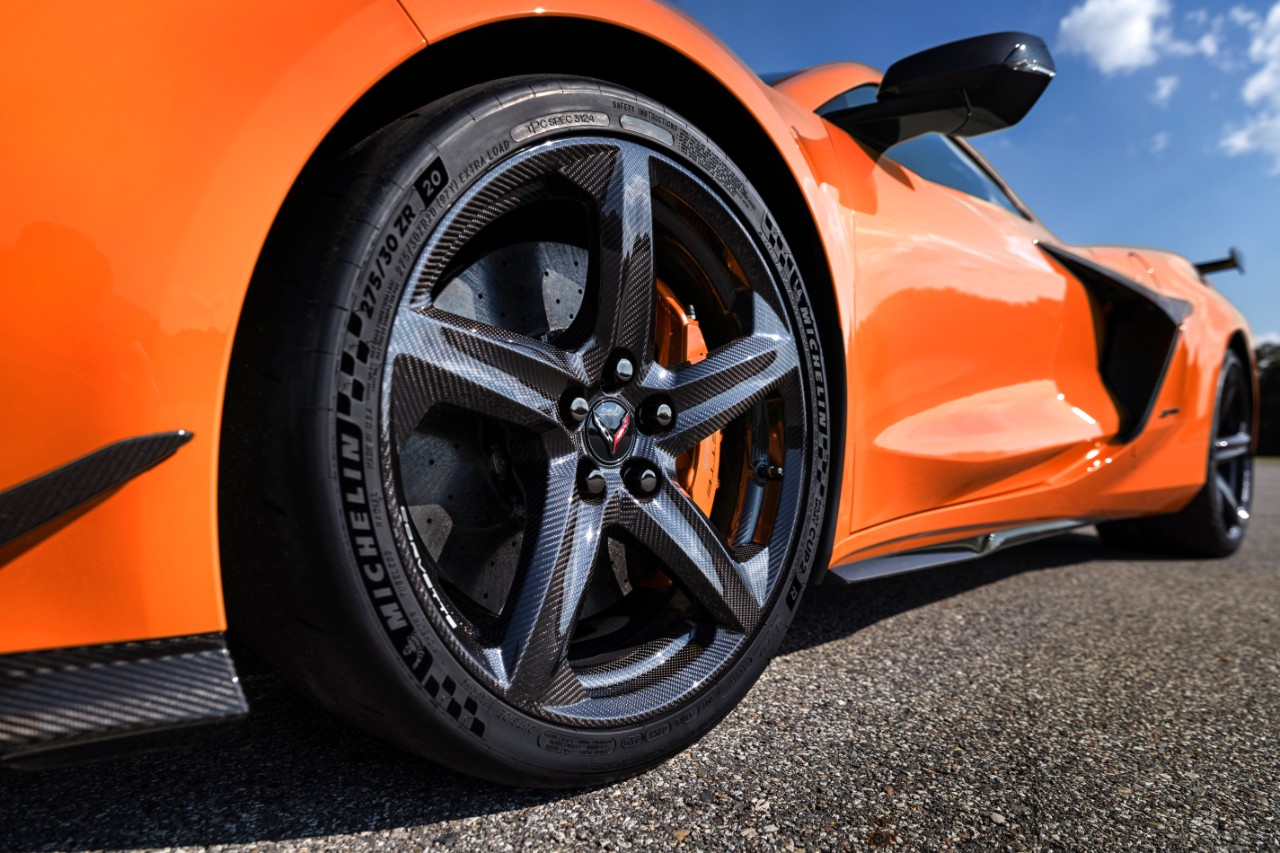 Speaking of wheels, available lightweight and rigid carbon fiber wheels deliver a 41-pound reduction in unsprung mass, which contributes to more agile and responsive handling. They also look amazing, though they can also be painted if you're not a fan of the carbon fiber look.
Given that many of these cars will see track time, Corvette engineers made sure to dial the car in just so, with specific suspension tuning, including Magnetic Ride Control 4.0, and larger brakes (six-piston front). The Z06's greater track performance capability is also matched with greater braking capability, with larger 14.6-inch-diameter front and 15-inch-diameter rear Brembo rotors.
Even larger, carbon ceramic rotors are available and also included with the Z07 package, which takes the Corvette Z06's performance to its zenith. The Z07 Performance Package additional features include: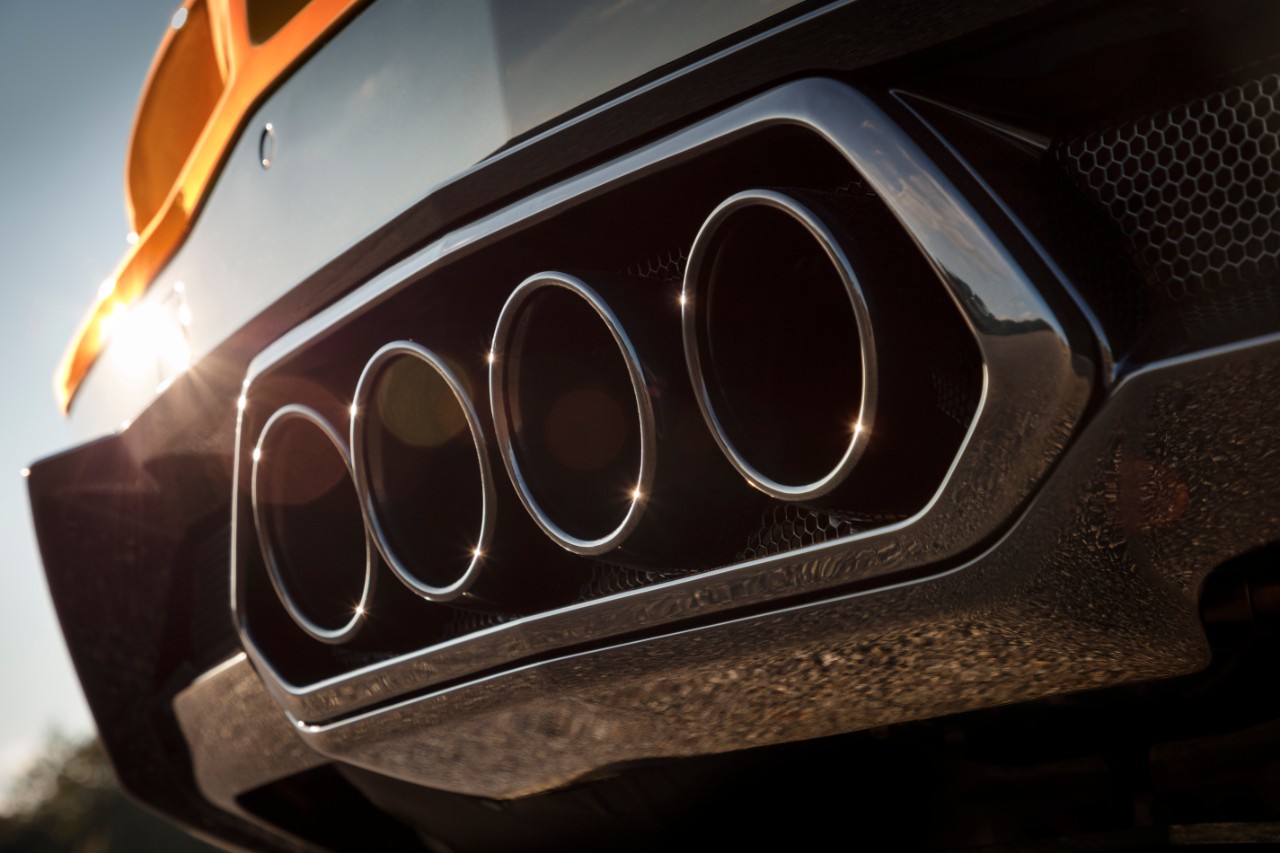 Carbon fiber aero package with larger front splitter, front-corner dive planes, a rear wing and underbody strakes that enhance downforce
Unique FE7 suspension with specific Magnetic Ride Control 4.0 calibrations
Michelin Sport Cup 2 R ZP tires developed specifically for the Z06
Available carbon fiber wheels that deliver a 41-pound reduction in unsprung mass
Brembo carbon ceramic brake system featuring larger, 15.7-inch-diameter front rotors and 15.4-inch-diameter rear rotors
When equipped with the Z07 performance package in the track prepared configuration on a 300-foot diameter circle, the car is capable of 1.22 g of road-hugging grip. In addition, the Z07 package provides 734 pounds of downforce at 186 mph, more than any Corvette ever.
Inside, the Corvette Z06 receives modest changes. Unique features include an available carbon fiber-wrapped steering wheel, shift paddles and new carbon fiber interior trim package level 2. The Z06 also features hand-wrapped leather interior options, including the all-new, available fully trimmed interior in Adrenaline Red.
Overall, there's a whole lot to like about the new Corvette Z06, and you can be sure that it will put plenty of more expensive exotics on notice. Pricing hasn't been released just yet, but we've heard from a number of sources to expect a similar price ladder as with the previous model, so we're expecting to see prices in the $85-100K range depending on options and configuration.
The 2023 Corvette Z06 will hit dealerships in summer 2022, and we will be sure to share more details about this American supercar as it becomes available!
In the meantime, if you want to learn more about the new Z06, check out the reveal video:


What do you think of the 2023 Chevrolet Corvette Z06?