2020 Chevrolet Corvette Delivers Supercar Looks and Performance For Less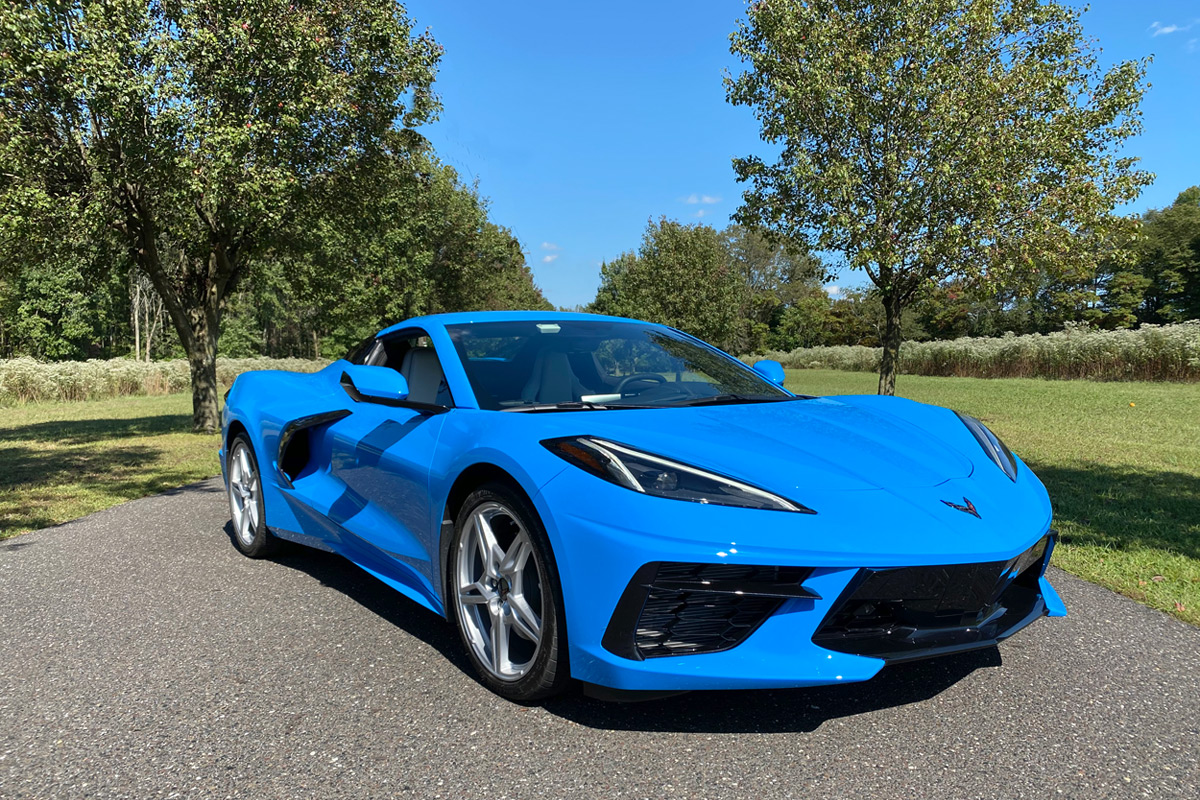 How's this for a funny story.. I was driving this 2020 Chevrolet Corvette Stingray C8 you see here for two full days before I realized that it was a convertible! Yeah, that was definitely a first for me. Basically, I was scheduled to take delivery of a coupe, but the fleet company switched cars at the last minute.. and neglected to tell me about the change. 🙂
Needless to say, that's why most of these photos you see here have the top up. But once I made this discovery, I spent the rest of the week with the top down, sun shining in, listening to that glorious naturally aspirated V-8 growl as I made the most of the warm weather before it cooled down. And it reminded me of how much I love convertibles!
Unlike most cars, there really isn't a penalty for choosing the convertible over the coupe. The 2020 Corvette comes with a retractable hardtop that adds just 77 pounds to the weight of the vehicle and flows seamlessly into the body without giving up any storage space. And it's just $7,500 over the price of a base C8. The downsides? Rear visibility is pretty bad (even with the digital rear-view mirror), and due to the design, you can't show off the engine bay.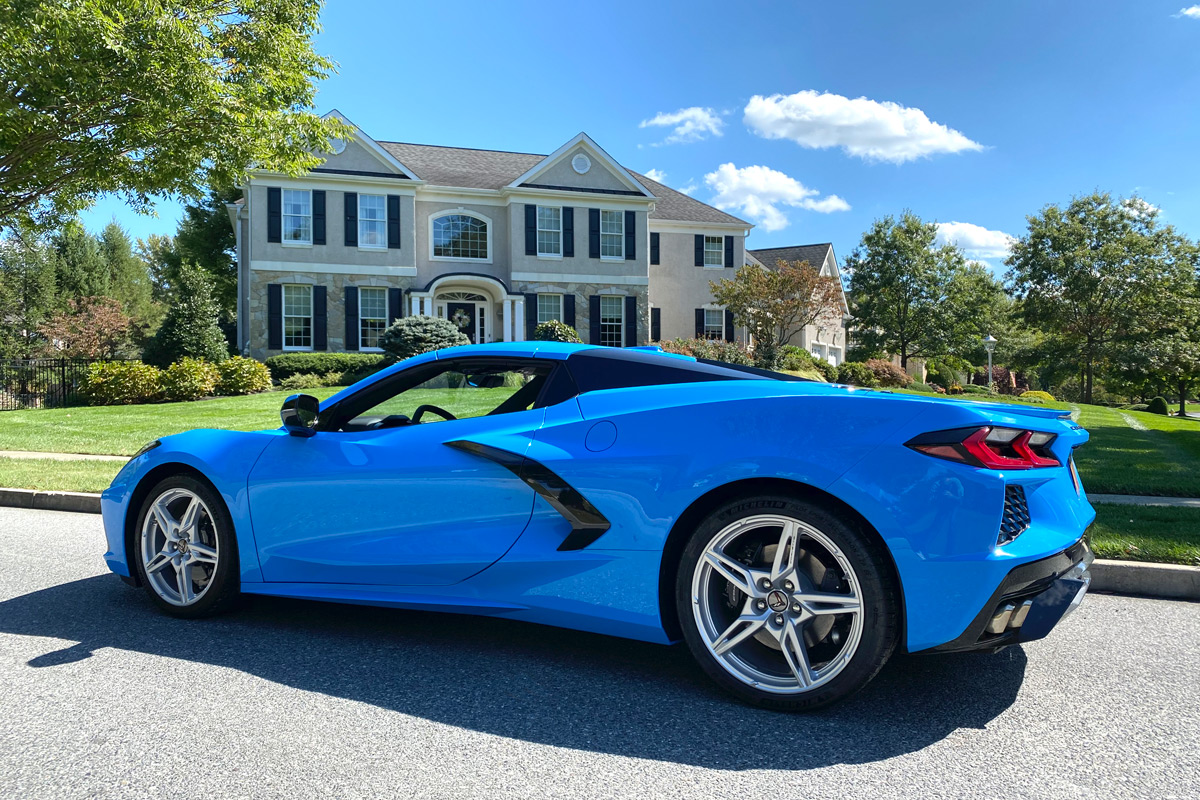 While most people are pretty well-versed with the new Corvette, I'll give a quick overview for those of you who have been living under a rock for the past few years. The big news for the C8 Corvette is the move to a mid-engine design, placing the engine behind the driver, to deliver even better weight distribution, responsiveness, and control.
Under the (rear) hood is Chevy's next-generation 6.2L Small Block V-8 LT2 engine, which puts out 495 horsepower and 470 lb-ft of torque when equipped with performance exhaust or Z51 Performance Package, or 490HP / 465 lb-ft without. 0-60 happens in just 2.9 seconds (when equipped with the aforementioned Z51 Performance Package).
It's not clear what the 0-60 time is for the base Corvette Convertible C8 is, and I couldn't get launch control to work (possibly because my car didn't have the Z51 Performance Package?), but my butt-o-meter says it's damn close to the 3.0 second mark. And it's not just off the line, this car has a ridiculous amount of power on tap all across the powerband, like being able to (hypothetically) go from 85mph to 120mph on the highway in 2-3 seconds. It's like they say, there's no replacement for displacement.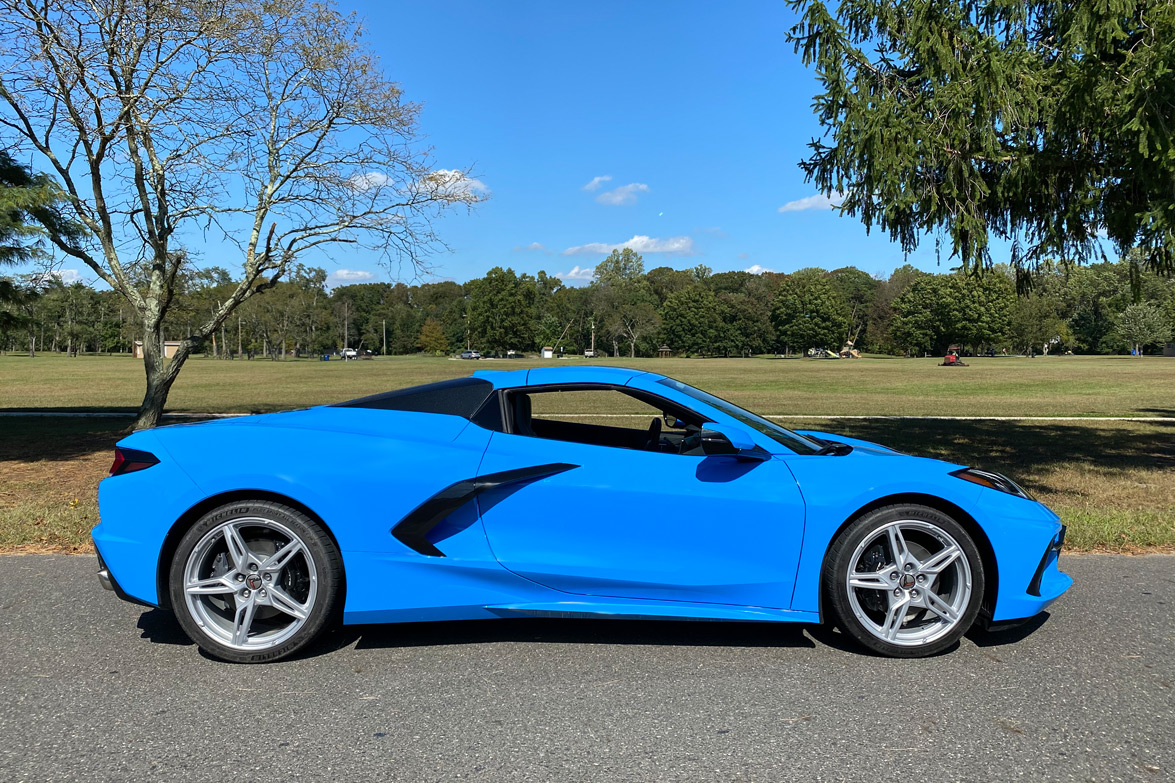 During my week with the Corvette, it turned heads like nothing I've ever seen, you'd think that I was driving a Lamborghini or something. The car's Rapid Blue paint probably didn't help the situation, but the car just has a presence about it that can't be ignored. I brought the car to an exotic car meet (mostly high-end Ferraris, Lambos, and Porsches), and the Corvette stole the show! I even had four different women (gold diggers?) try hitting on me.
I also attended an event at a local Maserati dealership (to see the $200K+ Maserati MC20), and the Vette got all of the attention, from both attendees and salespeople. My buddy came by with his new Porsche Taycan S, and people didn't even give it a second look. 🙁
Styling-wise, Chevrolet clearly knocked it out of the park, even if they borrowed liberally from other supercars (a little Ferrari 430 up front, some McLaren 570 out back, mixed with a bit of NSX). The Corvette C8 delivers champagne taste on a beer budget, a supercar for the everyday man, with a base price of $60,000 making it attainable for most. But be forewarned, this isn't a car for introverts, as you'll get all kinds of attention in this.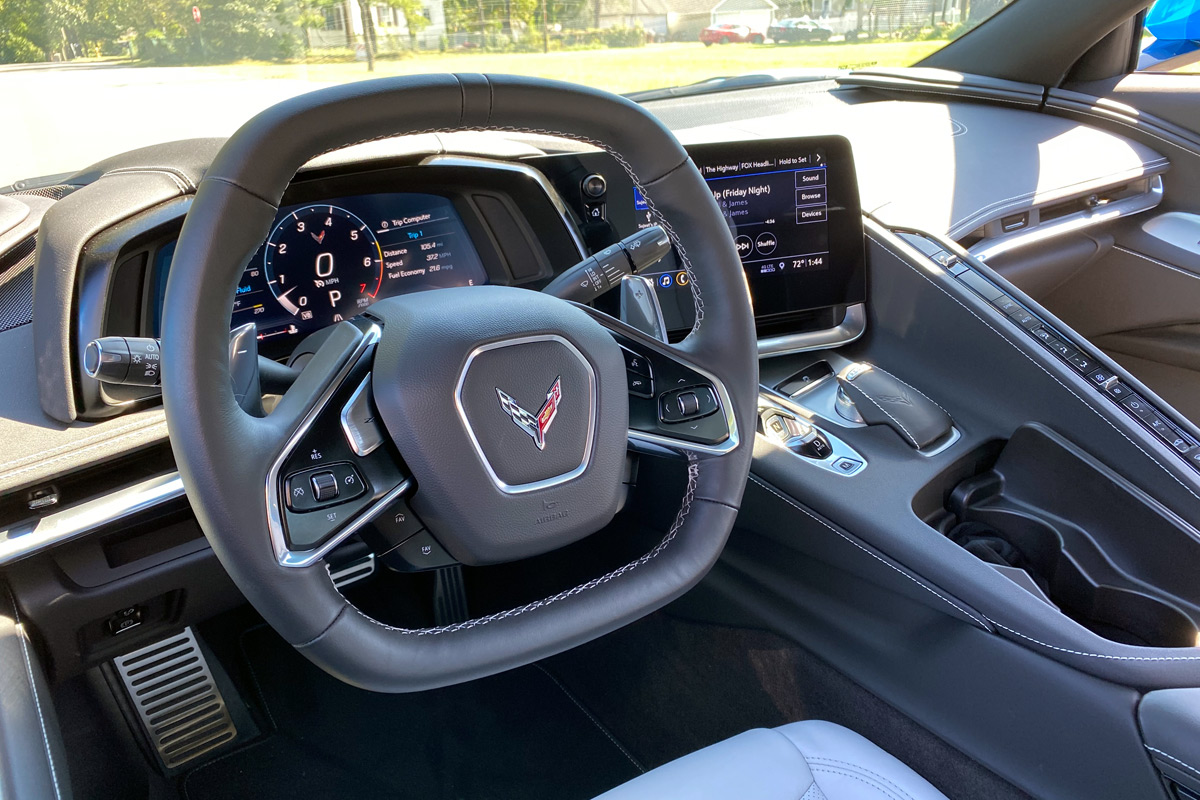 The interior of the 2020 Corvette, now that's a different story. The long strip of HVAC buttons running down the console is so bizarre, causing you to look away from the road when you want to adjust your temperature, fan speed, or heated seats. Putting traditional controls underneath the infotainment screen would be much more user friendly.
I also wasn't a fan of the squared-off, two-spoke steering wheel. The thumb rests (normally at 9 and 3) are too far down, and it makes for an odd steering position. It also leaves little space underneath, for those that like gripping the bottom of the wheel while driving. And it makes manipulating the wheel-mounted radio controls (buttons you pull towards you) very awkward.
Other than those two minor quibbles, I found the interior of the car to be great. I'm 6'2″, and I had plenty of room. Cabin noise is very minimal (even with the retractable hardtop). You can toggle between three different gauge layouts (for Tour, Sport, and Track), and all are very cool. And the car has massive cupholders, because 'Murica.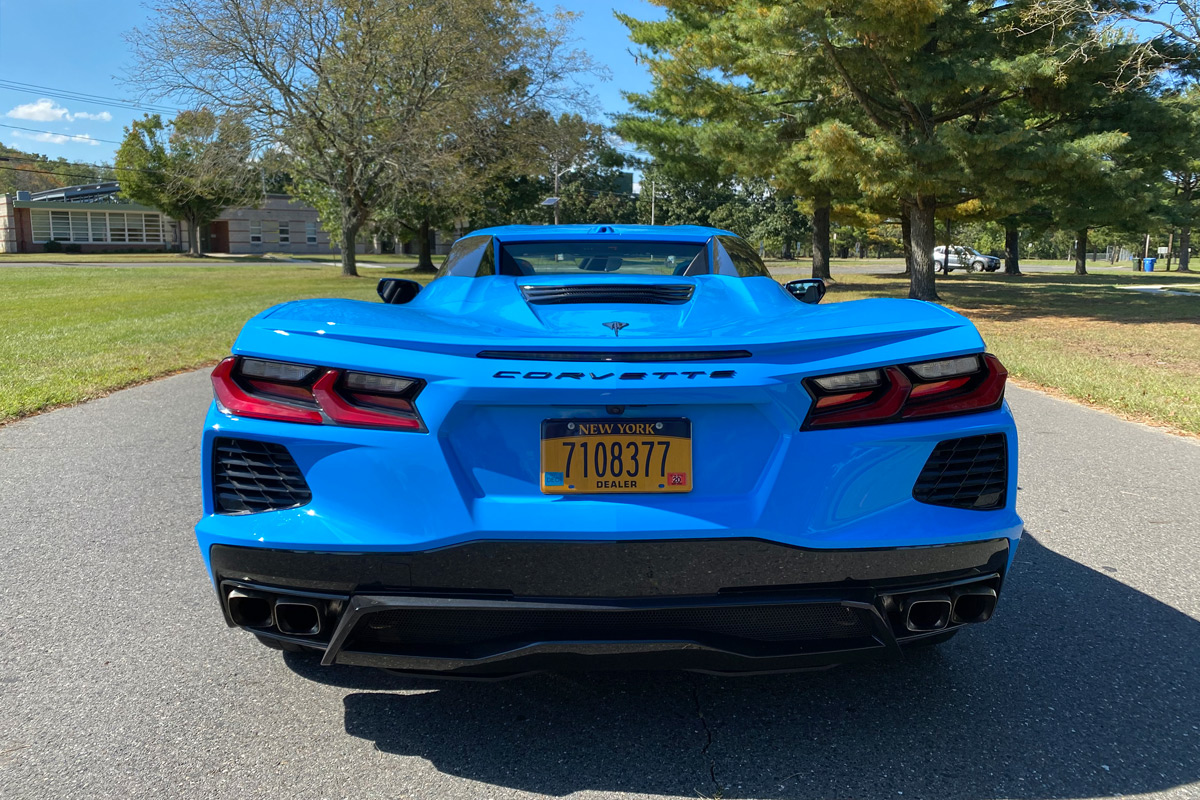 Wait, let me take that back, there is one other problem with the interior, and if you take a look at the photo above, you can probably figure out what that is. It's the terrible rear visibility due to that comically small rear window. While the coupes have a large glass hatch that shows off the engine in all it's glory, the convertibles have a different design, one that encroaches on your rear view pretty considerably.
To contend with the fact that about half of the rear view is blocked by the rear sheetmetal, the car is equipped with a digital rear-view mirror, allowing you to see what's behind you without anything blocking your view. This is something Chevy/GM offers on a number of their vehicles, and while it's a good idea in theory, the picture quality is pretty substandard. Good in a pinch, but I couldn't drive with it on full-time.
Oh yeah, it's also a HUGE pain in the ass to get out of this car, especially if you're parked in a tight space. The doors are huge, the ledge is wide, and the edge of the window stabbed me in my stomach more than a few times. Those old Corvette guys rocking the New Balance shoes? No idea how they're going to deal with this. Same token, my 9-year old neighbor complained about how hard it was to get out of, so it's a problem that spans all ages. (Other than that, he loved the car, practically losing his mind when I got on it)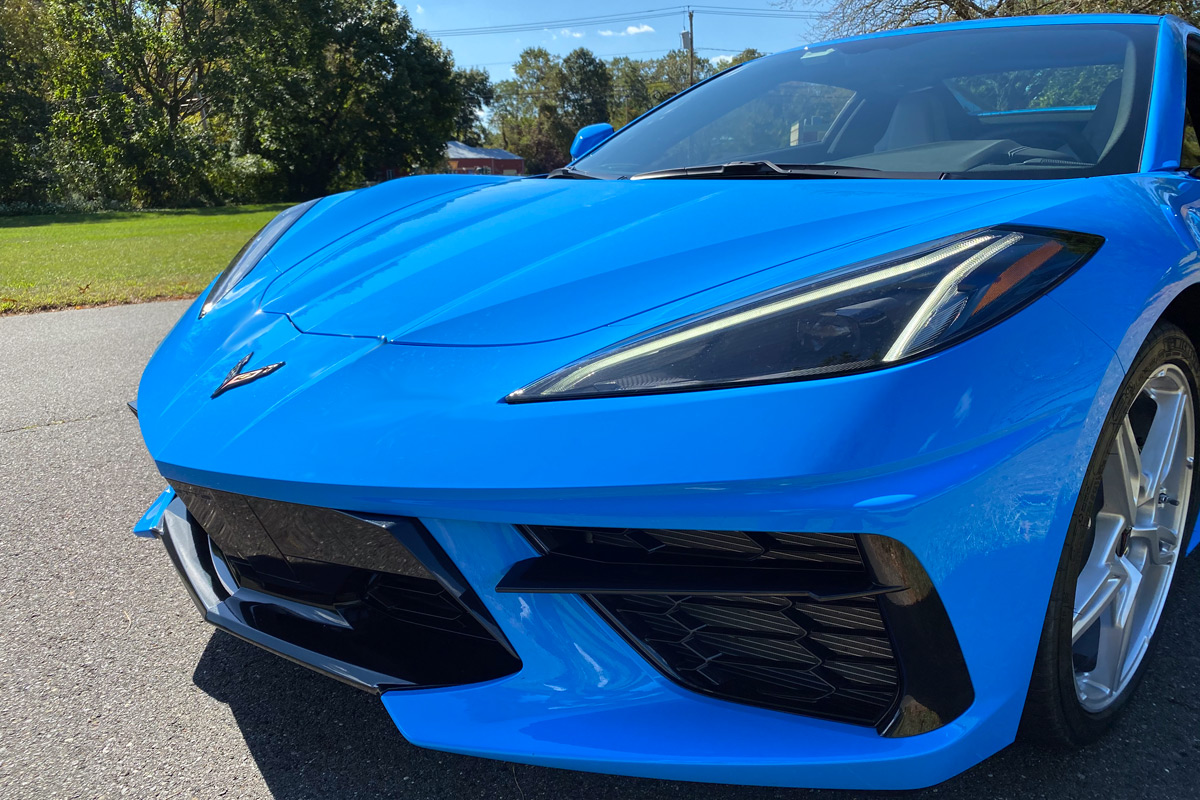 If you've read this far, you're probably a little confused as where I landed on this car. Honestly, I freaking LOVED IT. But that's not to say the C8 isn't without its faults. It's incredibly fast, it handles like you wouldn't believe, it looks like a damn supercar, and it's affordable. Oh yeah, and it actually gets decent mileage if you can keep your foot out of it, with me averaging close to 20 MPG in a mixture of city and highway driving, racking up 400+ miles in my week with it.
My gripes were minor things that I could learn to live with, the odd-shaped steering wheel, the HVAC buttons, the rear visibility, and the fact that the car is so wide (76.1 inches) that you are constantly checking your mirrors to make sure you're still in your lane. Getting out of the car might not get any easier, but it's a small price to pay to drive a "supercar".
Corvettes have always been about offering supercar performance at a fraction of the cost, and that was abundantly clear with my tester, which came in at an impossibly low $69,785. The only options my car had were the performance exhaust, the rapid blue paint, tension blue seat belts, and carbon flash painted nacelles. If I were building one, I'd add the Z51 package to this setup and be out the door for $75,000.
The 2020 Chevrolet Corvette Stingray is the real deal, and supercar owners should be shaking in their Italian leather boots!