3 Moscow Mule Variations To Try With Absolut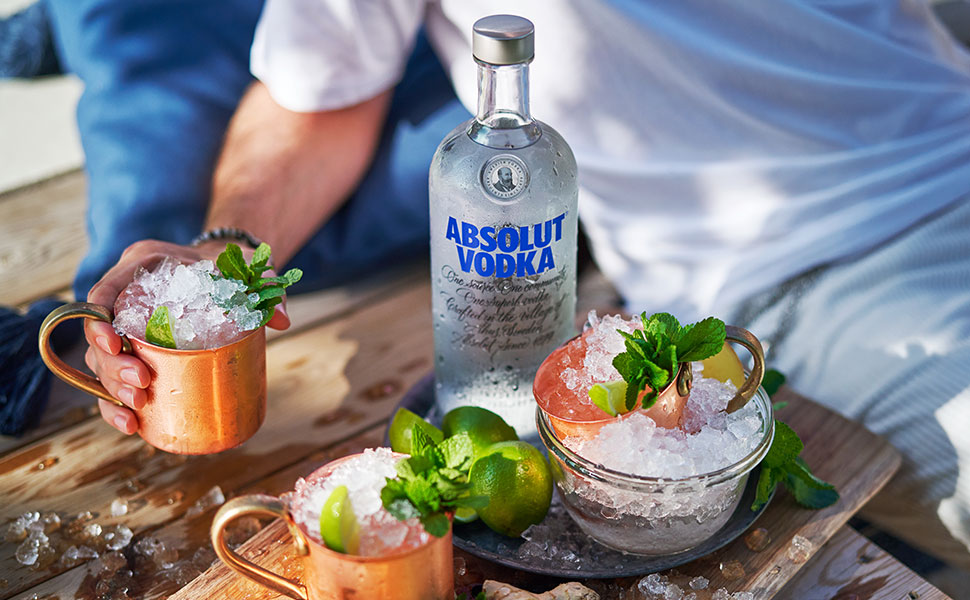 There's almost nothing more refreshing after a long day or week than a good old Moscow Mule with Absolut, but sometimes you just need something a little different to hit the spot. There are dozens of ways to elevate a standard Moscow Mule, but here are a few of our favorites:
1. Blackberry Moscow Mule
The blackberry Moscow Mule has the same basic elements as a regular Mule: quality vodka, ice, lime juice, and ginger beer. This recipe differs a bit, in that it also includes muddled blackberries in the base, and optional blackberries as a garnish that add a refreshingly sweet and tarte flavor.
This cocktail is perfect for summer nights or winter afternoons where you long for warmer weather.
Instructions (one serving):
In a glass or mug, add three blackberries and muddle together
Add crushed or cubed ice to the glass
In a shaker bottle, combine ice, one ounce of vodka, and one tablespoon of lime juice. Shake thoroughly.
Pour the mixture into the glass and top with ginger beer
Add blackberries as garnish, if desired
Serve immediately
You can take the same steps from this recipe and try it with raspberries, strawberries, or even frozen mixed berries that have been thawed ahead of time.
2. Fall Spice Pear Moscow Mule
This recipe takes a bit more prep time in that you have to make your own pear syrup beforehand, but it doesn't require much more effort than a regular Moscow Mule once you get the hang of it. This fall spice pear Moscow Mule is great for any time of the year, but it's most comforting and refreshing on cool afternoons or evenings.
Instructions for pear syrup:
Combine one cup of pear or apple juice with one cup of sugar, a cinnamon stick, a dash of nutmeg and cardamom, and a diced pear to a small pot and bring it to a boil
Stir continuously to dissolve the sugar, and then let the mixture cool to room temperature before straining
Instructions for fall spice pear Moscow Mule (one serving):
Put crushed or cubed ice into a copper mug or glass
Add two ounces of the pear syrup, two ounces of quality vodka, and a tablespoon of lime to a shaker. Shake vigorously.
Pour mixture into glass or mug, top with ginger beer, and garnish with a pear slice or cinnamon stick, if desired.
If you don't have pears on hand, you can replace the pear chunks with orange zest or orange peels for a more citrusy take.
3. Fig Moscow Mule
Most people don't associate figs and Moscow Mules, but figs can provide an unexpected flavor that you'll love on your own or that your guests will be delighted by.
Instructions (one serving):
Fill a glass or mug with crushed or cubed ice
Muddle two fig quarters, a teaspoon of sugar, an ounce of quality vodka in a shaker before adding ice cubes as desired. Shake vigorously.
Pour mixture into glass or mug, and top with ginger beer
Add a sprig of fresh thyme as a garnish
This recipe provides plenty of room for experimentation. You can change out the figs for other fruits, try different flavors of vodkas, experiment with fresh herbs, or even replace white sugar with maple syrup or honey.
Try Your Own Recipe
Many beginner mixologists feel understandably overwhelmed by the sheer number of drink combinations they can try, even with just vodka. By following recipes, like those mentioned above, you can get the hang of proper proportions and complementing flavors.
The best part is that you can eventually develop your own Moscow Mule recipes that suit your unique tastes, which can become your signature cocktail at gatherings with friends and family members.