5 Ways To Have The Best Sex Of Your Life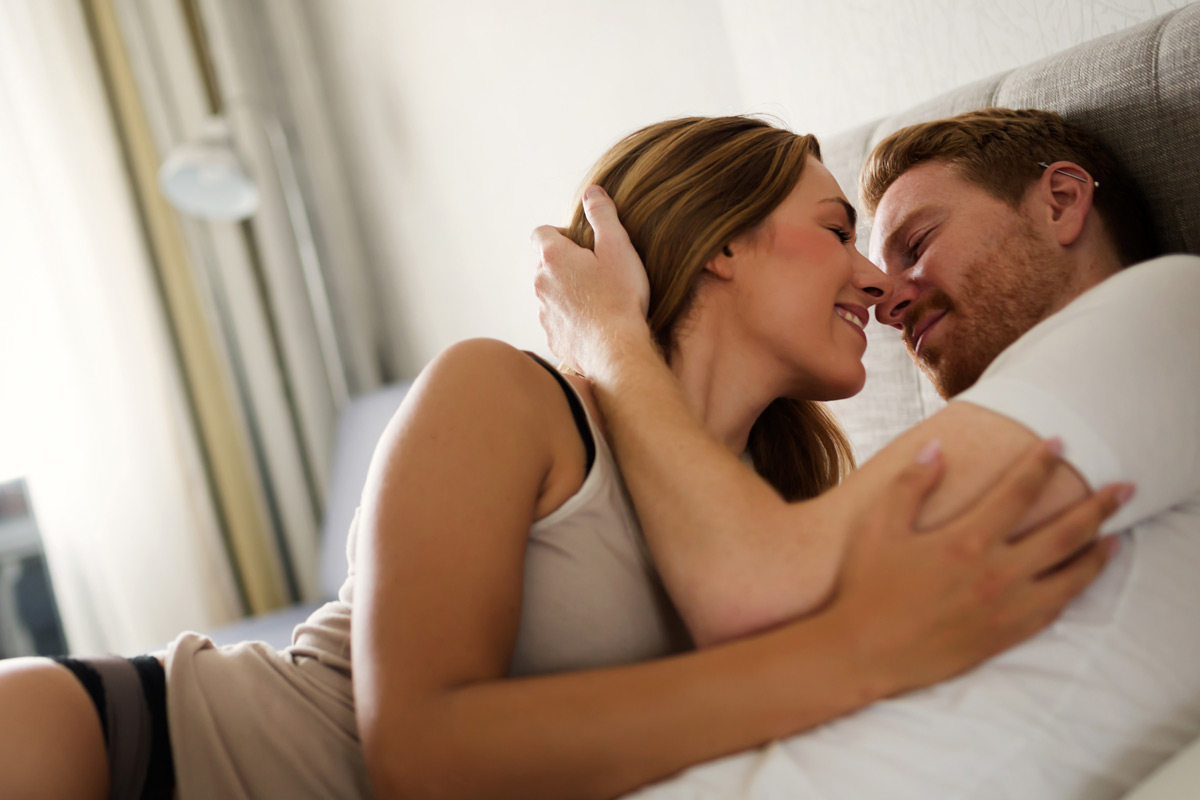 When you first started getting intimate with your girlfriend, the sex was probably pretty wild, doing it in every position imaginable, the sheets a tangled mess, her moaning wildly, and the two of you collapsing in a sweaty mess afterwards.
Sounds pretty hot, right? Sadly, most couples' sex lives get decidedly less exciting over time, with real life (work, life, kids, etc) getting in the way. Pretty soon, you're lucky to get physical once a week, and it's a wham, bam, thank you ma'am affair that takes 10 minutes or less. But trust me, it doesn't have to be like this!
Most couples get a little complacent about their sex lives over time, but if you miss those wild nights when you two first started dating, keep on reading, as we've got some tips on how to take things to the next level in the bedroom so you can enjoy the best sex of your life.
1) Compliments Go A Long Way
Early on in the relationship, you probably gave your girlfriend plenty of compliments, as you were trying to get into her pants. These days, not so much. A simple "Damn, you look hot in that outfit" can go a LONG way into putting her in the mood for sex. If you are a man of few words, grab her ass or give her a quick smooch as she walks by, letting her know that you still find her desirable. Women can be insecure, and simple gestures like these can make all the difference. Keep it going in the bedroom, and enjoy the ride.. literally!
2) Use Lots Of Lube
Many couples believe that lube is only for women who have trouble getting wet. That couldn't be further from the truth. In a study of 2,453 women, 70% of participants reported that their sexual experiences were enhanced by the use of lube. Furthermore, if you are using condoms, lube makes things much more pleasurable for everyone. So the next time the two of you are getting down to business, grab a bottle of water based lube for sex, apply liberally, and you'll soon discover why wetter really is better.
3) Get Away From It All
Have you ever noticed how the sex is always better when you're on vacation? There's a reason for that, and it's not those fancy hotel sheets. Getting it on when you've gotten away from the stress of life feels adventurous and exciting. It's like hitting refresh and giving you license to try out new moves and indulge in longer, lazier, more connected action, whenever you please. At home, we normally do it first thing in the morning. But on vacation, it's not uncommon for us to sneak away from the pool at 3pm for a little afternoon delight. So book an Airbnb for the weekend and get ready to get naughty.
4) Experiment With Sex Toys
Sex toys can be a wonderful addition to your bedroom routine, but for first-timers, it can be a little intimidating. You can ease into it by shopping for products and toys together, looking at vibrators, massage oils, blindfolds, handcuffs, or whatever happens to catch your interest. If you're looking for a stronger erection or want to last longer, something like this silicone penis ring set is a great option. Of course, having the best sex of your life starts with you and what you enjoy. For example, this riley reid pussy stroker is pretty great for some solo action. Either way, you're sure to find a few toys to spice up your sex life, and you'll wonder why you didn't try them sooner.
5) Play Out Your Fantasies
Tired of having boring, routine sex? Then throw on an outfit and act out one of your fantasies! If you always dreamt about sleeping with the head cheerleader in high school, get your girl a sexy cheerleading outfit, and have her do a little cheer for you, sans panties. Or if your girl has a thing for powerful men, dress up in a suit and tie and pretend to be Christian Grey, tying her up with that tie and bending her over. Have fun with it, and enjoy the rush.
Here's hoping that these tips help you reignite the passion with your lover and take your sex life to the next level. Because life's too short not to have great sex!