7 Tips For Throwing The Ultimate Football Watch Party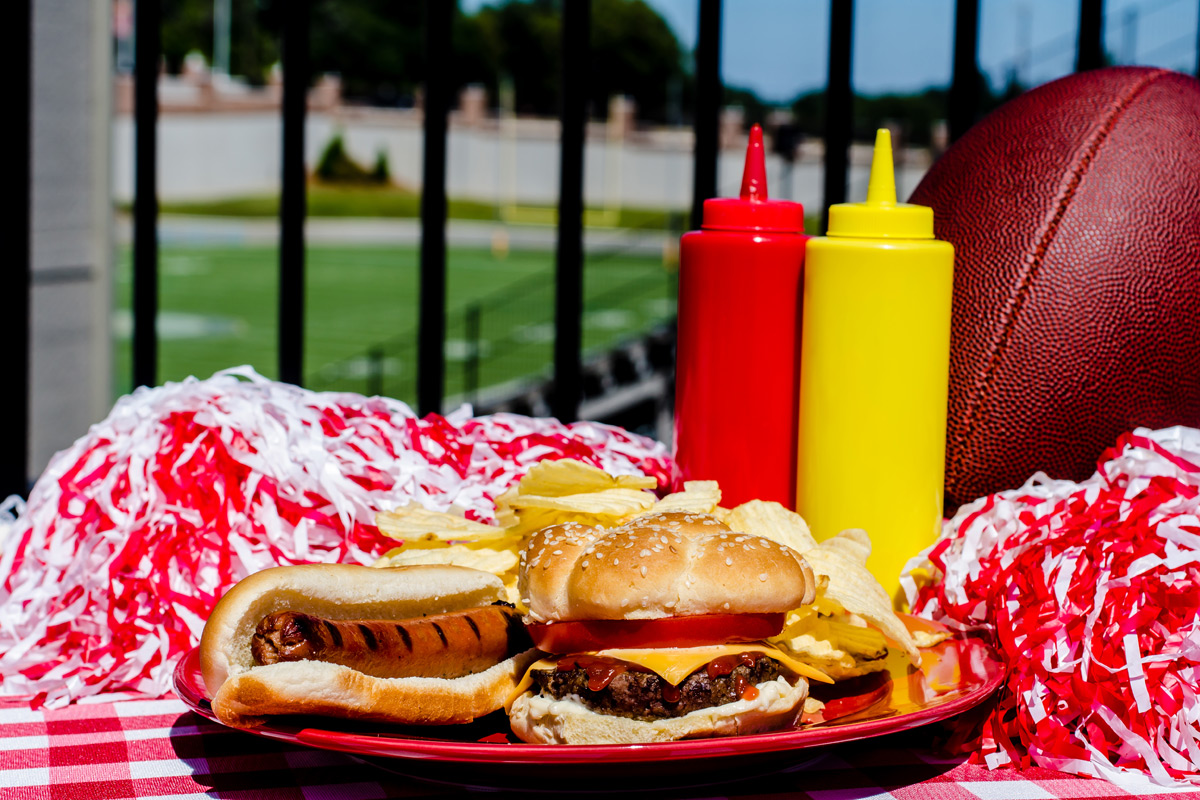 Anybody can have some friends over to watch the game. Throwing a true football watch party, on the other hand, is a fine art! The perfect combo of tasty snacks, delicious drinks, great people and a stellar setup doesn't just randomly fall together — but it's definitely achievable if you have the right tools. Grab your team jerseys, your grilling accessories and a few extra containers of nacho cheese sauce. Today, we've got seven key tips for anybody who wants to host the ultimate football watch party!
1. Serve up something that will wow your guests.
Other than a great game, which is out of your control, delicious food is the fastest way to make your football watch party one to remember. To start planning, think about basic factors like how many people are coming, what their dietary preferences and restrictions are and whether you want to serve snacks or a full meal. You don't have to overthink the menu, of course! Game day favorites like burgers, nachos and wings are classics for a reason. However, if you've got the time and you're so inclined, a watch party is also the perfect excuse to bust out your charcoal smoker or pellet grill for some serious BBQ meat euphoria.
2. Start preparing early.
Nobody likes having to do everything on the day of the party, so make a checklist of things you need to do and knock them out in the week before the game. Some of the tasks that might go on your checklist include:
Buying food and drinks
Cleaning (and possibly decorating) your space
Verifying that your TV and sound system are good to go
Buying extra charcoal, wood pellets or whatever fuel your grill uses
Making sure your guests know important info like when to arrive and where to park
Don't be afraid to ask for help if you need it! Hosting can be a lot of work, so reach out to friends or family who are attending if you need people to bring items, help others carpool or clean up afterward.
3. Let your team spirit shine.
Turning up for your team is part of the whole point of game day! That's why the best watch parties often encourage guests to dress up, paint their faces and otherwise bring their most spirited attitude. Even if guests support different teams, everybody should be invited to get in on the fun. Decorating your space is another secret of championship-level hosting. Table coverings or napkins in your team colors are the perfect way to get folks into the game day atmosphere. If you really want to throw down, you might even opt for bigger decorations like balloons or cardboard cutout players!
4. Protect any easily damaged furniture or decorations.
We all know that football watch parties can get a little rowdy. Just how rowdy can vary a lot, but the chance is always there! That's why savvy hosts often choose to take a few smart precautions to protect their stuff. Relax — you don't have to put everything in bubble wrap! Basic steps will go a long way, so consider things like covering tables with tablecloths, putting away fragile art and asking guests to use the coasters you've thoughtfully set out on the tables. Temporarily moving bulky furniture you're not using can also be a practical advantage since it gives you more space for seating.
5. Spend some time outside before the game.
If weather conditions allow it, do some grilling and have everybody gather outside for a while prior to kickoff! It's a great way to get moving and enjoy some fresh air before everybody settles in to watch the game. For those with more built-out patio setups that include an outdoor TV, you could even consider watching the game itself outside.
Outside time can be especially fun if you've got some games or sports equipment to enjoy. Cornhole and ring toss are always popular, but so many different tailgating games are out there today that you definitely don't have to stick to the old standards. You could even bring out your own pigskin for a quick pick-up game if you've got enough room in your yard, or invest in a tailgate generator if you require extra power for other activities.
6. Offer your guests both alcoholic and non-alcoholic beverages.
While there's nothing wrong with a BYOB party, it can definitely set a more festive tone if the host provides beverages, both alcoholic and non-alcoholic! Domestic beer is a widely popular choice, but going the extra mile by making a pitcher of cocktails or stocking a tasty selection of craft beers can really make your guests feel at home.
Of course, you also want your guests who aren't drinking alcohol to have a great time! A thoughtful host can score some major party points by providing plenty of different non-alcoholic beverage types. Water is a must and soda is a standard, while mocktails and non-alcoholic beer can be thoughtful offerings for non-drinkers.
7. Settle your seating situation.
Think carefully about how many people you plan to invite and how much seating you'll need for everyone. Some people might be OK with standing part of the time but try not to assume; a truly first-rate watch party will have enough seats for everybody to be comfortable.
What if your current living room setup won't quite cut it? Your first option is to simply make it a smaller party, which might be the best idea if you have a more compact space. Otherwise, think about options like bringing in chairs from other rooms or setting up camp chairs. If you have a projector and the weather is warm enough, consider watching the game in a more spacious area like your backyard or garage!