The 707 HP Jeep Trailcat Concept Is The Ultimate Off-Road Machine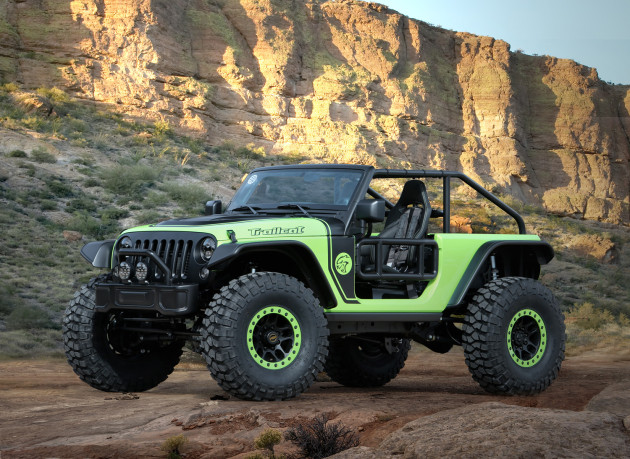 Jeep and Mopar unveiled seven concept vehicles built to conquer the famous and challenging trails of Moab, Utah, at the 50th annual Easter Jeep Safari, which takes place March 19-27.
Unfortunately, one of these Jeep concepts is so over-the-top bat-shit crazy that the other vehicles have been all but forgotten. We're talking of course, about the 707 HP Hellcat-powered Jeep Trailcat. #Murica!
The Jeep Trailcat concept vehicle is the ultimate off-road machine, equally at home on Moab's rugged trails or a high-speed section. Utilizing the supercharged 6.2L HEMI Hellcat V-8 engine, and mated to a 6-speed manual transmission with a custom shifter ball featuring an embossed Hellcat logo, the Trailcat concept vehicle leaves everything else in a cloud of dust.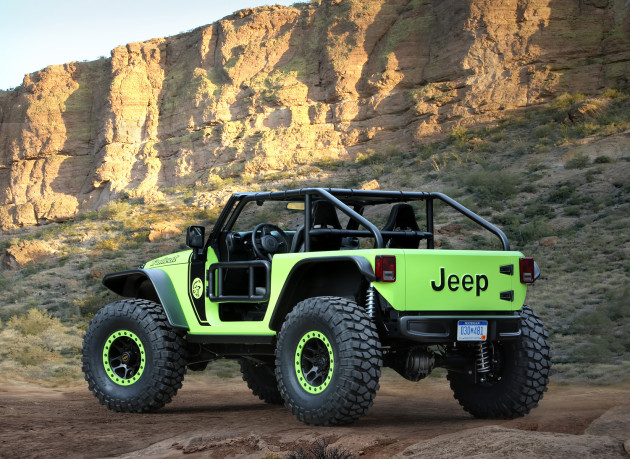 To get the 707-horsepower Hellcat engine into the Trailcat, designers stretched the wheelbase an additional 12 inches while chopping the windshield two inches for a sleeker look. Mopar exterior enhancements include a power-dome vented hood, Satin Black grille, LED headlamps and fog lamps and rock rails.
The robust off-road look is further aided by steel front and rear bumpers, 17-inch beadlock wheels and 39.5″ BFGoodrich Krawler T/A KX tires, front and rear Dana 60 axles and Fox shocks.
Subtle design cues, such as a Hellcat decal on the front quarter panels and a "Trailcat" decal on the side of the hood, hint at the crazy horsepower that lurks beneath, making this much more than a typical production Wrangler. The Trailcat's interior is simple yet functional and features sport bucket seats from the Dodge Viper, made from carbon fiber and featuring Katzkin leather seat covers with accent stitching.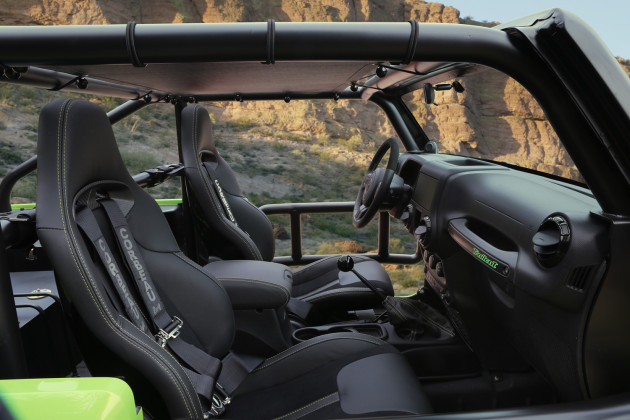 If you follow us on Facebook, you might have seen the video that we posted last night of the Trailcat's insane exhaust note. It's really something else! Jeep fanatics will be able to see the Trailcat (and the other concepts) in person at the Jeep Easter Safari.
If Jeep decides to make a production Trailcat, would you consider buying one?