My Dreams Of Becoming A Guitar Rock Star Have Been Deferred…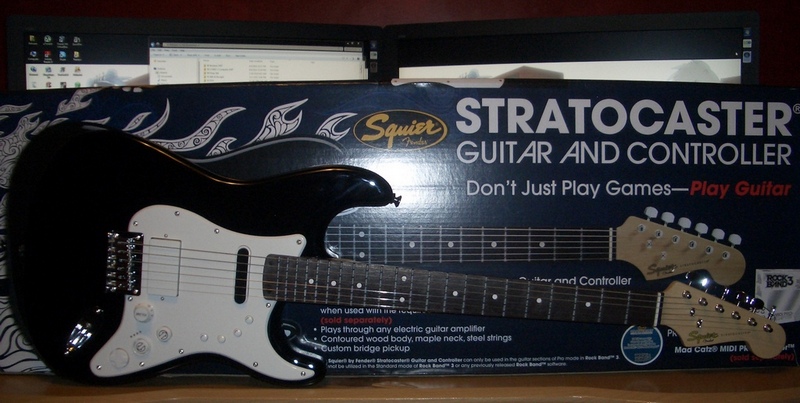 I purchased "The Squier by Fender Stratocaster Guitar and Controller" yesterday from Best Buy. For those who are unaware, it's the worlds first electric guitar that is also an officially licensed Rock Band 3 video game controller. The final piece of the puzzle that bridges the gap between merely playing a game and playing an actual guitar and real music.
After mastering the game with the cheap plastic controller, you might be seeking a new challenge. For only $279.99 MSRP, you can have a brand new experience, playing through the game again in PRO MODE with a genuine, full sized Fender Stratocaster. A major investment to be sure, but look at what you get for the loots:
A real Fender Stratocaster guitar with contoured wood body, 6 steel strings, special fingerboard with internal sensors to detect finger position, 22 frets and a single pickup.  Since this is also a controller, there is the standard d-pad, start, select and 4 color coded game buttons built into the pickguard along with the volume control.  For sound output you have a standard 1/4″  jack , to plug it into an amplifier and a MIDI port.  An excellent beginners guitar for someone serious about learning.
Last night I was to get started on my music career.  My dream of rocking out, playing crazy fast riffs like Yngvie Malmsteen or DragonForce, hit a serious snag.  You see, the Mad Katz MIDI Pro Adapter is REQUIRED to use this controller with Rock Band 3.  They make a version of this device for Wii, PS3 and Xbox360.   NONE were available at Best Buy where I got my Squier.  Calmly I rode on over to Game Stop thinking, SURELY they have this necessary gaming peripheral.  WRONG.  "Well if you guys don't have it and don't plan on getting it, where will I find this damned thing?", I asked the poor Game Stop cashier.  "Radio Shack perhaps?", he says.  I stared at him as if he suddenly sprouted 4 more heads like a hydra and each of them were speaking a different language.  
I say nothing, but I'm thinking.  Radio Shack?  Srsly?
COME ON,  SON!
  Getting desperate because it's close to closing time for all the stores in the area, I make a mad dash to Tarzhay where I'm denied again.  Totally blown because I can't think of any other stores to try, I make my way home.  I spot the Toys R Us closest to the highway and cut into the parking lot, only to be met by soul-crushing disappointment.  It's doors were closed and locked down a mere 10 minutes before I arrived.
I turned around and got back on the road towards home, with a mixture of feelings.  Extremely geeked because I had my new toy err.. serious musical instrument to start a-learnin'.  Deeply saddened that I couldn't use it immediately upon arrival at home.
My meteoric rise to rock stardom put on hold.  Le sigh.