Activision Announces 'Cabela's Big Game Hunter: Pro Hunts'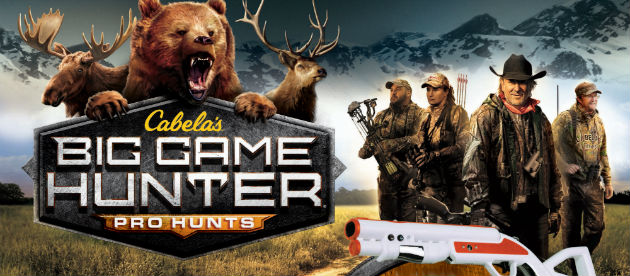 Are you ready to answer the call of the wild?
Activision has announced the next title in its top-selling hunting franchise – Cabela's Big Game Hunter: Pro Hunts, which is scheduled to be released on March 25th for the Xbox 360, PlayStation 3, Nintendo Wii U, and Windows PC.
Cabela's Big Game Hunter: Pro Hunts takes players on a single-player campaign with four field-proven experts from the competitive world of big game hunting:
Wade Middleton – Besides being President and co-owner of Careco TV and host of several outdoor television shows, this veteran outdoorsman has worked for over 20 years as a hunting guide and outfitter.
Jim Shockey – An award winning outdoor writer, professional big game outfitter and television producer, Jim has hunted in more than 40 countries and has taken nearly 300 SCI-recognized species and is the host and producer of Jim Shockey's Hunting Adventures and Jim Shockey's Uncharted on Outdoor Channel.
Ralph & Vicki Cianciarulo – Bringing families together through hunting, America's Favorite Hunting Couple is known to educate, entertain, and share their experiences through their very own TV show, Archer's Choice, featured on Outdoor Channel.
All four renowned hunters will impart their unique hunting skills to players through an exciting series of pro-guided hunts against North America's most cunning and sought-after trophy animals. Additionally, fans will find a richer, more engaging, first-person action experience, including improved ballistic physics, more realistic, thoughtful animal AI and four diversely populated, sweepingly beautiful environments across the continent.
These latest images take you to the edge of the wild, showing off a taste of the open spaces to explore when this first-person shooter hits store shelves later this month.
Cabela's Big Game Hunter: Pro Hunts wil be released on March 25, 2014 for Xbox 360, PlayStation 3, Wii U, and Windows PC. It will be compatible with the Top Shot Elite and Top Shot Fearmaster gaming peripherals. For more game information, visit www.ActivisionHunts.com, and follow along on Facebook and Twitter.