Adidas – Still Cool After All These Years
I haven't had something so lightweight and cool looking on my feet since the invention of the Nike Huarache! But shoes have come a long way since then in terms of durability and weight!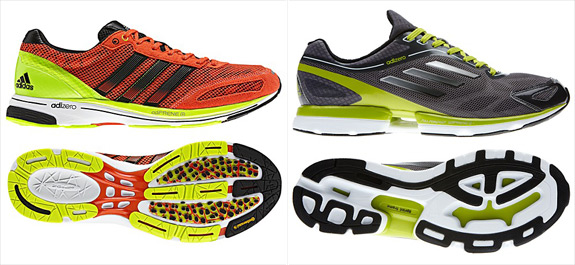 adidas sent me two pairs of running shoes to test out – The adidas adiZero Rush and the adidas adiZero Adios. Both pairs came shipped in a single box, and when I picked up the box, I was amazed to find that BOTH of these shoes were lighter then my ONE pair of running shoes that I was wearing currently!
The weight of these shoes is just ridiculously light. The adiZero adios 2 weighs 7.4oz, and the adiZero Rush weighs 7.5oz.
When I opened the boxes up, that glorious new shoe smell wafted out of the box, getting me immediately high! I was immediately smitten by the striking "traffic cone" orange color with the electric yellow heel of the Adizero Adios – How gorgeously ugly! (And I mean that in a good way) They stand out and make you feel fast, even when you're standing still!
I've made several runs in both pairs, ranging between 5-10 miles. It's a different world, like wearing nothing at all.. Without having to worry about picking up a nail or something!
I'll be the first to admit that I don't have good mechanics, and I generally require a stability shoe. My compromise will probably end up being the Mana. Sure, the Mana weighs a little more, but it'll provide a little more stability for my foot.
Nonetheless, I'm so excited about these awesome sneaks, and I plan on running 1-2 lower mileage runs per week in them. I'm hoping to pick up some speed, improve my foot strike, and enjoy more of a natural run!
I can't see a more perfect shoe for racing, especially for that cross country or track team!
Adidas, still so cool after all these years!