adidas Unveils Ultra-Lightweight Uniform For March Madness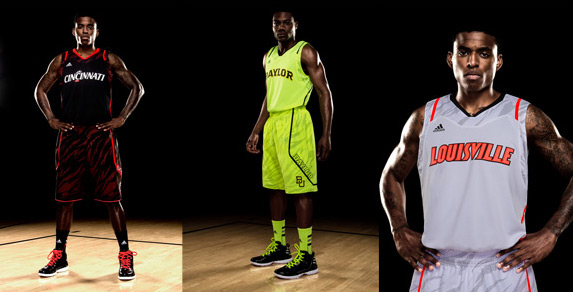 To tip-off college basketball conference tournaments this week, adidas today unveiled the new, ultra-lightweight adidas adizero uniform for Baylor University, University of Cincinnati and University of Louisville. The uniforms are on average 28 percent lighter than the schools' previous uniforms to keep players lighter and faster on court during the most important time of year.
Building on adidas Revolution 30 uniform technology used in the NBA, the adizero uniforms feature a ClimaCool zone which moves heat and sweat away from the body to keep the jersey from gaining weight during heavy sweating. An unlined short sheds weight from the uniform and provides a more comfortable, closer fit with compression base layers, while the short's four-way stretch works with the body's natural movement to increase mobility during quick lateral movements and sprints.
The uniform's amplified school colors were created exclusively for this year's NCAA tournament run and pay homage to the high intensity of March Madness. The limited edition print's camouflage design is inspired by teamwork on the court.
The adizero uniform will debut on-court with Cincinnati and Louisville during the Big EAST Tournament March 6-10th at Madison Square Garden and with Baylor University during the Big 12 Conference Tournament March 5-10th in Kansas City, Missouri.