AERIX Drones Releases Black Talon Micro FPV Racing Drone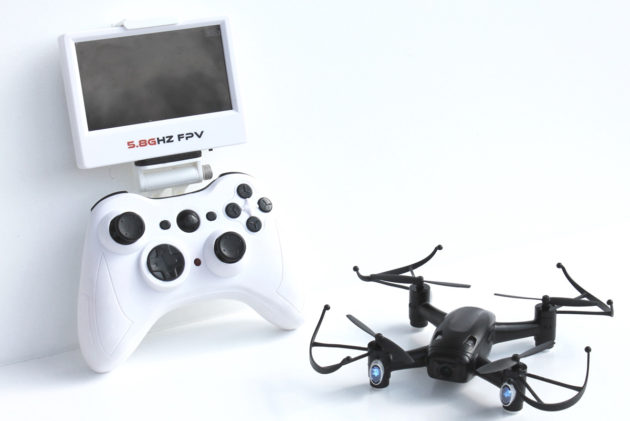 If you're looking for a great palm-sized FPV racing drone for beginners, AERIX Drones has just launched the new Black Talon. The Black Talon, designed to be easy to learn and fly, is equipped with built-in barometer and altitude hold, which eliminates the need for manually maintaining altitude, leaving the pilot more time to focus on directional and rotational movements and flight. One touch return-to-pilot flight control ensures the drone returns safely home, while blade guards make it safe for indoor and outdoor use.
The Black Talon is great for racing, filming, performing tricks and practicing. It comes standard with a 2.4GHz 4-channel controller with 5.4 GHz LCD monitor to view the 720p video feed, but it's also compatible with FPV goggles for the most immersive flying experience possible. Its live first-person-view (FPV) video camera puts you in the pilot's seat for heart-pumping action. You can stream and record live 720p HD video during flight.
AERIX has given Black Talon interchangeable, rechargeable batteries, so you can swap them out as needed and extend the fun. While the standard package only allows for 5-7 minutes of flight time, if you choose to go with the optional Extended Flight package, four LiPo drone batteries allow for 25 minutes of flight time, along with 40 replacement blades to ensure that you're always ready to fly.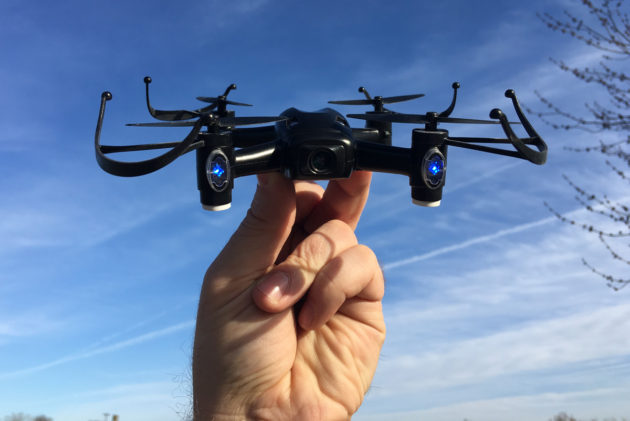 Are you new to first-person drone racing? Black Talon is equipped with three flying modes, allowing you to toggle between low-, medium- and high-flight sensitivities. It features a lightweight, durable airframe, and is pre-programmed with AERIX's trademark tricks, so you can show off with barrel rolls and 360 flips with the push of a button.
Black Talon is available in two packages: Basic (retail $139) and Extended Flight (retail $189). Note: Because of its small size and weight, the Black Talon does not need to be registered with the FAA.
The Basic Package includes:
One Black Talon Micro FPV Beginner Racing Drone
One 2.4GHz 4-channel transmitter (requires 4x AAA batteries; not included)
One wireless 5.8GHz LCD monitor with built-in rechargeable battery and holder
One 3.7V 520mAh-capacity LiPo drone battery that is removable and rechargeable
One 4GB Micro SD card and reader
One USB charging dongle for computer or wall charger
Four spare blades
The Extended Flight Package includes everything in the Basic package, plus three additional batteries for a 25-minute total flight time and 40 spare blades.
Black Talon Specs:
Measures 10cm x 10cm from motor to motor
Measures 17cm x 17cm from blade guard to blade guard
720P HD camera with wide angle lens
Built-in barometer to maintain altitude control
Compatible with third-party 5.8GHz monitors or FPV goggles
A 6-axis flight control system with adjustable gyro sensitivity
Charging time: ~30 minutes
50-60m control range
50-60m live video range
4 toggleable LED lights
3 Flight speeds: Low, Medium and High
Pre-programmed 360 degree flips and rolls
Headless mode for beginners to maintain flight orientation
Full directional and rotational trim adjustments
The folks at AERIX Drones are sending us a Black Talon to try out for ourselves, so we'll have a full review of it later this month.