Amazon Wants To Deploy Delivery Drones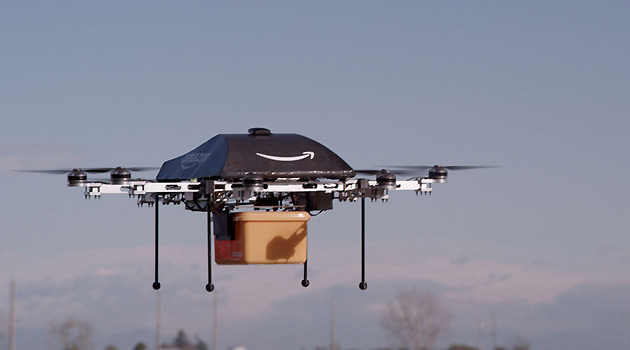 Amazon CEO Jeff Bezos took to 60 Minutes on Sunday night to reveal his company's latest delivery method: Drones. The goal of Amazon Prime Air is to get packages into customers' hands in 30 minutes or less using unmanned aerial vehicles. It might look like science fiction, but it's real.
Are you ready for a future in which unmanned drones come from the sky to deliver you products you ordered less than a half hour ago? Well get ready, because if there's anyone who can pull off such a feat, it's Bezos.
The company has been working on the drone delivery system in their next generation R&D lab, and they say it's pretty much ready to go, pending FAA regulations.
"Putting Prime Air into commercial use will take some number of years as we advance technology and wait for the necessary FAA rules and regulations," says Amazon. "It looks like science fiction, but it's real. From a technology point of view, we'll be ready to enter commercial operations as soon as the necessary regulations are in place. The Federal Aviation Administration is actively working on rules for unmanned aerial vehicles."
Here's the test flight footage that shows what we're looking at:

"One day, Prime Air vehicles will be as normal as seeing mail trucks on the road today," the company says in the Amazon Prime Air FAQ. "We hope the FAA's rules will be in place as early as sometime in 2015. We will be ready at that time."
The early drones will be somewhat limited, according to Bezos, in that they can only carry packages under five pounds, and can only carry them up to ten miles away from a fulfillment center, but there's no reason to think that they won't get better as time goes on if this whole thing really comes to fruition. Of course, much of where things go will rely on the regulations set forth by the FAA.
Of course, with Bezos paving the way for unmanned delivery drones, you can be sure other competitors will be following suit. In the future, we'll see everything from mail to pizza being delivered via drones!
The future is exciting, and I for one can't wait!