Be The Coolest Dad On The Block With This Batmobile Baby Stroller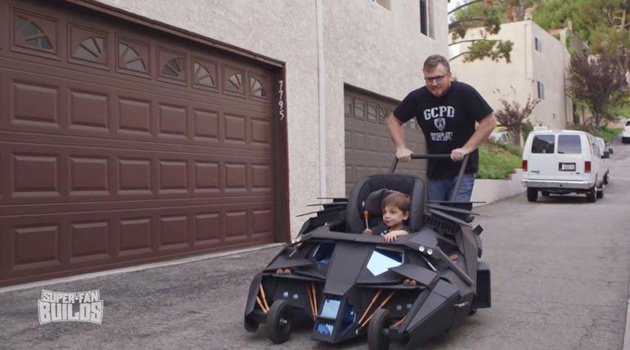 The folks behind the YouTube series Super-Fan Builds is back with another amazing creation. This time, the world's luckiest kid gets an awesome Batmobile stroller. That's right, this baller stroller was designed and engineered to look exactly like the Tumbler Batmobile from the Dark Knight trilogy.
It's modeled after the Batmobile Tumbler vehicle, complete with all the sharp angles and beastly base, and includes things like a steel frame for reinforcement and, of course, a handle for the parents to push. As you can see, no detail was left unturned, with glass windows, "lights", exhaust residue, shocks, and more.
Watch the video below to see the Batmobile stroller in action:

Apparently the stroller isn't foldable, which makes it near impossible to travel with. But for cruising around the neighborhood, this seems pretty awesome. What's that, need something a little more "practical"? This baby stroller guide has got you covered.