Check Out This Sweet Men's Luxe Gift Box From The Care Crate Co.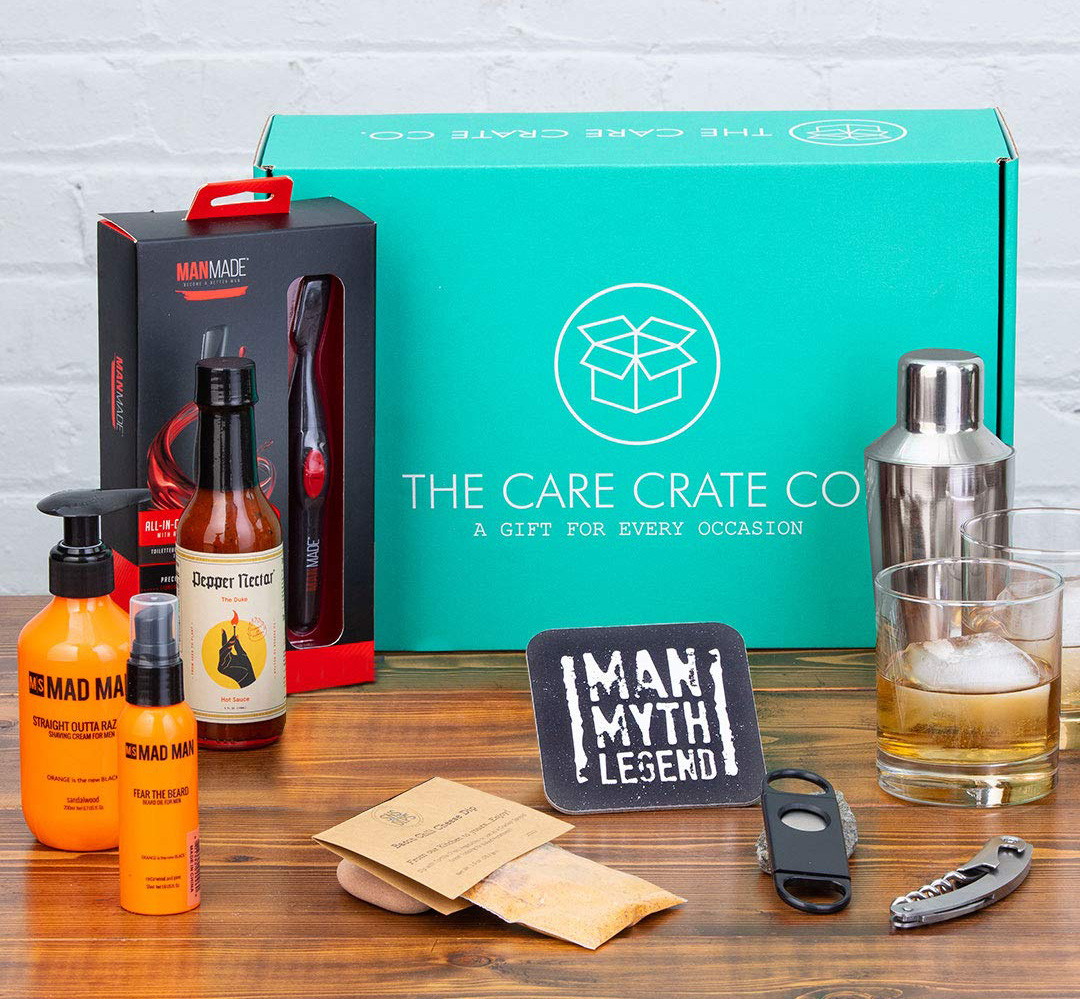 Want to show a friend or loved one that you're thinking of them, even if you can't visit because of the pandemic? The Care Crate Co. has got you covered, with a wide selection of snack boxes and gift sets that are sure to brighten anyone's day.
Have a friend who's freaking out over the stay-at-home orders? Give them some piece of mind with a Personal Care Kit, which includes more than 70 food and personal care items, including more than 45 pre-packaged food items, 10 microwaveable meals, and more than 15 personal healthcare items, including face masks, a first aid kit and disinfectant wipes.
Does that special woman in your life need a little pampering, but she can't go to the spa? The Women's Spa Day Gift Box is full of all the at-home spa day essentials to create a relaxing day. Encourage her to escape from the stress of daily life with a DIY manicure, pedicure and facial, as well as soothing lip balms and lotions, scented soaps and more.
After browsing out the various offerings on their website, we decided to check out the Men's Lux Gift Box, perfect for the man with varied and refined interests. It includes nine products focused on looking good, having fun, and eating well. "Inspire him in the kitchen with hot sauce and dips, help him look suave before big business meetings, and encourage him to kick back and relax after busy days at the office or shop."
Sounds like a gift box after my own heart, right? I was super excited when the box arrived at the office, and I quickly opened it to find the following items:
A bottle of gourmet hot sauce
Cigar cutter, fit for an Arturo Fuente
Wine corkscrew, to pop open his favorite merlot
Beard oil
Precision groomer, to keep looking sharp
Men's coaster
Shaving cream
Bacon cheese dip
Cocktail mixer set, because every man should know how to make a dry martini
This is a great assortment of stuff that any man with good taste would appreciate, whether he is a bachelor, father, college student, or boss. I know if someone sent me a box like this, I'd be thrilled. And at just $49.99, it's a relative bargain as well.
If I had but one suggestion, it'd that they let you customize the boxes somehow, as I've already got a few cocktail mixer sets already. If I could have subbed that with something else, even if it was just some snacks or treats from one of their other boxes, that would be cool.
Regardless, I think this is a great gifting option, and as you can see on their website, they have got quite a selection of snack boxes and gift sets to choose from. If you see something you like, use the coupon code HAPPY to save 10% off your first purchase. Enjoy!