We Checked Out Grand Rapids' Beer Scene.. And I'm Still Pretty Buzzed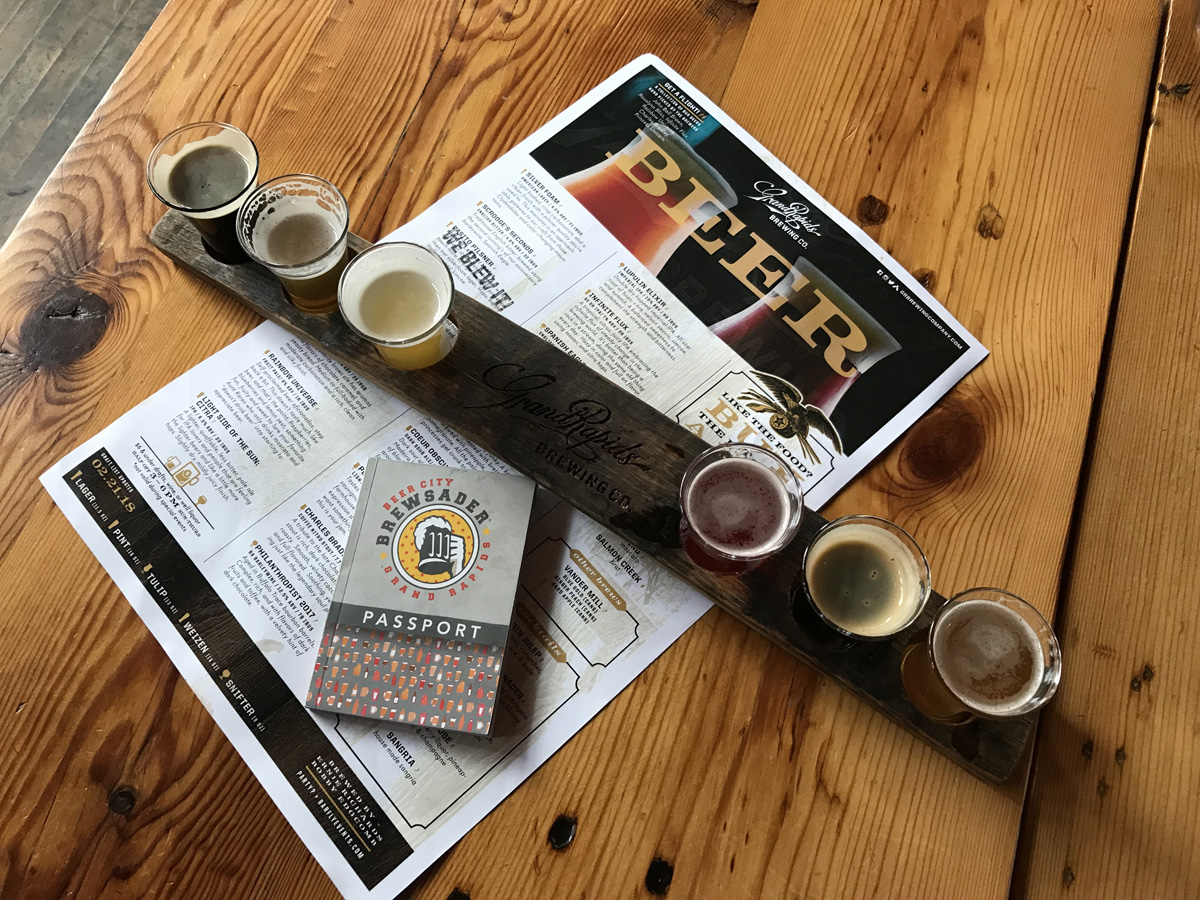 Grand Rapids, Michigan has one of the best beer scenes in the country, with over 60 craft breweries along their Beer City Ale Trail that are putting out some amazing brews (not to mention delicious food). Voted Beer City USA in national polls and named Best Beer Town and Best Beer Scene by USA TODAY, Grand Rapids has quickly become a popular beercation destination for hops heads.
Experience Grand Rapids recently invited us to come check out their beer scene for ourselves, and when we shared this news on social media, the suggestions started flooding in. "Make sure you hit up Founders!" "Are you visiting Creston Brewing?" "Dude, you can't leave Grand Rapids without trying the crack fries at HopCat."
With so many breweries in town, it was impossible for us to hit them all, but we made a valiant effort, visiting 11 breweries in just two days and collecting enough stamps in my Brewsader Passport to score me a sweet Brewsader t-shirt to commemorate my visit.
So how does one choose which breweries to visit? Honestly, that's the challenge that brewers here face, as they all produce great beer. So to differentiate themselves from one another, they've upped their food game, each offering their own signature dishes to go along with their beers.
Here were our 5 favorite Grand Rapids breweries: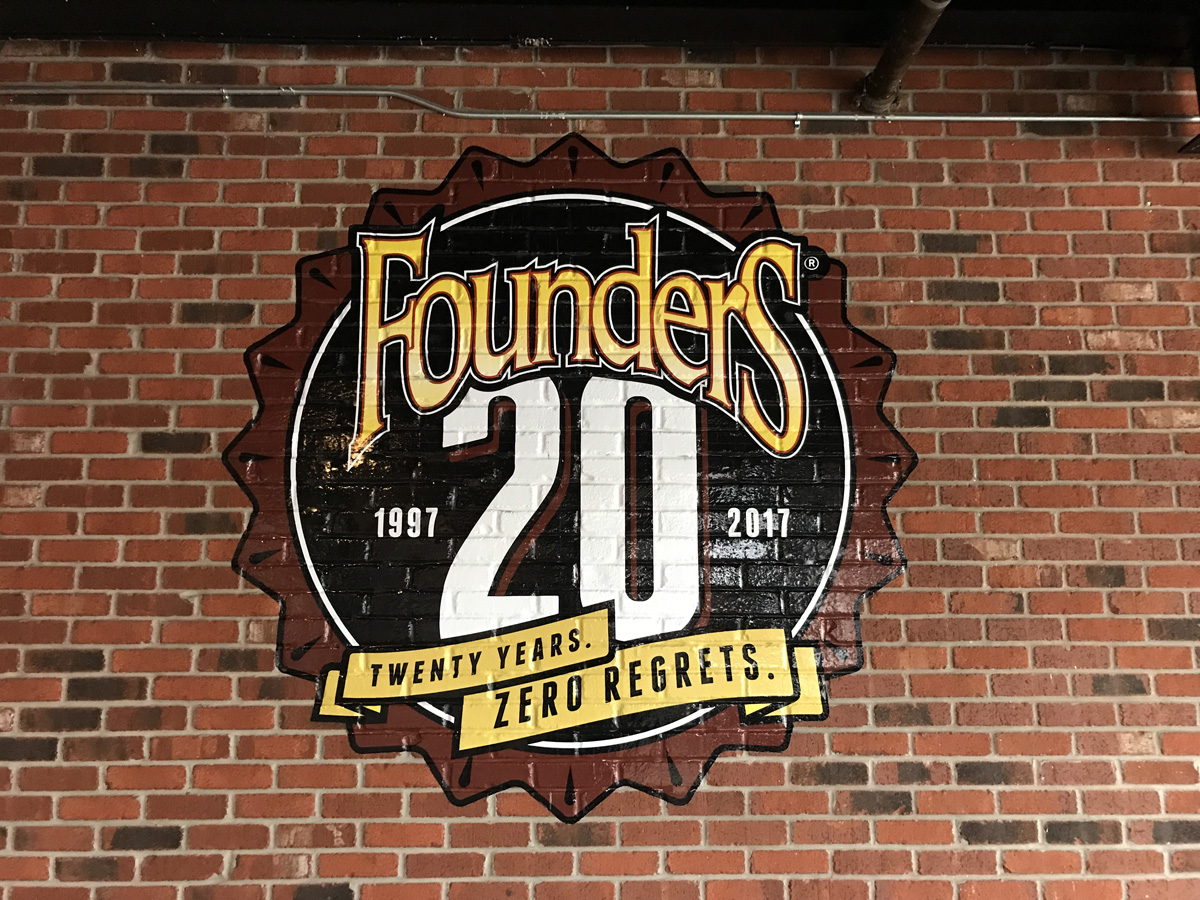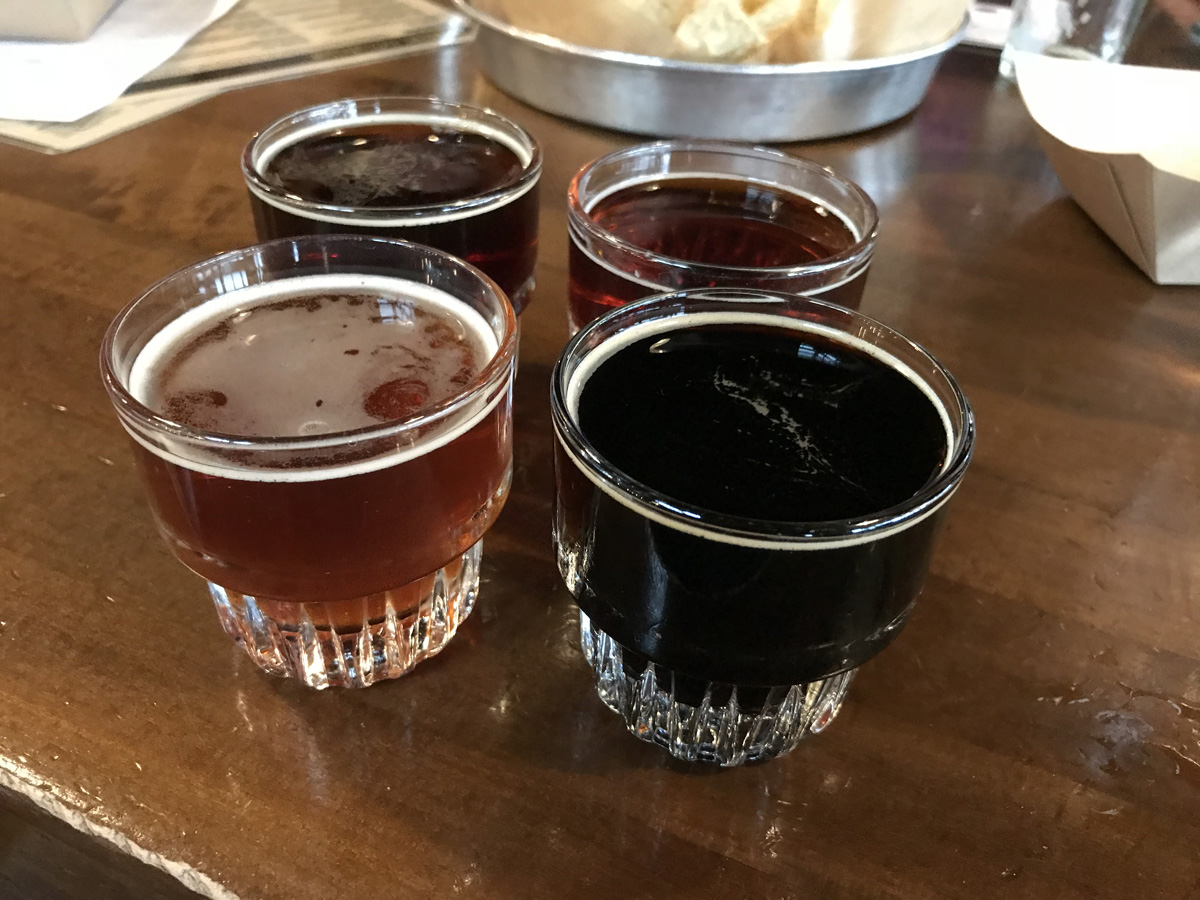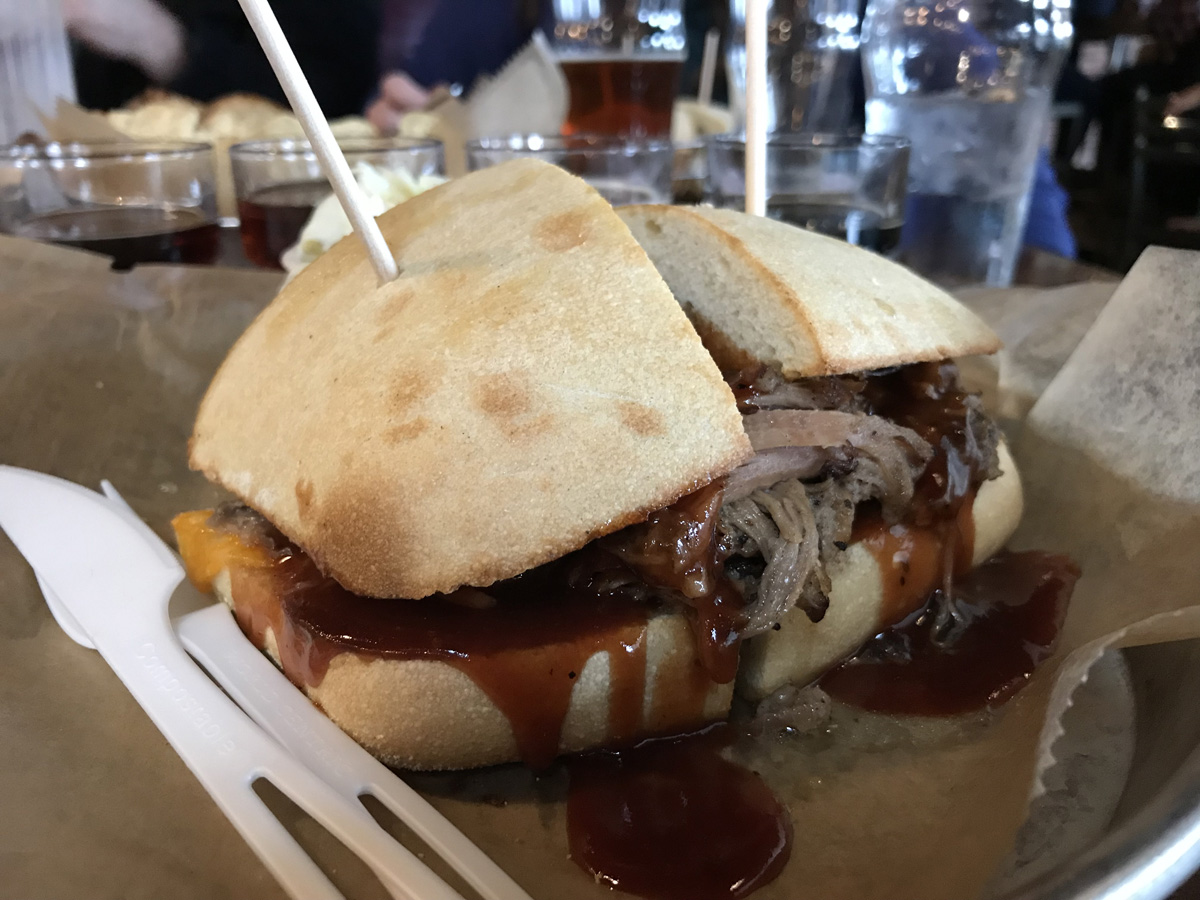 1) Founders Brewing has been named the third best brewery in the world, and it's a must-visit if you come to Grand Rapids. As the story goes, founders Mike Stevens and Dave Engbers quit their day jobs to get into the brewingr business, but their unremarkable beers weren't wowing people and they were on the verge of bankruptcy. So they decided to brew the kind of beer that got them excited about brewing in the first place: complex, in-your-face ales, with huge aromatics, bigger body, and tons of flavor. Their Kentucky Bourbon Stout (KBS) was met with rave reviews, and the rest is history.
They've got a wide variety of beers to choose from, and one that really won me over was their Lizard of Koz, a bourbon barrel aged Imperial Stout with blueberry, chocolate, and vanilla. It was ridiculously good. Equally good were their sandwiches, which are hand crafted, just like their beers. Seeing as how it was lunchtime, I decided to order the Backwoods Bastard (bourbon barrel-smoked pulled pork, Colby Jack cheese, tangy coleslaw & Dirty Bastard BBQ sauce on toasted ciabatta roll), and it was SO FREAKING GOOD!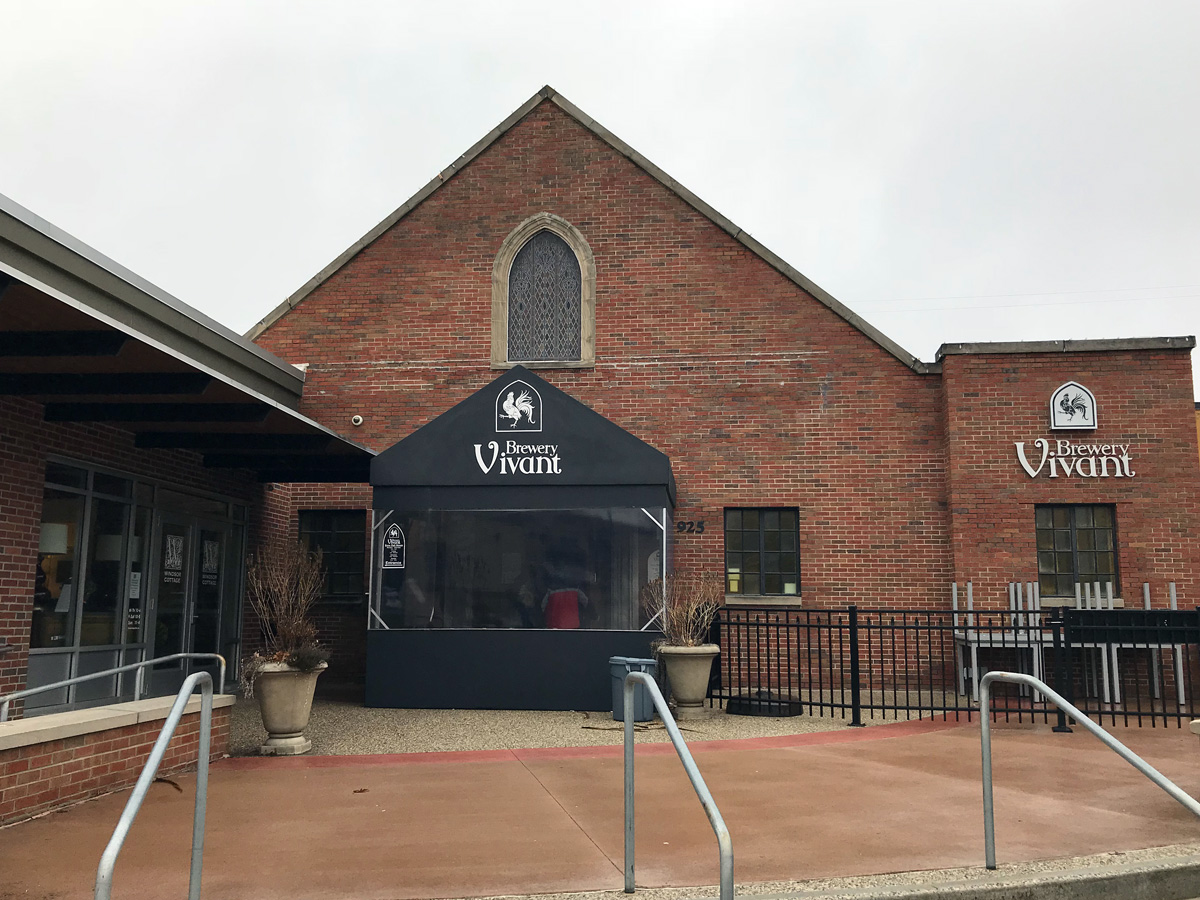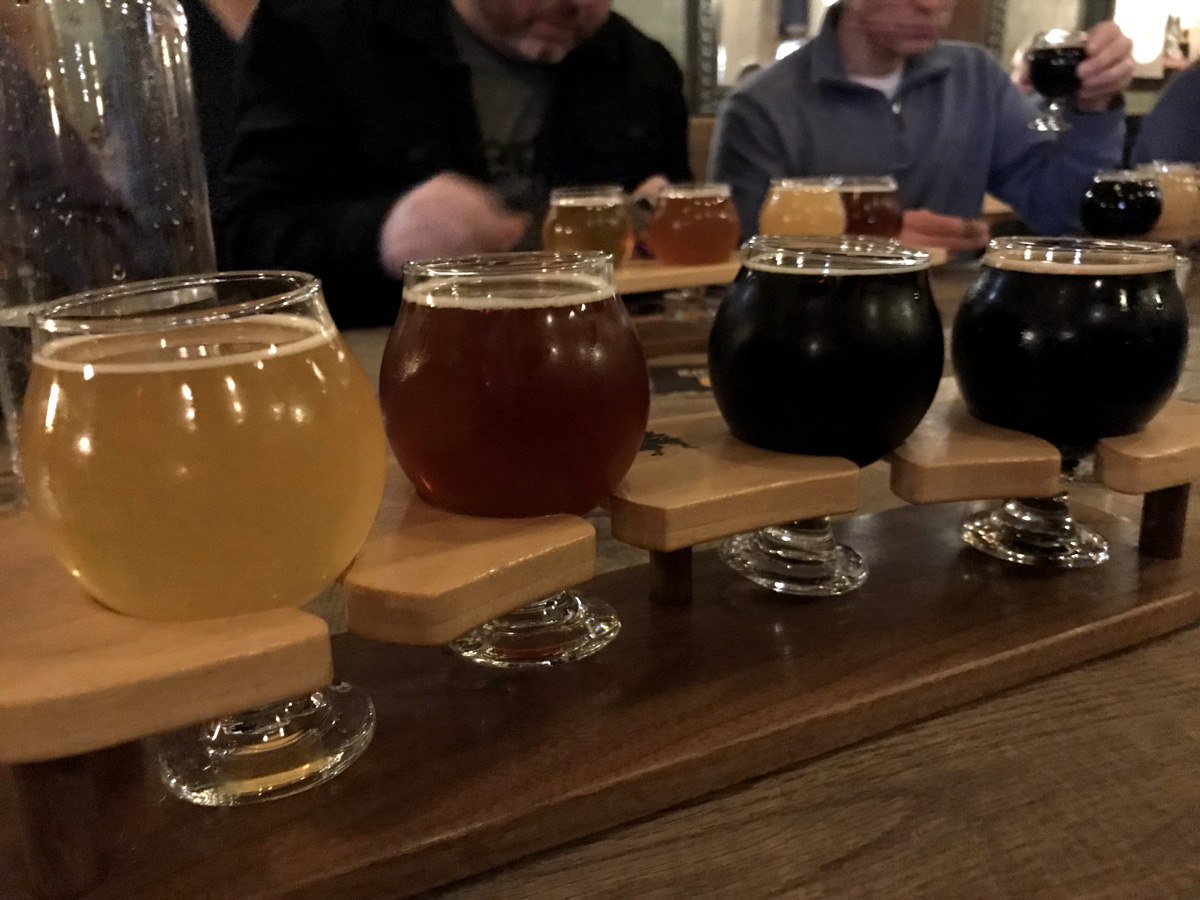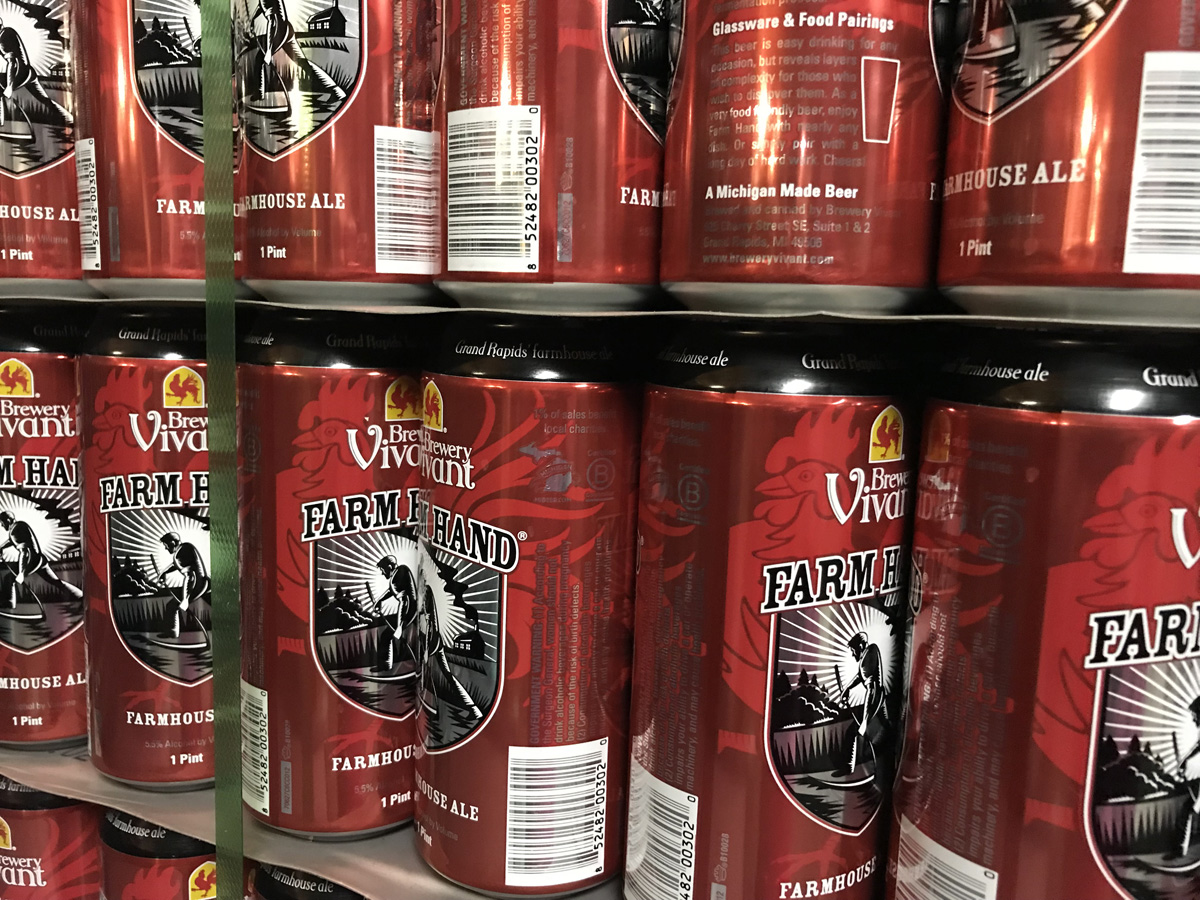 2) Brewery Vivant is a distinctly unique brewery in the fact that it's housed in an old funeral home, featuring rustic farmhouse inspired beers (like their signature Big Red Coq) alongside European inspired cooking from their scratch-kitchen. Their Duck Confit Nachos is a popular menu item that pairs well with their beers, and who doesn't love some Poutine? The food is on a whole other level, and they use locally sourced ingredients.
Furthermore, Brewery Vivant was awarded the first ever LEED certification for a production brewery in the US in 2012, designing their space to use less water and energy and reduce greenhouse gas emissions, which not only save them money but also benefits the environment as a whole. These guys just don't talk the talk when it comes to being environmentally friendly, but they walk the walk as well.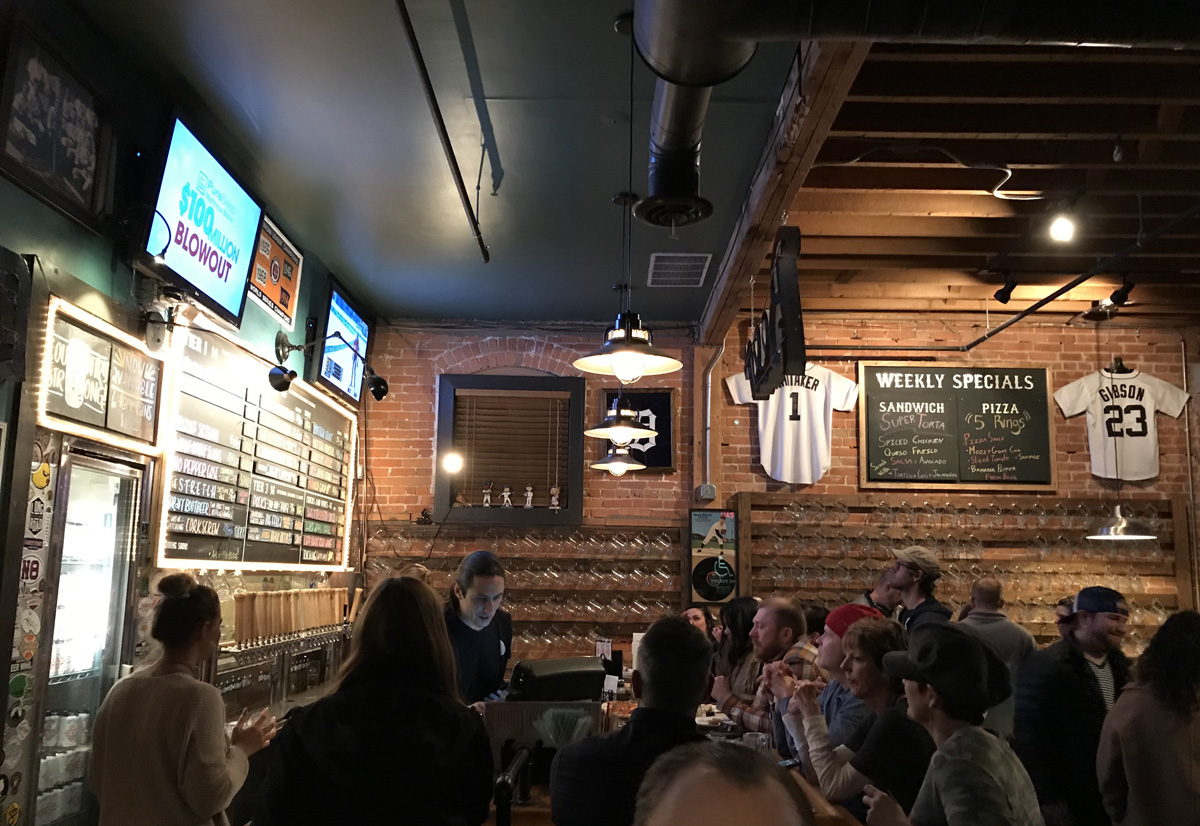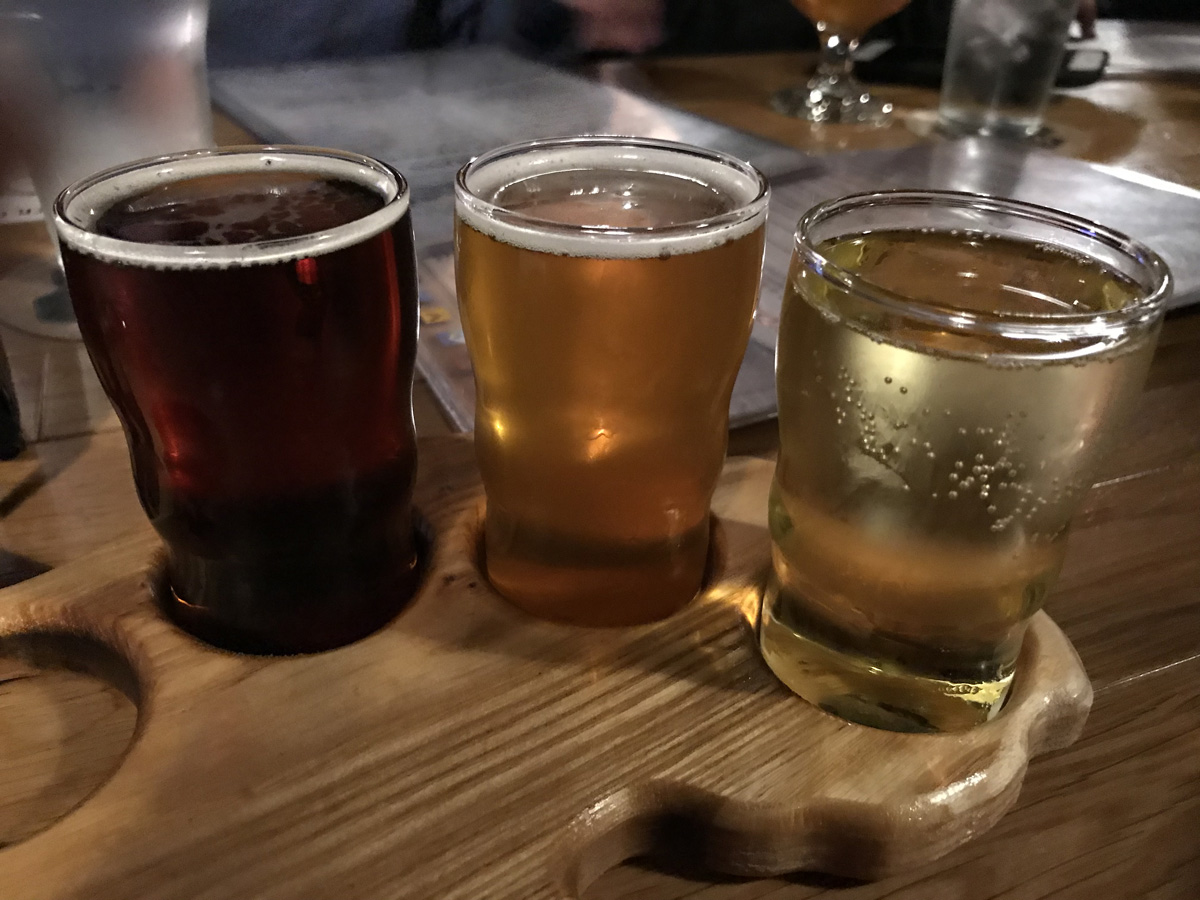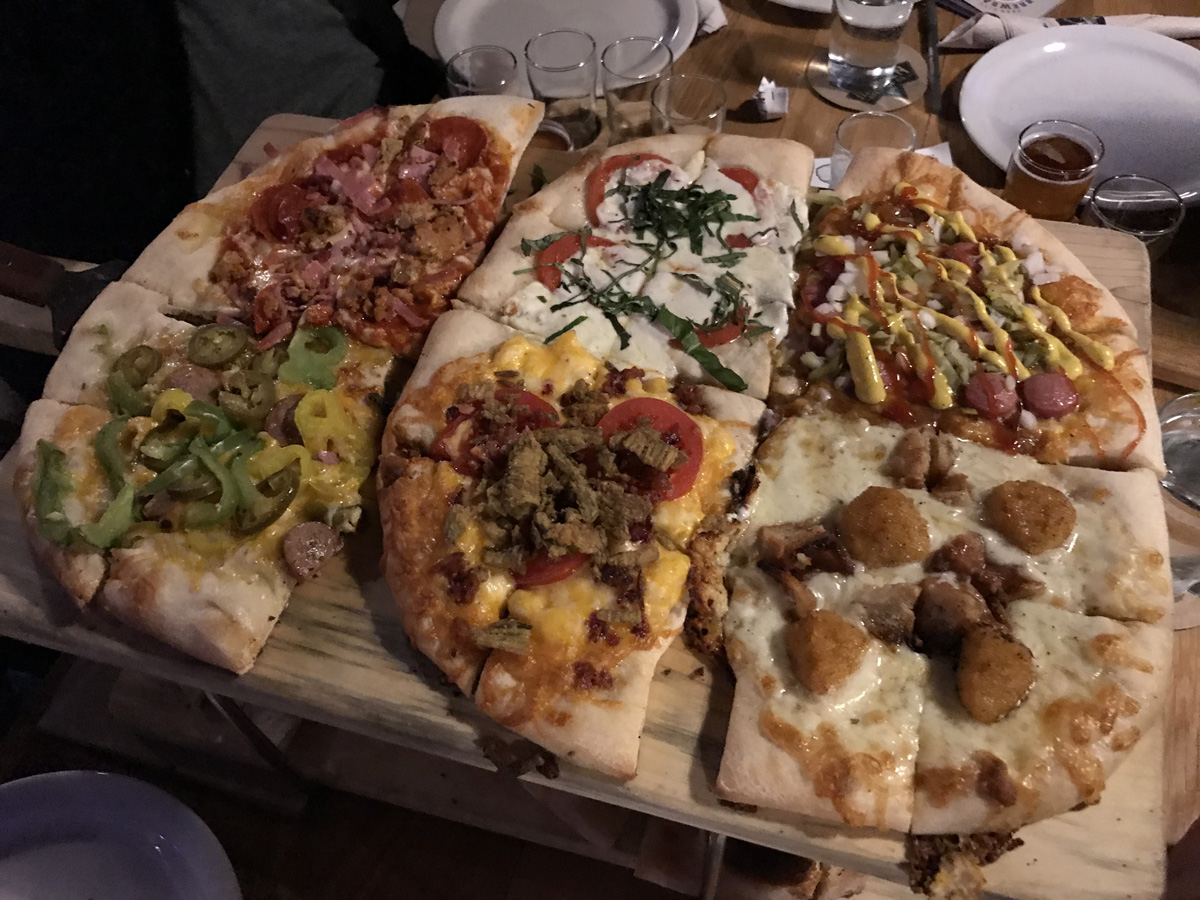 3) The Mitten Brewing Company (named after the shape of their home state) is a vintage baseball-themed microbrewery that also pulls double-duty as a pizzeria. That's right, because what goes better with ice cold beer than some piping hot pizza? Taking the marriage of beer and pizza one step further, the beer isn't the only thing you can order as a flight – They offer a flight of pizza, allowing you to sample up to six different varieties of their delicious pizza. My favorite was the chicken and waffles pizza!
Located on the West Side of Grand Rapids, The Mitten is located in a historic firehouse, and it even includes the original fireman's pole. Despite expanding the building with the addition of a second story taproom and bi-level outdoor decks, this place can still get pretty crowded at night (especially on a weekend), so make sure you stake out a table early, or you're bound to be waiting for awhile. But trust me, it's totally worth it!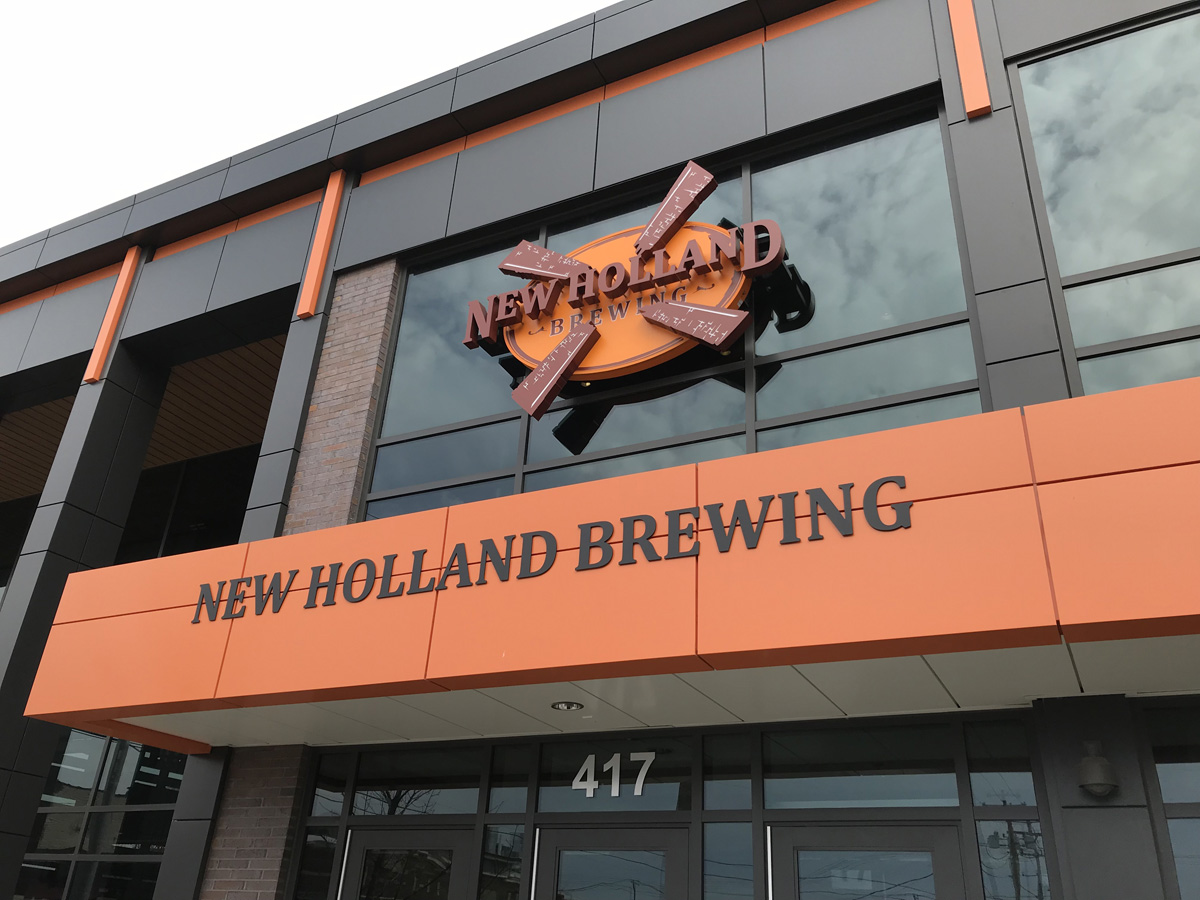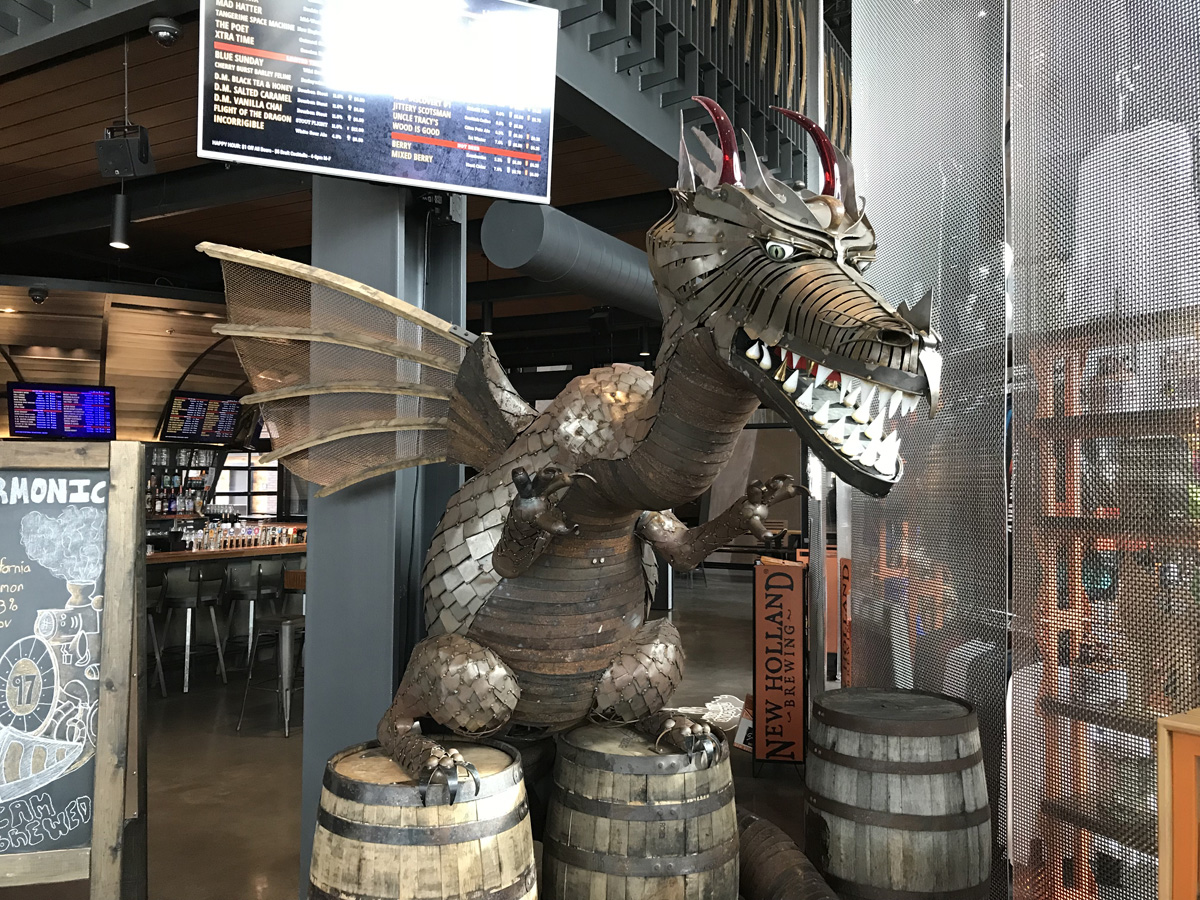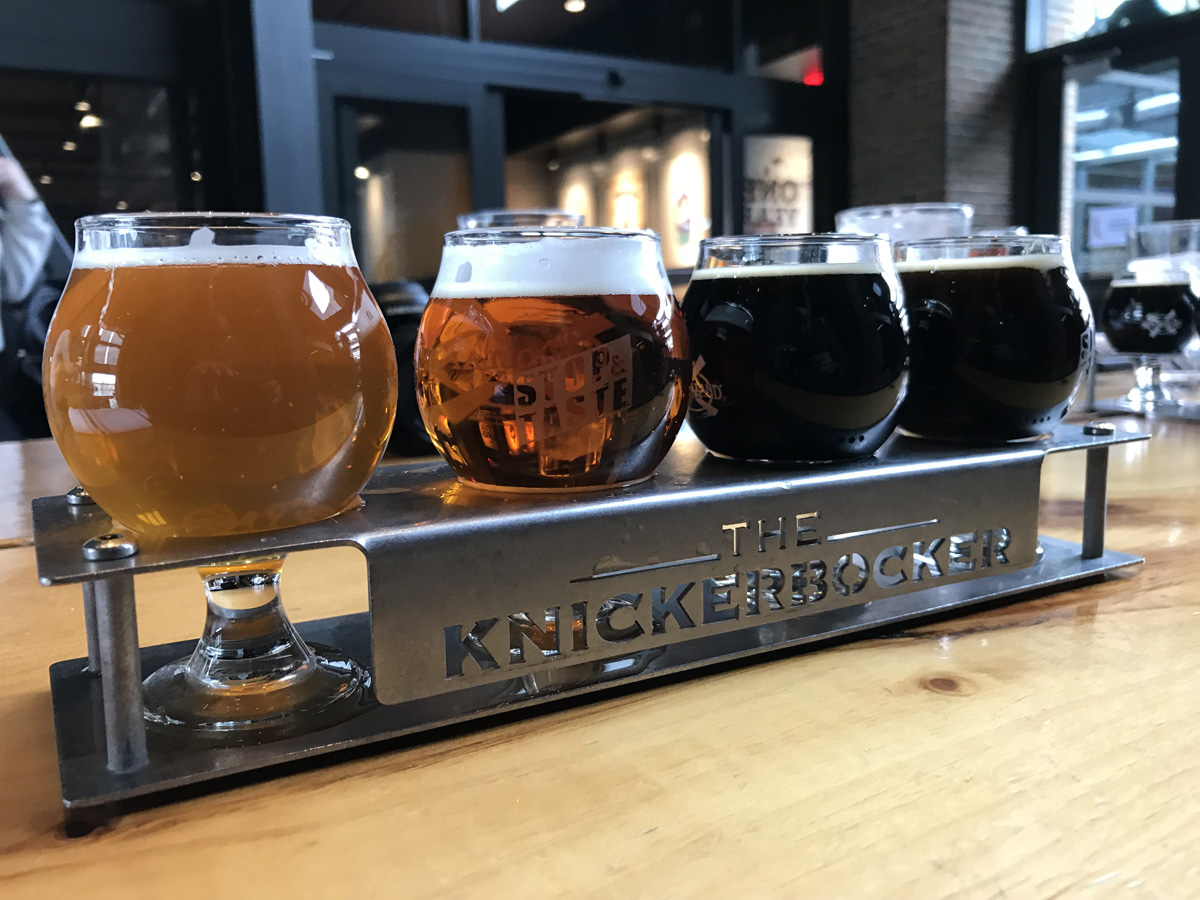 4) New Holland Brewing is known for their Dragon's Milk Stout, and they've since introduced a number of other Dragon's Milk varieties. So, I decided to order up the Flight of the Dragon so I could try all of them. In retrospect, that might not have been such a bright idea, given that each of them were over 11% ABV. But it was totally worth it, as Dragon's Milk is pretty amazing and totally lived up to the hype.
We visited The Knickerbocker location (on Grand Rapids' West Side), and the building is just incredible. It's a massive space, and the architecture is like nothing I've ever seen before. Add in unique fixtures (like a huge metal dragon when you first walk in) and the gorgeous flight tray you see above, and you can see why The Knickerbocker stands out from the crowd.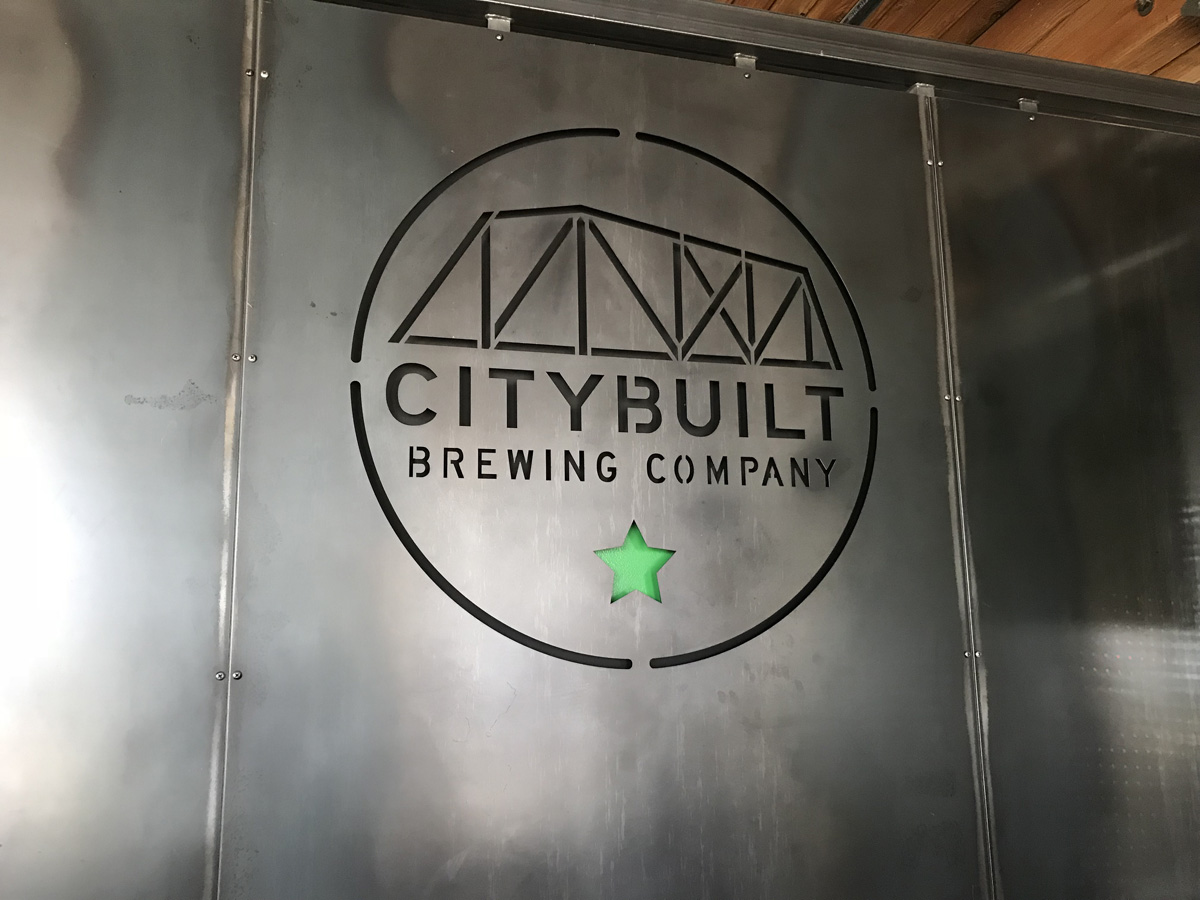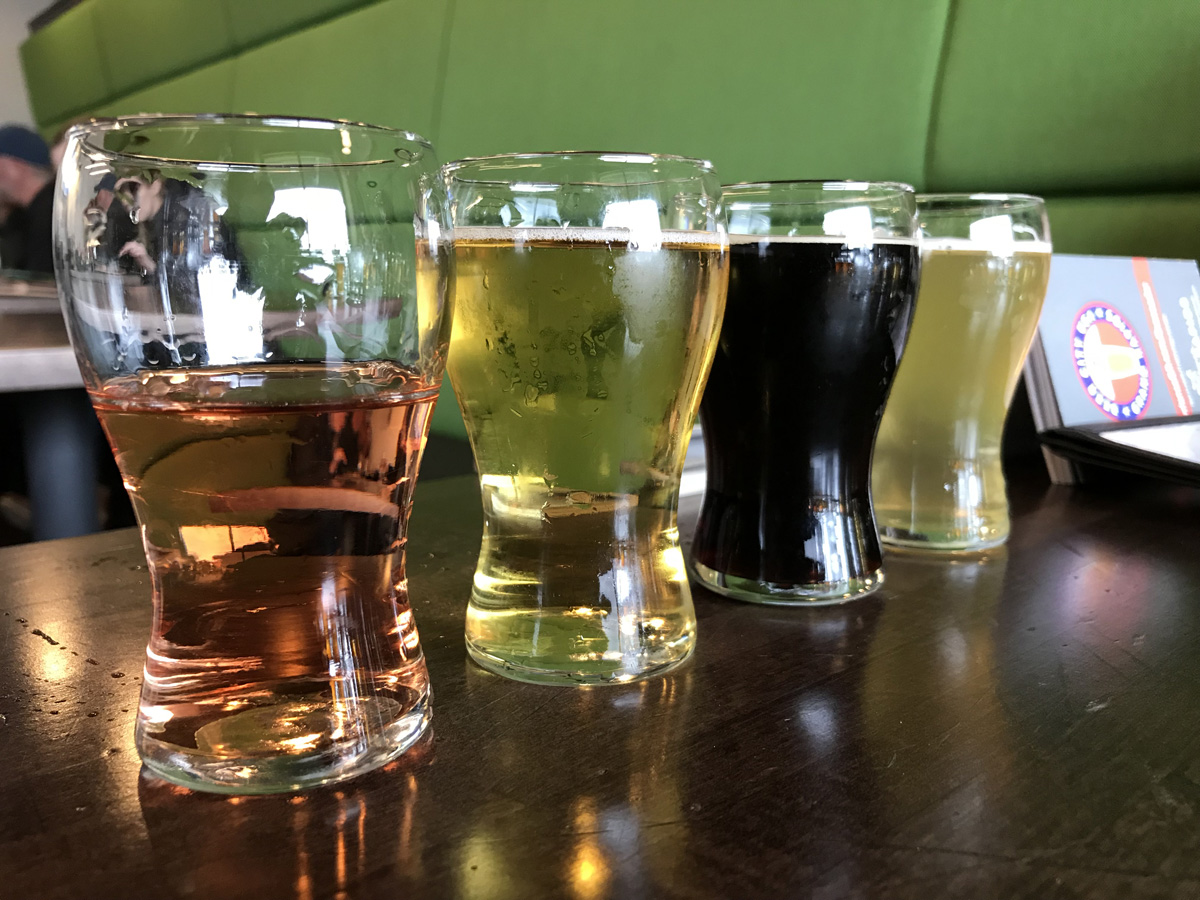 5) City Built Brewing Company is another spot you should definitely check out. One of the newer breweries in the area (opened in 2017), City Built offers 4 tiers of beer, from the mild to the wild, along with something you don't see nearly enough.. Mead! I fell in love with their Beyoncé Blackberry Mead, and I would have been happy staying here all afternoon drinking them (and eating some of the delicious looking Puerto Rican food that they serve up), but sadly our limited time didn't allow for it.
We had a chance to meet up with the owners (Dave Petroelje and Edwin Collazo), and they took us behind-the-scenes, giving us some background on them and where they see the business going. Definitely keep an eye on them, as these guys are going places!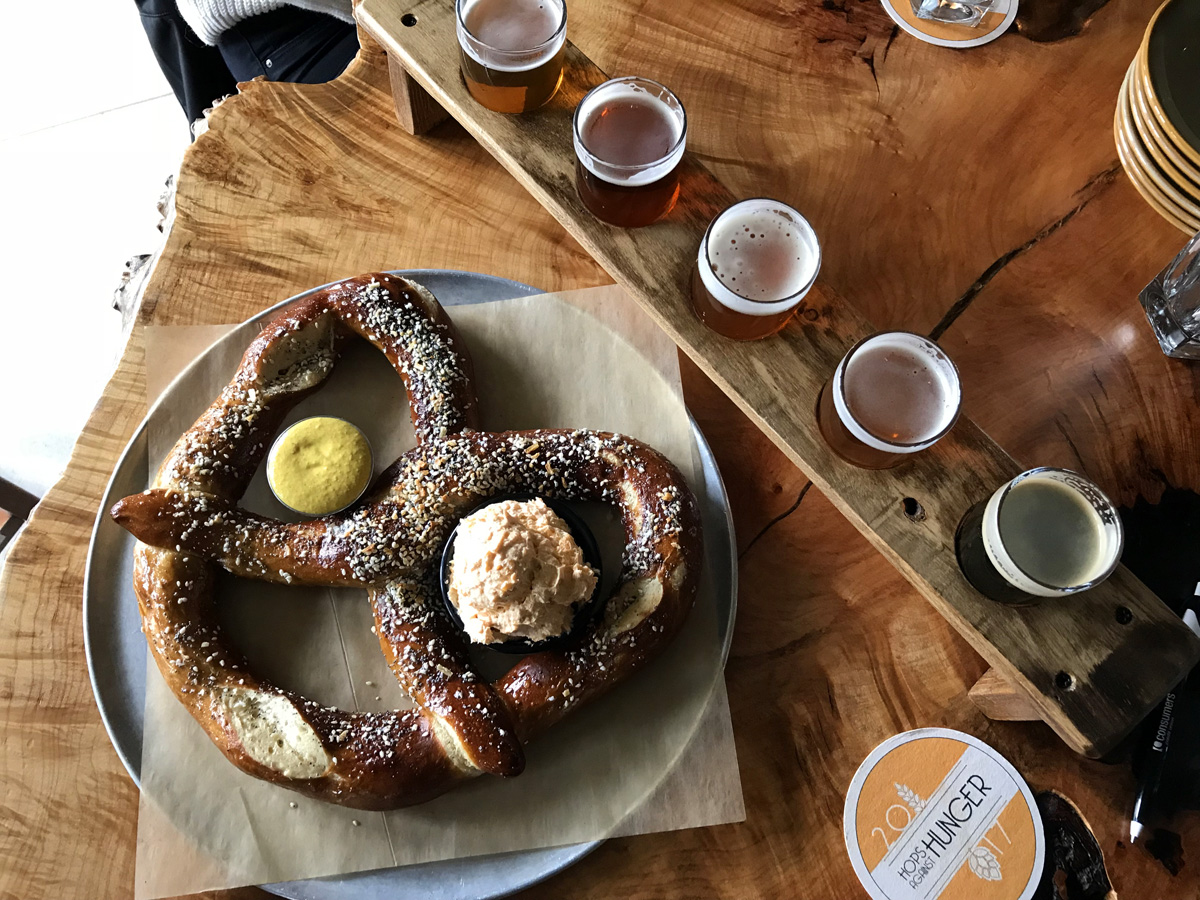 Overall, we had an amazing time in exploring the Grand Rapids beer scene with our #MenWhoBlog buddies. It is crazy to think that we barely scratched the surface, only visiting 11 of the 60+ breweries that GR has to offer. They've definitely earned the title of Beer City USA, and I highly recommend it to any beer aficionado looking to satisfy their thirst for foam and hops.
Want more? Then make sure you check out Men Who Blog, as they've compiled a list of posts from all of the other guys who took part in the Grand Rapids beercation weekend with us.