Chevrolet's Badass Silverado Special Ops Edition Truck Gets The Green Light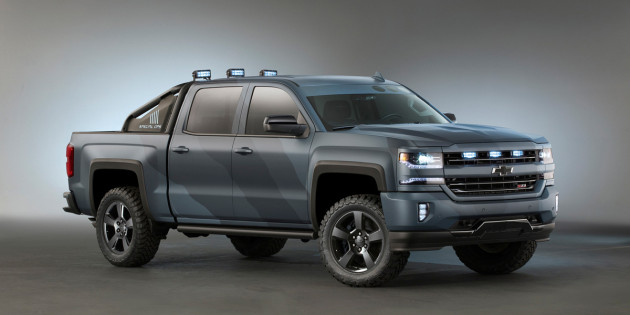 Remember that badass military-inspired 2016 Chevrolet Silverado Special Ops concept that had everyone drooling at SEMA last month? It's going into limited production in spring 2016, and Chevrolet will donate a portion of the proceeds from each one sold to benefit the National Navy SEAL Museum.
The Special Ops edition starts life as a 2016 Silverado 1500 Z71 pickup. It gets a redesigned front-end and is dressed in a naval-inspired camouflage pattern called Razzle Dazzle, which was developed more than 100 years ago to disguise a ship's speed, direction and profile to the enemy's eye. It's based on a three-tone blue exterior color, marked by a distinctive array of varying colored lines and shapes intended to mask the ship.
The concept blends unique components and new parts from Chevrolet Accessories' portfolio for Silverado to create a truck that offers enhanced capability for just about any mission. Distinguishing features include a bed-mounted sport bar with LED lights, off-road tires, wheel flares, custom rocker guards, bed-mounted GearOn™ utility rack storage system and more.
A narrow light bar with six-inch LED light strips stretches across the top of the body-color grille – which is accented with black grille inserts – while black bowtie emblems complete the appearance.
Inside, the military-theme cues continue, with a bright Ejector Orange color used on the door pulls and glove box handle. The seats are trimmed with waterproof covers and the floors have waterproof liners, while the instrument panel and armrests echo the Razzle Dazzle camo paint scheme carried out on the exterior.
While I'm not usually much of a truck guy, I absolutely love the way the Silverado Special Ops Edition looks, and I'd definitely consider getting one if it the price is right.