Dairy Queen $1.99 Mini Blizzard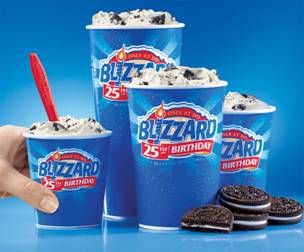 Dairy Queen recently introduced a smaller 6oz Mini Blizzard. Prices range from $1.99-$2.99 (depending on location), but they're currently $1.99 for the month of April. With a small Blizzard costing over $4, the Mini is a great option for kids who aren't going to finish a small Blizzard on their own. It's also a good size for people on a diet looking for a little cheat, without breaking the calorie bank.
But for normal folks, the size of the Mini is a joke! The picture above is a little misleading – Once you see the size of the Mini in person, you're likely to walk away like I did.
For two dollars, I can get any of the following:
2 McDonalds hot fudge sundaes
2 Wendy's Frostys
A McDonalds McFlurry
A Wendy's Frosty Float (which is amazing!)
A 32oz Slurpee from 7-11
A pint of Ben & Jerry's from the supermarket
I really think DQ missed the boat here. A $1.99 Mini isn't getting me into their store. A $2.99 small would. Heck, a $3.99 medium would even be better, and that's only a discount of $0.69 or so! Corporate claims that their customers really wanted it, but just take a look at the people standing in line at Dairy Queen. Sorry, but that's just not true.
Consider yourself warned.