Detroit Car Companies Stepping Up Their Game!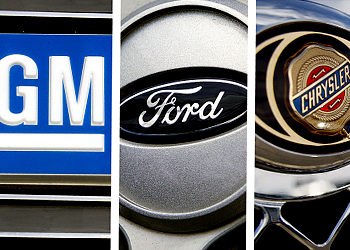 It's taken far too long, but the Big Three automakers are finally putting out quality cars that will give imports a run for their money!
About Me: I've owned a number of American cars over the years — 94 Ford Mustang, 95 Ford Taurus SHO, 96 GMC Jimmy, 98 Ford Contour SVT. They served me well, but all had their own shortcomings. (eg. The SHO developed a number of expensive problems just north of 60K miles. The Jimmy was a sea of rattling plastic almost from the beginning.. The SVT was an amazing car, but the engines had a bad habit of blowing up after 50K miles!)
I was starting to see why people bought Hondas and Toyotas. 🙂
Fast forward 10 years, and Detroit has undergone quite a change. Rising up like a phoenix from the ashes of bankrupcy, all three automakers are bringing to market some truly great cars!
Ford: Mustang, Fusion, Focus, Fiesta, Explorer, Edge, F-150
Dodge/Chrysler: 200, 300, Town & Country, Durango, Charger
GM: Cruze, Equinox, Sonic, CTS, Escalade, even the Buick sedans
We've had a chance to drive a number of the above-mentioned cars (reviews to follow in the days to come), and we're here to tell you to forget about your pre-conceived notions about American cars. The Big Three are pulling out all the stops, and it's an exciting time for auto enthusiasts like myself!