Don't Miss Kings Of Leon When They Go 'On the Record with Mick Rock'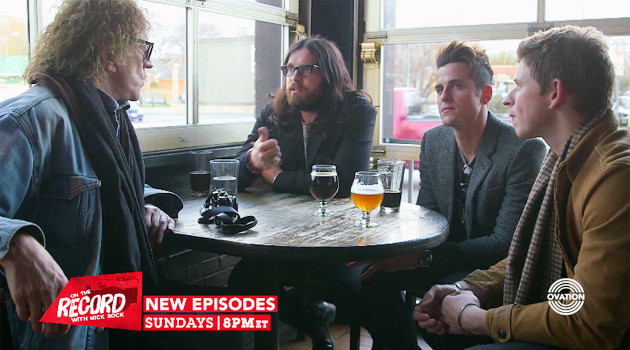 British photographer Mick Rock is best known for capturing iconic images of rock & roll legends. From Queen and David Bowie to the Sex Pistols and Blondie, he's often referred to as "The Man Who Shot the Seventies." Today, Mick is as in-demand as ever, photographing legends-in-the-making like Snoop Dogg, Daft Punk, The Killers, CeeLo Green, and the Black Keys, among many others.
But this summer, he's coming out from behind the camera to host his own show called On the Record with Mick Rock, which airs on Ovation TV. Featuring guest stars Josh Groban, Kings of Leon, The Flaming Lips and Patti LaBelle, On The Record With Mick Rock goes into each of the artists' hometowns to check out the sights and sounds that inspire them. The show is a unique spin on the musician profile series, with a stripped-down style and Mick's unapologetic rapport with his guests producing candid conversations and musical performances not usually seen on television. This show is a must-see for any true music fan!
In this "Minute With Mick" clip, Mick dishes on David Bowie:

On The Record With Mick Rock premiered last Sunday, with the legendary photographer hitting the streets of Los Angeles with Josh Groban. It was a great episode, and if you missed it, you can watch it On Demand.
This Sunday, Mick meets up with Grammy Award-winning rock stars Kings of Leon and discovers how they scaped their Pentecostal roots to find a home in Nashville's evolving music scene. The band dishes on its rocky past and gives Mick a tour of country music's hometown, ending the day in their private studio for an exclusive jam session.
It should be a great episode, so make sure you tune in this Sunday, August 9th at 8pm ET on Ovation TV.