Edge Shave Gel and Assassin's Creed Team Up To Give Gamers The Ultimate Advantage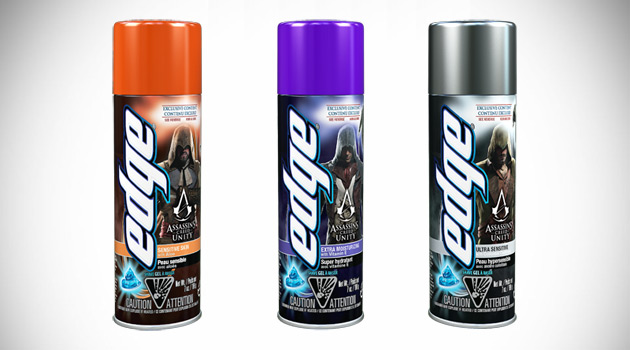 Edge Shave Gel has teamed up with Assassin's Creed Unity to give gamers some awesome advantages from the bathroom to the game room. Edge is introducing limited edition cans featuring Assassin's Creed Unity artwork, which give gamers an edge as they play by offering exclusive access to downloadable content including swords, armor and more.
With the help of Edge Shave Gel, consumers have an advantage when getting ready for whatever lies ahead. The premium shave gel creates a protective layer of lubricating molecules that promotes razor glide, giving guys a close shave while helping prevent irritation.
"Edge does more than just give guys an advantage in front of the mirror; we're dedicated to getting guys prepped for whatever they're going to tackle," said Anthony Pietrini, Edge brand manager. "Being competitive gamers ourselves, we know how important prep is to get a leg up on your competitors. Offering this unique content to gamers with the purchase of Edge Shave Gel is just another way for us to make sure our fans are ready for the competition."
"We know our fans are dedicated to the game," said Tony Key, senior vice president, sales and marketing Ubisoft. "However, that doesn't mean their grooming routine should suffer. Partnering with Edge to offer our consumers a promotion like this allows our gamers to get a leg up on fellow gamers, in and out of the game with exclusive content and a superior shave."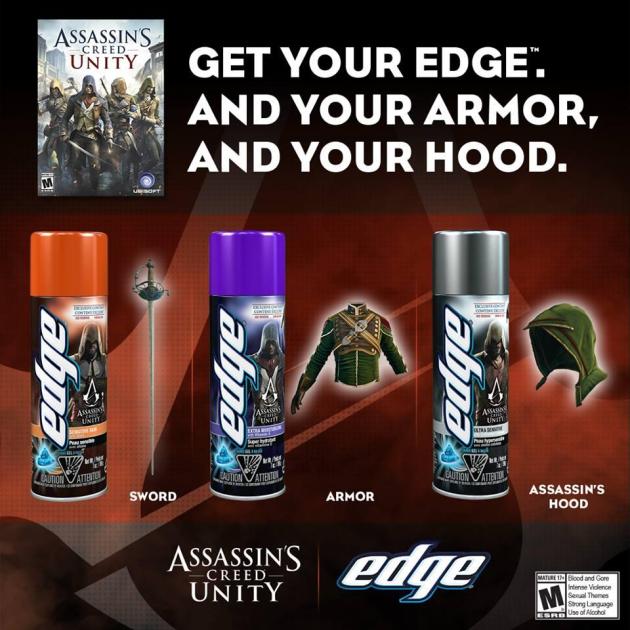 Assassin's Creed Unity Limited Edition Edge Shave Gel Cans
Each Assassin's Creed Unity limited edition Edge Shave Gel can includes a code to unlock exclusive gaming content. For more details on the content provided by each unique formulation, see below:
Edge Sensitive Skin Shave Gel gives access to an exclusive downloadable sword, contains aloe, and helps prevent nicks, cuts and irritation.
Edge Extra Moisturizing Shave Gel gives access to exclusive downloadable armor and has vitamin E and a blend of ingredients to leave your face hydrated and smooth.
Edge Ultra Sensitive Shave Gel gives access to an exclusive downloadable Assassin's Hood, contains colloidal oatmeal, and helps provide protection against razor burn.
Target Promotion
In celebration of the Assassin's Creed Unity launch, Target stores is offering a complimentary $10 gift card to any customer purchasing both the Assassin's Creed Unity game and any Assassin's Creed Unity Limited Edition Edge Shave Gel can (excluding 2.75 oz). The promotion will run from November 16–26th.
So what are you waiting for? If you haven't picked up Assassin's Creed Unity already, head over to your local Target store and take advantage of this awesome promotion before it's too late!