Fans Can Flaunt Their ALDI Love With New, Limited-Edition Merchandise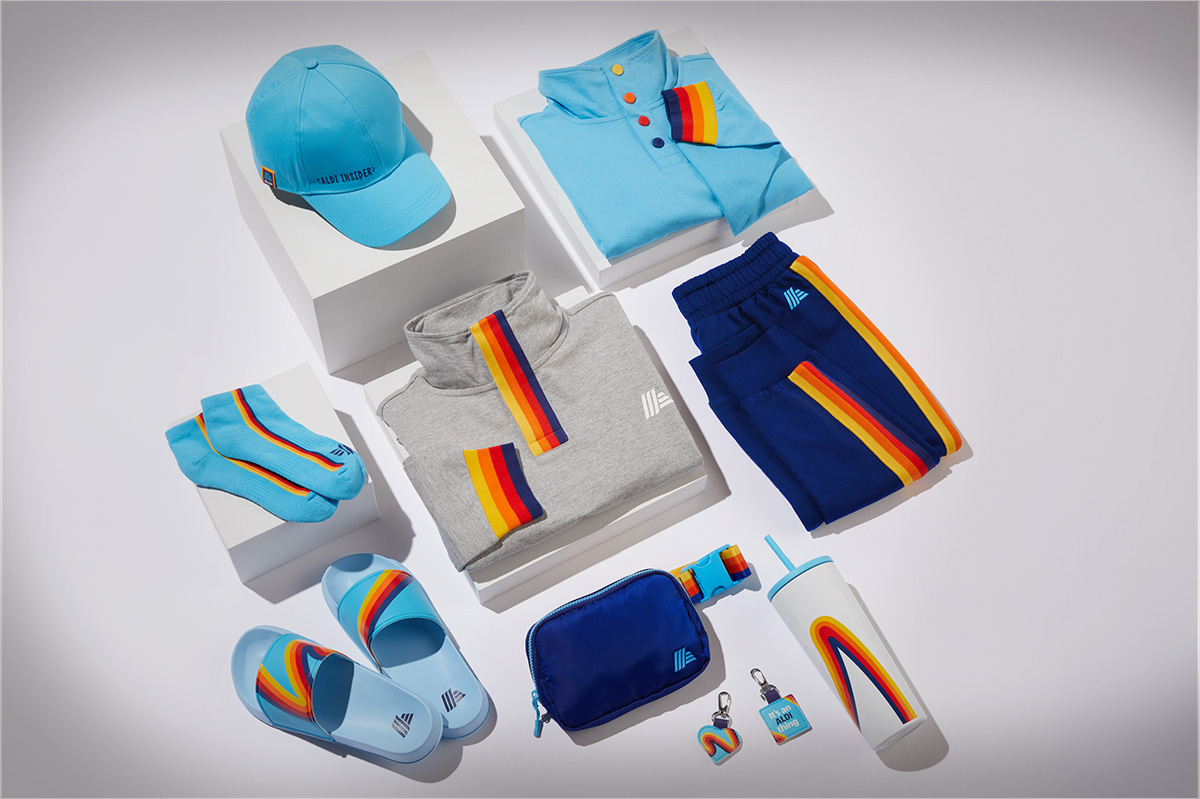 ALDI, the popular grocery giant that's taking America by storm, just dropped its largest ALDI Gear Collection today, complete with trendy belt bags, bucket hats and track suits, so that fans can flaunt their ALDI love. Pretty cool, right? And everything costs under $10!
The expanded line is created for ALDI fans, inspired by ALDI fans, combining signature ALDI colors and bold stripes with retro vibes and a modern twist. ALDI boasts a dedicated following of loyal, passionate customers, something that sets it apart from other stores. Their latest ALDI Gear Collection gives shoppers a fun new way to wear their fandom loud and proud on their sleeve (or head, shoulders or feet).
"ALDI fans' love for our brand is unmatched. After we saw the success of our 2022 collection, it only made sense to up the ante this year," said Joan Kavanaugh, Vice President of National Buying at ALDI. "We see shoppers celebrating ALDI products, prices and value on a daily basis, and this impressive line of apparel, that's not only stylish but versatile, gives us a chance to celebrate our customers right back."
The original ALDI Gear Collection launched in the U.S. in 2022 and featured top-selling items like hydration bottles, slides, pajama sets and keychain quarter holders. With items ranging from $1.49 to $9.99, the expanded line stays true to the ALDI Price Promise to be the low-price leader in every community served. The 2023 Gear Collection has inclusive sizes across clothing and footwear including:
• Keychain Quarter Holder – $1.49
• Bucket Hat or Cap – $3.99
• 2 Pack Socks – $4.99
• Umbrella – $4.99
• Slides – $4.99
• Tumbler – $6.99
• Belt Bag – $6.99
• Windbreaker – $9.99
• Jogger – $9.99
• Pullover – $9.99
The limited-edition ALDI Gear Collection will be available in stores nationwide in the ALDI Finds aisle, while supplies last. ALDI Finds are limited-time, specialty items ranging from unique foods and home goods to unexpected finds that are intended to delight shoppers with new and innovative products.
Like many Finds products, the ALDI Gear Collection is expected to sell out fast, so shoppers are encouraged to visit their local ALDI store or order via Instacart ASAP to score their gear.