Infiniti President Speaks Out About Naming Strategy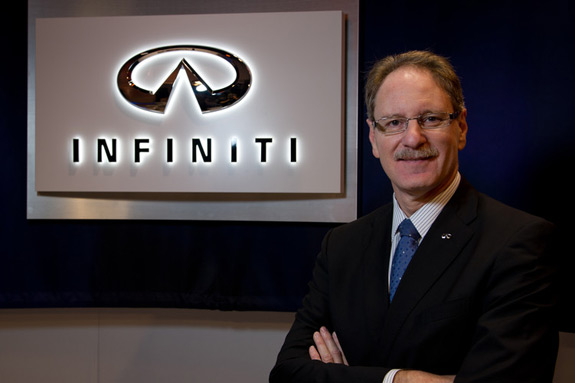 In case you haven't heard, Infiniti recently announced a complete overhaul of their cars' model names, with all Infiniti models from the 2014 model year to carry either the Q or QX prefix.
This proposed change sparked all kinds of negative comments across the web. In response to this, Infiniti President Johan de Nysschen issued the following statement, explaining Infiniti's reasoning behind these changes:
Dear Infiniti fans: We love you dearly. And we know you love the brand. Which means it's only natural that you may feel surprised by the announcement that we plan to change our nomenclature philosophy. No one likes change.

It was a tough decision. We like our current model names as much as you do. But we had no choice but to change. Let me explain.

1. We are embarking on a massive product offensive, and these new cars need names. There are no suitable combinations of Alphanumeric naming options remaining that are not already trademarked by another automaker. In order to expand our line up with the fascinating new models we are developing, we must create a more flexible nomenclature philosophy.

2. Our new advanced technology engines under development will be smaller, lighter, more fuel efficient yet more powerful. And we will introduce some exhilarating performance machines in the future. I'm sure you will agree, it would be a bit odd to have a powerful, luxurious and refined V8 powered Infiniti M56, then position a new high-tech 550+ horsepower performance flagship for the Infiniti M range above it, using a potent charged induction V6, but then call it Infiniti M30, which we would be obliged to do, following our current naming logic.

3. Infiniti is becoming a global brand now. We are already active in almost 50 countries, the majority only very recently. Our new customers are unfamiliar with the brand and struggle to understand our range hierarchy. Is a JX above or below an FX? Where does an EX fit? What is the relationship between G and Infiniti M? Research confirms the majority of newcomers to our brand consider the naming to be somewhat arbitrary and confusing.

4. Infiniti owns the naming assets of Q plus double digit, and QX plus double digit. And it is a permanent part of our heritage.

So the solution is pretty straightforward – use Q for cars, QX for crossovers, and double digits in increments of ten, to denote hierarchy, linked to the price point of the model, not size and not engine displacement. And no, we wont call all-wheel drive models Q50X or QX50X. The fact that a model may feature four-wheel drive will be indicated by specific badging describing this feature on the car and is not part of the model name.

The really exciting implication of all this is that it prepares the way for the introduction of several fascinating new models above and below the current line up, and a wider range of powertrains including some truly stunning performance cars in our future.

So there is only good news for all Infiniti fans around the globe. We are working very hard to bring you great products, a great brand and a compelling ownership experience. And we are really confident you will love the new Q50. It's simply that good.

Warmest regards,

Johan de Nysschen
President
Infiniti Motor Company Limited
What do you think about this?