Keep Your Phone Safely In View With The Kenu Airframe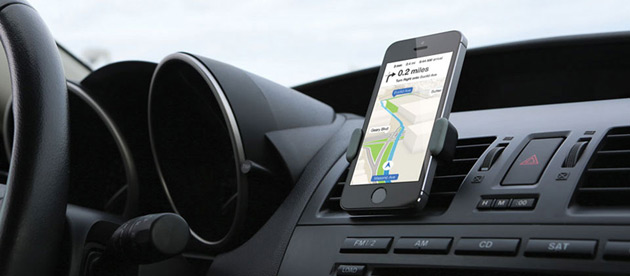 While we all can agree that operating our phones while driving is bad, sometimes it's necessary to have them in plain view while driving. For example, since my car doesn't have GPS, I use Google Maps on my iPhone for directions. But my biggest issue is where to place the phone. If I put it in my cupholder, I'm constantly looking down to make sure I'm going in the right direction, and that's rather dangerous.
Originally, I bought an expensive car mount that was specifically designed for my car. It worked great, but I wasn't really keen on the placement of the mount, and it looked out of place when the mount was empty.
Then I heard about the Kenu Airframe, a portable smartphone car mount that attaches to your air vent, no matter if your car's vents are horizontal, vertical, or angled. So I decided to give it a shot.
This video shows you how it works:

Airframe's spring loaded expandable jaw allows it to work with a variety of smartphones (up to 5″ screens), including iPhones, Samsung Galaxy phones, BlackBerry phones, and Windows phones. It also works with most cases. Unfortunately, it doesn't work with my Mophie because the Mophie has a rounded back. Not a huge deal for me, but it's worth mentioning.
A soft over-molded grip securely mounts the Airframe onto any vent (and keeps your vent scratch-free), and since it's rotatable, it works with any vent design. The mount is VERY secure, and it didn't budge while going over bumps or during aggressive driving.
There are two other things to consider:
First, you shouldn't use the mount if you're running heat, as you'll cause your phone to overheat. So if you're in -10 degree weather in Wisconsin and have the heat on full-blast, you'll either have to close the vent attached to your mount and suffer, or put your phone away.
Second, you should make sure that your vents can support the weight of your phone. For most cars this shouldn't be a problem, but some cars have flimsy vents where the weight of the Airframe and phone will pull the air vent down, which makes it hard to see your phone's display.
Overall, I was really impressed with the Kenu Airframe. They found a creative way to solve a real problem in the car, and it works exactly as advertised. You can pick on up direct from Kenu.com for $24.95.