Shoulderpod S1 Is The Perfect Accessory For Smartphone Photography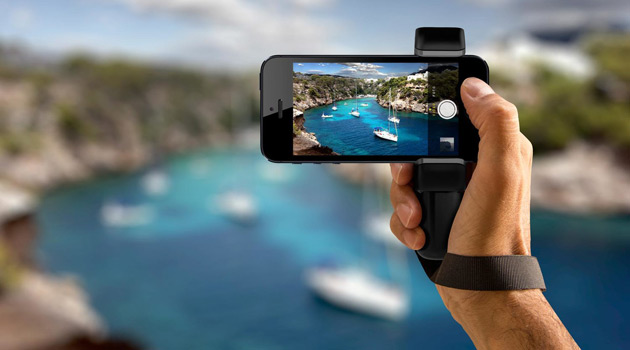 Many photographers, filmmakers, journalists, sporters and travelers use their smartphones for telling visual stories and sharing them with the world. This couldn't have been possible a few years ago, but technology has evolved so quickly, with today's smartphone cameras sporting some impressive specs.
But the biggest hurdle still facing smartphones has been getting a steady picture.. Until now. Shoulderpod, a company from Barcelona, tackled that issue head-on with the S1 Professional Smartphone Rig.
The S1 provides three functions in a single portable device. It serves as a tripod mount, a filmmaker grip, and a traveler stand. The SHOULDERPOD S1 can hold almost any smartphone model thanks to its adjustable grip. Turn the thumbscrew and adjust it to hold your iPhone, Samsung Galaxy, Sony Xperia, Nokia Lumia, Nexus or any other device. As long as the width of your smartphone, with or without a case is between 48 and 93 mm, the S1 will hold it perfectly. It even worked with my Mophie, which was a huge plus in my book.

TRIPOD MOUNT
With the S1 you can mount your smartphone on any tripod thanks to the universal 1/4″-20 threaded base. You can also mount it on a slider or on a shoulder rig for taking smooth shots and steady video clips. The S1 is adjustable, so you can use it with almost any smartphone model.
FILMMAKER GRIP
Fix the S1 to the right side of your smartphone, then mount the provided aluminum grip extension for extra hand ergonomics and the wrist strap for maximum security and turn your mobile devices into professional filming equipment. You're now ready for taking the most steady and creative handheld shots.
TRAVELER STAND
The S1 stands on its own, in landscape or portrait mode, so you can hold your smartphone steady even when you don't have a tripod. Mount the grip at the center of your device for using it in landscape-mode or slide it sideways for adjusting the viewing angle in portrait-mode. Take great night images of your next trip, shoot time-lapse movies on the go or edit your pictures comfortably while having a cappuccino at Starbucks.
This video shows you some of the possibilities with the S1:

Honestly, I was really impressed with the Shoulderpod S1. While you wouldn't think that little aluminum grip extension would make a big difference, it really does help you shoot better photos and videos. Sure, I would have liked to see a shutter button on the grip for taking pictures without having to touch the screen or volume button, but that would have driven up the price of the S1 considerably. As it sits, it gets the job done nicely, and it's compact enough that you can stow it in your back pocket when you're not using it.
And best of all, it's VERY reasonable priced at just $34.90. So if you frequently shoots photos or video with your smartphone, definitely should pick up the Shoulderpod S1, you'll be glad you did.
Visit www.shoulderpod.com for more information and to purchase the Shoulderpod S1.