NomadClip Portable Charging Phone Cable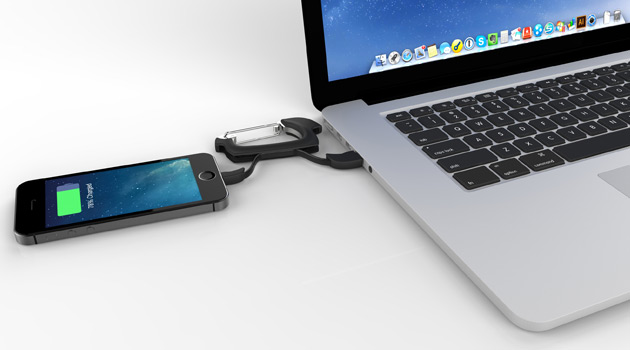 Have you ever gone on a trip and forgotten your phone charger? I've done it on more than one occasion, and it's not fun at all. Thankfully, the folks at Nomad have come up with a solution that will never leave you without your charger again, and it's called the NomadClip.
The NomadClip is a portable charging cable that is the size and shape of a carabiner. It works like a normal cable for charging and syncing your phone – Simply plug one end into a USB port and the other end into your mobile device. It's designed to hook onto your keychain, backpack, briefcase or just about anywhere, so you'll always have a smartphone cable on you. Constructed from a tough steel frame and a Bayer Science polycarbonate outer shell, the carabiner is strong and built for the nomad life.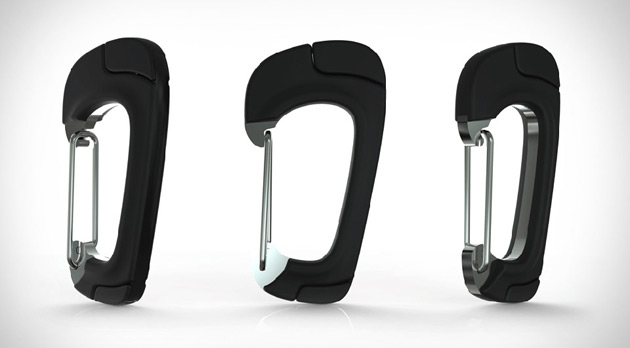 As you can see in the photo above, the ends of the NomadClip fold out to reveal a male USB 2.0 plug and a either a Lightning or Micro USB plug. So you can simply clip it (for me, it's going to be permanently clipped to my backpack, since I never leave home without it), and then you're good to go if you forget your charging cable. Keep in mind that while it looks like a caribiner, it's non-weight bearing and not meant for climbing.
The NomadClip is currently available for pre-order for $39. Click here to learn more about the NomadClip.