Kellogg's Is Combining Frosted Flakes And Froot Loops Into A Single Product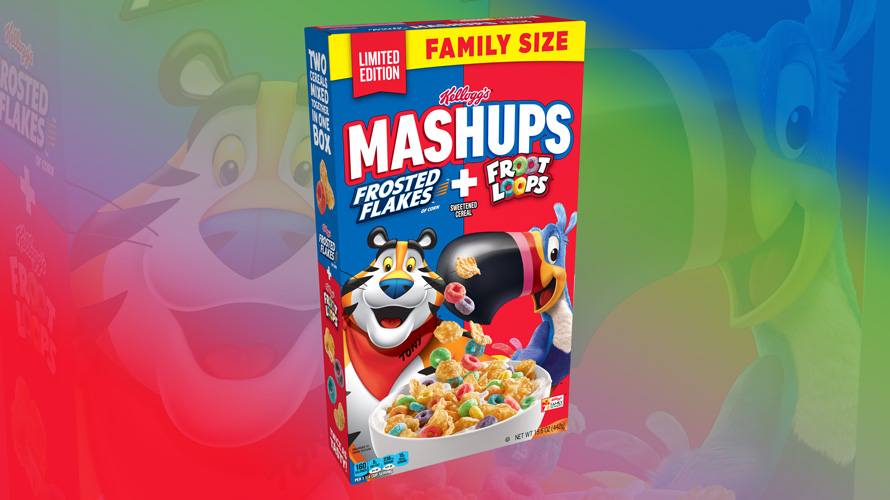 Need more proof that the world has gone crazy? Kellogg's is introducing a new, limited-edition line of cereal called Mashups, where they combine two classic cereals together in one box. And the first mashup they're releasing brings together Frosted Flakes and Froot Loops in the aptly named Kellogg's Mashups Frosted Flakes + Froot Loops.
While I am a fan of both of these cereals in their own right, putting them together in a single bowl sounds downright disgusting to me. But according to Erin Storm, marketing director of Kellogg All Family Cereal, "As almost half of cereal lovers mix cereals together, we wanted to make this two-in-one breakfast experience even easier."
Seriously, I don't even know what to think anymore. Why would anyone mix different cereals together when they taste just fine on their own?! But on Twitter, people were pretty excited about this mashup (1 2 3 4 5), so I guess Kellogg's was spot on with their research.
"In the cereal category, the sugary stuff is actually what's selling now," John Baumgartner, an analyst at Wells Fargo, told Adweek in January. "Cereal's one of the categories where people are splurging a bit more in terms of indulgence."
Kellogg's Mashups Frosted Flakes + Froot Loops will be available in stores nationwide in both 9.8 oz and 15.6 oz boxes. And who am I kidding, if I'm walking down the cereal aisle and see it, I'll probably pick up a box and try it for myself just out of morbid curiosity. 🥣
What do you guys think about Kellogg's Mashups cereal?