Levain Bakery – Best Cookies In NYC!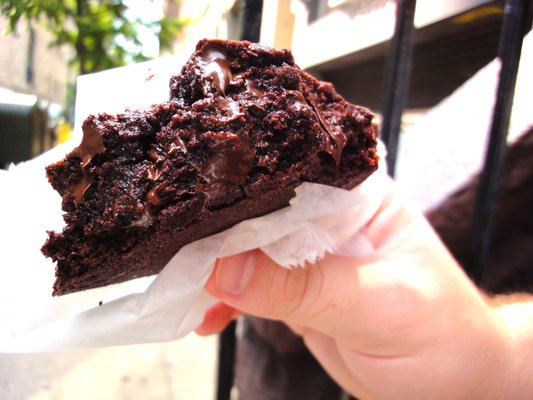 My wife insisted on checking out Levain Bakery while we were in NYC last weekend.
Me: "Sure, where's it located?"
Her: "167 W 74th Steet"
FML! We had spent the greater part of the morning walking around New York City, and now she wanted us to walk almost 20 blocks to get some cookies she read about on Yelp?
Sure, we could have taken the subway there – But then I would have been spending an additional $10 round-trip just to get some cookies.. That just didn't seem right to me..
782 5-Star ratings on Yelp convinced me to make the journey to the fabled Levain Bakery, and it was quite a trek. But I'm happy to say that it was absolutely worth the trip!
The wife couldn't decide, so she got two cookies – Chocolate Chip Walnut & Dark Chocolate Peanut Butter Chip. I got the Dark Chocolate Chocolate Chip cookie. The total bill? $12.00!
$4 for a cookie?! But look at the picture above – These cookies are HUGE! Two or three people could share one cookie if they wanted to.. Or you could eat it by yourself, and feel sick afterwards. I took my time and ate it over the next two days.. And it was amazing!
Would I go back to Levain Bakery? Absolutely, without a doubt!
Would I walk 40 blocks round-trip to get them? No way..
If you love cookies, be sure to check them out the next time you're in town!
Levain Bakery
167 W 74th Steet
New York, NY 10023
212-874-6080