Newcastle Brown Ale Imagines How Great It Would Have Been "If We Won"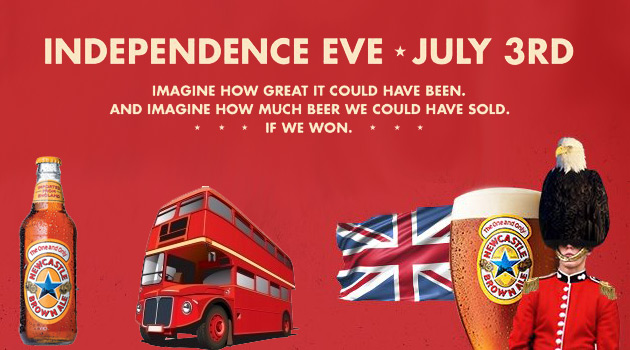 This Independence Day, the British chaps over at Newcastle Brown Ale are tired of American brewers capitalizing on the patriotic holiday. In an effort to sell Americans more British beer, Newcastle has decided to create a new American "holiday" on July 3 called Independence Eve that explores how great America could have been if Great Britain had won the Revolutionary War.
They've enlisted the help of Stephen Merchant, a Golden Globe-winning British actor and co-creator of The Office (the UK version). In the video below, Merchant bitterly asks America to envision how much greater their country could've been if they let their British mates win the war over 230 years ago.
"With our accents and your American self-confidence, you'd be unstoppable"
The video is part of the If We Won program, a series of 16 short films leading up to Independence Eve that include "alternate history" videos imagining how different America might have been if the British had won, tongue-in-cheek Revolutionary War re-re-enactments, Elizabeth Hurley, Zachary Quinto, and more.
The Faking It video is another clever video that you should check out, explaining the effect of a charming English accent on us Americans.
Visit www.IfWeWon.com or follow @Newcastle to see more reasons why Newcastle and the Brits are still butt hurt about America's victory over 230 years ago.