Newcastle Brown Ale Releases Four Limited Edition Ales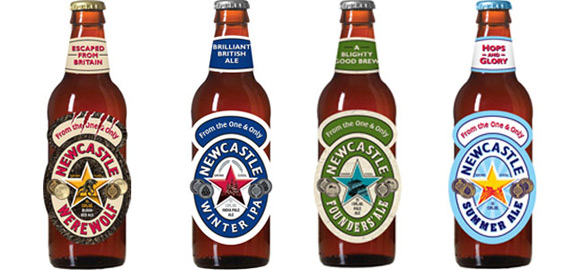 Newcastle Brown Ale, brewer of the legendary "One & Only," announced the debut of four distinct Newcastle Limited Edition brews, which are available for a limited time at select neighborhood pubs and stores throughout 2011.
This Limited Edition offering represents the collaboration of two great bastions of British brewing, Newcastle Breweries in England and Caledonian Brewery in Scotland. Built in 1869, Caledonian Brewery today operates as a fully functioning brewery museum, using rare direct-fired open coppers to brew all ales. The combination of Scottish brewing authenticity and creativity, partnered with the drinkability you expect from a Newcastle, results in a series of custom Limited Edition ales that can't help but taste great.
"Distinctive and innovative, Newcastle's Limited Edition brews deliver a new, refreshing taste to be enjoyed throughout the year," said Charles van Es, Brand Director Newcastle Brown Ale. "By adopting a wide array of flavors—everything from red ales to distinct India pale ales—we're providing a uniquely interesting combination of Newcastle heritage, real ingredients and drinkability to our loyal fans."
We tried out the Newcastle Werewolf and really enjoyed it.. Naturally blood red in color, this distinct tasting fall ale produces a combination of sweet berry overtones and a sudden bite of bitterness.
But don't just take our word for it, see what our friends at Cigar Aficionado had to say about it:
APPEARANCE: The highly carbonated liquid pours a bright sanguine color with a stark white head that retains its form through the life of the beer. Nice lacing as well.

AROMA: Strong malt and rye bread fragrance with a hint of berries and slight metal.

PALATE: Sweet malt flavor hits the front of the tongue with subtle berry, grass and wine notes joining in at the midpalate. The liquid momentarily clings to the insides of the mouth before surrendering to a crisp, pleasantly bitter finish.
Be sure to try all four of these limited edition ales before they're gone!