Porsche Reveals Pricing For 918 Spyder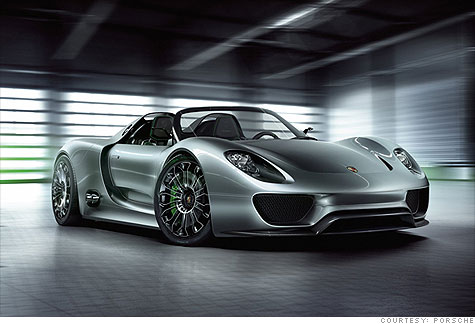 Porsche has announced it will be taking orders on the 918 Spyder plug-in hybrid. Porsche hopes to begin production in September 2013 on a limited series of 918 vehicles at its Stuttgart-Zuffenhausen plant in Germany. Starting prices in the United States will be $845,000.
In order to spur sales, Porsche is bundling the 918 Spyder plug-in hybrid with the special edition 911 Turbo S. Only customers who order a 918 Spyder will also be able to get their hands on the limited series 911 Turbo S, in coupe or cabriolet form.
The 911 Turbo S "Edition 918 Spyder" differs from the standard car only in appearance, which reflects the styling of the 918 Spyder it sells alongside. This means similar colors, inetrior and exterior carbon fiber elements, enhanced leather, acid green accents, and a limited edition badge on the glove box, featuring the same production number as its 918 companion.
The 911 will be priced at $160,700 for the Coupe, and $172,100 for the Cabriolet.
Details on the 918 Spyder plug-in hybrid are still sketchy. Porsche says it will come with a mid-rear mounted V8 displacing "more than 4.0 liters" producing around 500HP. Two electric motors, one on each axle, will add 218HP to that output total, and making the 918 Spyder an all-wheel drive supercar. Transmission will be the seven-speed double-clutch PDK.
The 918 Spyder will do 0-60 mph in just 3.1 seconds and, will have a top speed of 199 mph.
A liquid-cooled lithium-ion battery provides the 918 Spyder plug-in hybrid with a range of around 16 miles in electric mode and with a top speed over a limited distance of 94 mph.
The Spyder hybrid is stylistically based on the Carrera GT supercar as well as the 917 and RS Spyder. The car will have a safety frame reinforced with carbon fiber and a manual roof system with removable panels that can be stowed in the front lugggage compartment.
There is also talk about a less-expensive, gas-only car designed to look like the 918 Spyder, going into production later this year.