Prank 'Em This Holiday With A Prank Pack!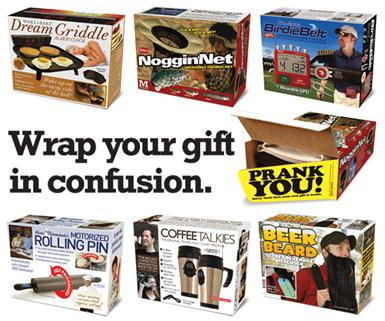 Sure to be the hit of the next party you're dragged into, Prank Pack fake gift boxes appear to contain ridiculous products from clueless companies. Just pack your real gift inside, sit back and revel in their half-hearted enthusiasm.
When I heard about these boxes, I quickly ordered a few for myself..
I got the Wake & Bake Dream Griddle Alarm Clock, the Pet Petter, and the Family Blankeez.
My wife's work does a Yankee Swap every year, and this year she's putting her gift in the Dream Griddle box! I only wish I could see everyone's faces when that gift is unwrapped. 🙂
Be sure to order a couple of Prank Pack boxes this holiday season, and have some fun with your loved ones!